Tue., Aug. 18, 2015
Idaho football practice report - Aug. 18
I was finally able to take a break from my side job at Buffalo Wild Wings and take in an Idaho football practice Tuesday morning. Here are my observations: ...
First, the quarterbacks. Idaho coach Paul Petrino said Matt Linehan had perhaps his best practice in the fall, which is important for the third-year sophomore. Linehan struggled in the scrimmage.
"Matt really lit it up today. He made some great pressure checks, made some great throws, kept the ball on some zone reads, I need to watch the guys on tape," Petrino said.
Competitor Jake Luton also struggled in the scrimmage, meaning there is enough separation to be able to confidently say Linehan will start the Thursday-night opener against Ohio. Luton is preparing to be an injury backup and to see just how short of a leash Linehan will have should his turnover-laden ways return.
- Callen Hightower is continuing his breakout ways with the wide receiver. Petrino said he's battling for a top-three spot, but he's likely to see snaps either way.
"He's working his way in to one of the best three or four for sure. He's definitely in the top four. Jacob (Sannon) just has a hard time, his body gets worn down. No matter what Jacob is going to need snaps off, so you're going to need two people at that position," Petrino said.
- Armond Hawkins is a steady presence with the first-team defense as safety next to Russell Siavii. Coaches like his aggressiveness and size at the position. Jordan Grabski has yet to participate in the fall, so it's a good bet that Hawkins could start against Ohio on Sep. 3.
- Kendrick Trotter has moved back to corner from his safety spot due to injuries to Jayshawn Jordan and Isaiah Taylor. Trotter will play both safety and corner throughout the season as depth and injuries dictate.
"That's good that he'll be able to play both. Probably, he'll see the field. He's too tough and cares too much, I wish everybody else on the team as much as he did. I think he'll be a great special teams player," Petrino said.
- The offensive line is still far from set, something Petrino wishes wasn't the case right now. Now he has his sights set on a finalized five come game-week against Ohio. Devin Wiltz, Jeff Travillion, Calvin White and Mason Woods are battling for the final two spots. Steven Matlock is a sure thing at center, while Dallas Sandberg is a steady presence at guard. When healthy, Jordan Rose will most likely be in the picture as a guard or tackle. Mason Woods is practicing at guard to give the line more flexibility, considering White, who played tackle today, is also capable of sliding inside. Lake City product Zion Dixon is one of the top eight as a true freshman, Petrino said.
"If Zion is one of the top five guys, he'll play," Petrino said. "I don't know if he is now, he probably isn't and he needs to keep getting better because he's probably in the top eight. It's not because of freshman or not freshman."
Finally, things aren't looking optimistic for tight end recruit Khalin Smith to join the Vandals. Smith still isn't present on campus and sent out these Tweets today.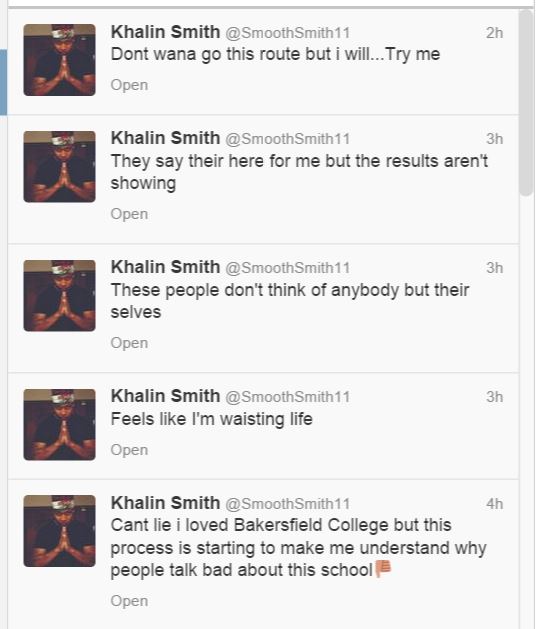 ---
---