Tue., Aug. 18, 2015
WSU practice notes: An easy day for the offense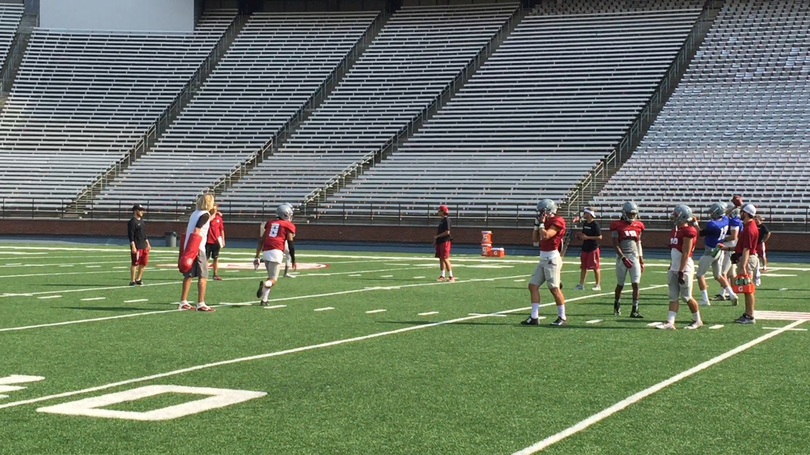 Washington State's receivers made three one-handed catches in the end zone over the course of maybe 10 plays. It was just that kind of day for the offense.
For whatever reason, the WSU offense just seemed more engaged then the defense during Tuesday's practice. Maybe the players that line up on offense were happier about getting to play on turf, again, or maybe they were simply celebrating Kyrin Priester's successful appeal for eligibility.
But whatever it was that gave the offense the edge, it showed up early in practice. Outside receiver Daniel Lilienthal made a one-handed catch in the end zone as cornerback Kirkland Parker tried to drag him down during the WR vs. DB drill. Zaire Andre did the same while being pushed by Kyle Torres a few plays later. Not to be outdone, D.J. Thompson had an one-handed touchdown reception of his own.

The quarterbacks were locked in as well, not missing a single pass during the first portion of the skeleton drill. Defensive coordinator Alex Grinch let the defenders know he wasn't happy with their effort throughout practice and ended the day with some punitive reinforcement.
Grinch had the defenders sprint 40-yards back and forth across the field. After the eighth trip, he made the defensive line turn around and run again because he didn't think they were hustling. All told, the defensive players ran 480 yards, or a little more than a quarter mile.

Here is what else I saw at WSU's first practice back in Pullman:

-- Calvin Green more action than he has since transitioning from wide receiver to defensive back, lining up primarily at safety. He didn't shy from contact, reading a crossing route by John Thompson quickly and sticking the receiver in the middle of the field. He was also impressive during the WR vs. DB drill, blanketing Kyle Sweet on a quick corner route in the end zone. Green stayed on the receiver's hip and then knocked the ball away with his left hand.

-- Priester celebrated his new eligibility by making a number of difficult catches throughout the practice, proving to be particularly adept at turning and leaping for a catch near the sideline and then tapping one foot inbounds.

-- River Cracraft has been added to the group of prospective punt returners, a group that also includes Priester, Keith Harrington and Gabe Marks.

-- The defensive backs really struggled to tackle during Tuesday's practice. Tavares Martin Jr. scored during the skeleton drill on a pass from Peyton Bender by turning around David Bucannon with a subtle move of his hips and sprinting to the end zone.

During the team period River Cracraft scored on a five-yard pass by catching the ball at the 1-yard line and using the momentum of Darius Lemora's tackle to spin around and thrust the football across the end-zone plane. Bender hit John Thompson on a quick-hitter from three-yards out to score on the next play, as well.

The most impressive play on offense came during Luke Falk's team period session, when Kyle Sweet scored from 27-yards out. The receiver made the catch about 10-yards downfield and put Isaac Dotson on skates, juking right as the safety lunged left, coming up with nothing. Sweet rushed upfield where only Taylor Taliulu stood between him and the end zone. A similar juke move later left Taliulu grasping at air as Sweet scored. Falk also threw a touchdown pass to Marks later in the period.

-- All that came in spite of a solid pass rush that saw Robert barber, Jeremiah Mitchell, Hercules Mata'afa and Mitchell, again, collect sacks during team period. However, those sacks appeared to be more a result of poor pass-protection by the offensive line than any Herculean efforts by the defensive line (except, of course, Mata'afa) and offensive line coach Clay McGuire was pretty stern with his unit after the period was over.
---
---