Sat., Aug. 22, 2015
You know its bad when a baseball game gets smoked out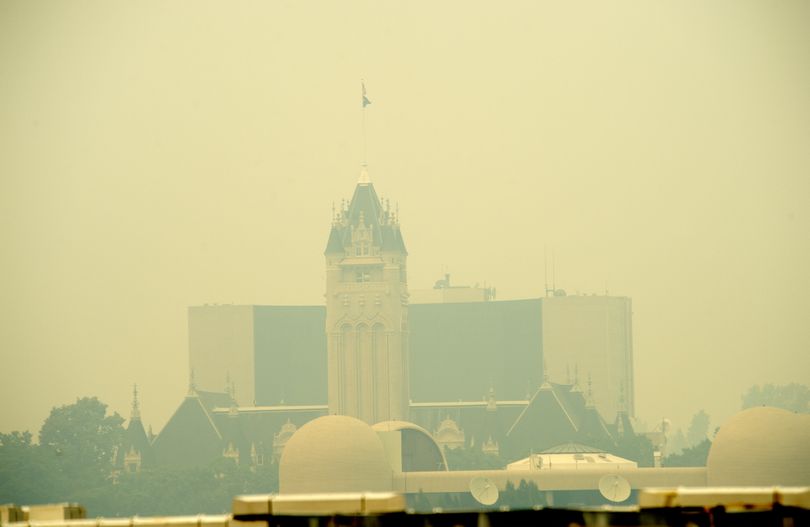 A GRIP ON SPORTS • Yesterday was surreal around here. The sky was painted in a palette of only red and orange. The air was thick enough to taste. And the smell took one back to the days of camping with the folks. The fires in the area are taking their toll on everyone. Read on.
••••••••••
• When the hills are burning, homes are threatened and fire fighters are in danger, sports seems awful trivial. Which makes the Spokane Indians' decision to first, cancel its fireworks show, then the game with Vancouver, a correct one. But it wasn't a goodwill gesture. Nope, it was due to air quality that passed unhealthy a long time ago. I saw one measure from the Spokane Health District that pegged the pollutants in our air at more than 320. Considering it usually hovers well below 25 and 100 is considered unhealthy, it was not good around here yesterday afternoon. Even preparing dinner on the barbecue seemed a little dirty, as if a couple of briquettes were going to make a difference to our lungs. But running around in the soup we call air right now certainly would. I grew up in the 1960s in the San Gabriel Valley outside Los Angeles, the place where the SmogAlert was born. There were summer days in which the air was so polluted it would force me home from play. I would have to lie down and breathe through a wet washcloth – my mom's homemade remedy that probably did more harm then good. And the headaches I would get. Wow. Maybe not migraine quality, but close. Sort of like the one I woke up with today. Talk about (bad) memories. So I said a little prayer for some rain, though the forecast rules that out for the next 10 days. And I said a little prayer for those in harm's way. I still remember when the hills above Sierra Madre were burning one fall – it happened quite often – and my dad left to help. He came home covered in soot, his face black, hands a bit mangled and smelling like charred pine trees. The same smell that was in the air all day Friday.
•••
• WSU: The Cougars are scheduled to hold a scrimmage today but as Jacob Thorpe's morning post details, those plans could include a change of venue. ... It's Saturday so we can pass along the mailbag from ESPN.com's Pac-12 blog. The site also has a look at what it believes is WSU biggest remaining position battle. ... The Pac-12 Networks' Mike Yam has some thoughts on Pullman and WSU. ... Jon Wilner has an interview with Stanford athletic director Bernard Muir, and they discuss the uncertainties facing college programs these days. ... California hopes improved depth will help its defense. ... The Cougars won their soccer opener.
• Chiefs: A Portland Winterhawk assistant coach had a run-in with the authorities this week.
• Indians: Chris Derrick has a story on the decision to postpone last night's game and play it as part of a doubleheader next week.
• Seahawks: The final score is still immaterial. The Hawks lost 14-13 at Kansas City in the second of four preseason games. What is material, however, is how the offensive line played. The new-look group did better in pass protection (two sacks vs. eight in the first preseason game), though that might be explained by the opposition and more quick passes. It didn't do all that well run blocking, either, but Marshawn Lynch wasn't behind them. ... A veteran guard will be in Seattle today and he may become the newest member of the group. ... With the offensive line still in a state of flux, it is no wonder the entire offense struggled a bit. ... Kam Chancellor may be willing to sit out the season. That's his choice. ... Still, the defense did well, including Bobby Wagner scoring the lone touchdown. ... The snap counts from the game are interesting.
• Mariners: Are the M's still playing? Well, they played for about seven innings yesterday and then the bullpen happened. Again. Chris Sale and the White Sox had built a 4-3 lead against Felix Hernandez and the M's but ended up winning 11-3. ... Charlie Furbush has a slight tear in his rotator cuff and will get a second opinion on his options.
• Sounders: Real Salt Lake has a long string of postseason appearances going. But it is in danger this year. Part of the problem is a front-office shakeup that's led to some odd moves. Now the revitalized Sounders come to town needing a win as well. ... A former Sounder is on the RSL coaching staff. ... The Timbers rallied for a 2-2 draw with Houston.
•••
• Not sure how much we can do outside today. Maybe I'll go see a movie. Until later ...
---
---