Thu., Aug. 27, 2015
WSU says farewell to Elson Floyd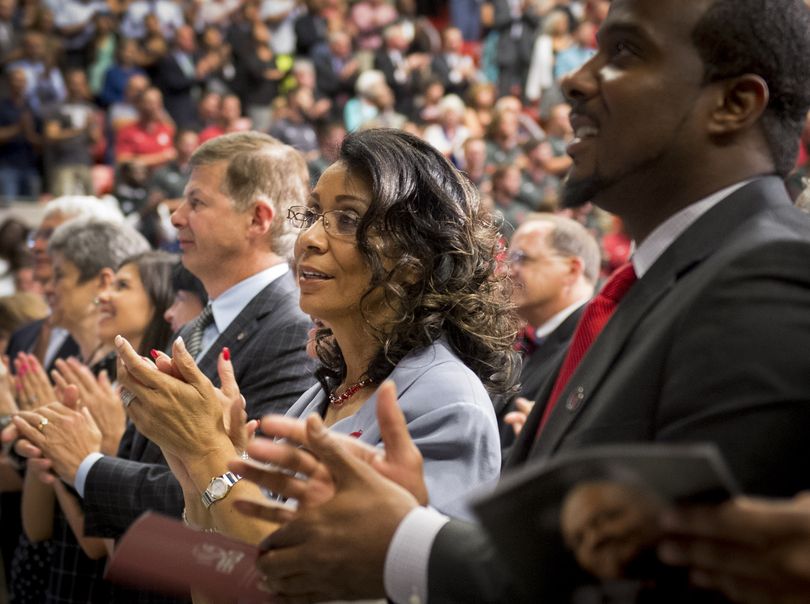 A GRIP ON SPORTS • Washington State University said goodbye to President Elson Floyd yesterday in a ceremony at Beasley Coliseum. The governor gave the eulogy. Stories were told. Memories were shared. Read on.
••••••••••
• Floyd died this summer after a battle with cancer, leaving WSU a better place than when he arrived. Isn't that the best compliment you can give anyone about any endeavor? He deserved the praise. Floyd and I arrived in Pullman at about the same time, with the president a bit more of a high-profile person. He was quite involved with sports, so our paths crossed early and somewhat often, though I always had the feeling Floyd didn't really remember me (and who could blame him, he was an important individual with an overwhelming job and I wasn't). We were introduced once or twice in the old WSU bandbox, er, press box during Bill Doba's final football season. I then mentioned him to Spokesman-Review readers after Doba was let go, quoting quarterback Alex Brink's anger with the new guy in the president's box not being engaged with the team. And that was that – for a while. Floyd was always in and out of Pullman those first couple years, doing what he could to raise the school's profile in Olympia and around the state. Looking back, it was obvious he was making connections – he wasn't part of the state's network when he walked into French Ad the first time, so he had to really work at it – but at the time he seemed a bit disconnected. And there was some talk about it around WSU, especially in the athletic department. Actually, it seemed he was trying to stay as far away as possibly from Paul Wulff's historically bad first team. Being there every day, all I knew was he wasn't around, at least around Bohler. And that was OK. I wish I could have been away too.
• Anyhow, one day Bud Withers of the Times came across the mountains to attend practice. Bud, as you all know, was an institution in the state's journalism circles, a long-time representative of the largest paper in Washington, which made him well-known to everyone. Even Floyd knew him, as I found out that day. Bud and were sitting in the west end zone at Martin Stadium, shooting the breeze when lo and behold, here is President Floyd standing before us. We stood up. He greeted Bud like an old friend, checking hands warmly and immediately engaging him in an involved conversation. As I stood there, feeling like the guys in Animal House over in the corner of the frat house, I realized, though we had been introduced a couple times, he didn't know who I was. Finally, he turned to me, held out his hand and said "Elson Floyd." I took it, shook it and said, "I know. Vince Grippi of The Spokesman-Review. We've been introduced a couple times before." There was no hint of recognition in his face, but he was quick enough to say something to the effect of, "I know," then mentioned he hadn't seen me around for a while. Which pissed me off. Sorry, I'm Italian and felt I was being disrespected. I am also a smart ass, so my answer almost knocked Withers to the ground. "I don't know why that is. I am in Pullman a lot more than you are," or something to that effect. It was damn rude. Floyd handled it well, though I know he didn't like it. (He shouldn't have; it was a jerky thing to do.) But I'm also sure he never forgot me after that. How do I know? Whenever we crossed paths, he went out of his way to chat me up. By name. And when Jim Sterk left for San Diego State, I got the most unusual phone call. It was from Elson Floyd. Not his secretary or anyone else. Floyd. He wanted to have lunch. He wanted to talk about the athletic director position, off the record. I accepted. We met at Banyans and talked for 45 minutes. He asked me questions about the AD job. He asked me questions about just one candidate, Bill Moos. He was doing an aspect of due diligence most presidents would never have done. He was asking tough questions from someone he knew didn't have a dog in the hunt. Someone who didn't love Floyd's preferred candidate, or hate him either. Someone who would tell him the truth. I did, the same truth that would appear in this space when Floyd announced his choice a little while later. When we were done – as an aside, there had been some negotiating about the check, as ethically I couldn't let Floyd pay; however, there was no bill (he had a tab there), so he charged the bill and I made a donation to a WSU-based charity; the paper reimbursed me for the money but I'm still on the mailing lists, so there's that enduring punishment – we shook hands and went our separate ways.
• After that, I only really crossed paths with Floyd in depth once more. I covered a regents meeting he ran concerning the Martin Stadium remodel. I was the only reporter in a conference room with about half the WSU regents – the rest were connected by phone – and watched as he steered the discussion, and decision, the way he wanted it to go. I've covered a lot of similar meetings over the years – heck, I participated in some as well – and I never saw anyone more in control. Subtly if he could, not-so-subtly if that was called for. In the end, the remodel was approved. Martin Stadium has never looked the same. And never will. Now that Elson Floyd is gone, we can say a similar thing about Washington State University. It will never be the same.
•••
• WSU: Jacob Thorpe is the S-R's guy in Pullman now and he has his usual reports, though in slightly unusual form. His morning post not only has links, but also contains a practice report and summaries of what Moos and Mike Leach had to say about Floyd on Ian Furness and Jason Puckett's radio show yesterday. Jacob also has a transcription of yesterday's live chat and another position preview today. That would be the running backs. ... Alex Grinch and Luke Falk are the subjects of the Seattle Times' preseason Cougar coverage. ... Jon Wilner touches on his choices for the 10 best non-conference games in Pac-8/10/12 history. ... Jim Allen does his usual preseason preview of the college soccer programs in the area. He begins this one with the Cougars and their new coach.
• EWU: Jim will hold a live chat today at noon.
• Idaho: This probably isn't the type of story anyone at UI wants right about now. But it's more bad news from off-the-field.
• Chiefs: Today is the first day of the Chiefs' preseason camp. Yes, it's going to be 90 outside. And hockey is underway.
• Preps: Longtime Spokane-area football coach Jerry Conner died Tuesday. Greg Lee has an obituary. ... Troy-area voters passed a levy Tuesday and football started up.
• Indians: Sorry, thought the Indians were done in Eugene on Tuesday. They weren't. They lost to the Emeralds again Wednesday night.
• Seahawks: No one will ever accuse Russell Wilson of being dumb. Or a bad businessman. He showed his strengths again yesterday in a story with Rolling Stone in which he credited a water product he has invested in with miracle properties. Or something like that. ... Dion Bailey is going to get his chance, what with Kam Chancellor still holding out. ... Speaking of Kam, you may have questions you want answered. ... Being in Seattle is better than being in Cleveland. ... We have another offensive line story for your enjoyment. ... The Hawks made some minor roster adjustments. ... The 49ers' troubles are not over.
• Mariners: Larry Stone asks a question that has about 10 different answers. ... Felix Hernandez hasn't pitched well lately. He thought it might be one thing. He worked on it. He seems to have been right. He pitched the M's to an 8-2 win over Oakland yesterday. ... Nelson Cruz (pictured) is having a heck of a season. He's got no chance in the MVP race.
• Sounders: Playing on the road in the Champions League is not easy. Especially when you play your young guys, saving the stars for the MLS match Sunday. The Sounders lost 1-0 in Honduras and now don't control their destiny in group play. ... Sigi Schmid was happy with the play of his younger players.
•••
• That's it. Be safe today. It is going to be hot. And smoky. Until later ...
---
---