Let's hope it won't be hard to see Idaho high school football tonight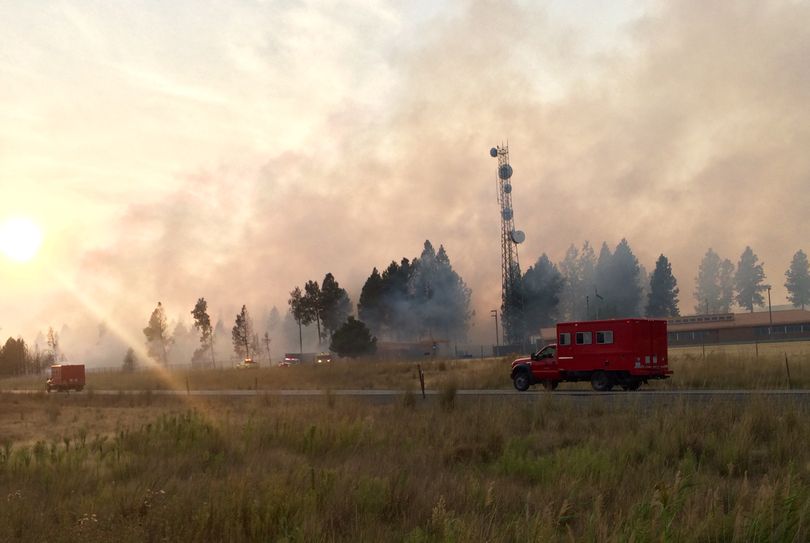 A GRIP ON SPORTS • There is an old Simon and Garfunkel song – wait, is there any other kind? – with a lyric that runs through my head often. It's from Paul Simon and it is contained in "The Only Living Boy in New York:" "I get all the news I need on the weather report." Me too. Read on.
••••••••••
• Right now it's actually true. At least tonight as it pertains to prep football. See, high school games get underway in Idaho, though how many depends on, yep, you guessed it, the weather report. To be more precise, the air-quality report. The smoke in the air has been off-and-on unhealthy in these parts lately, which has forced changes in the schedule and kept many administrators on their toes. As Greg Lee relates in this story, there will be a tripleheader tonight in the Kibbie Dome, when there were no games scheduled there just a month ago. To ensure the games go on, and the players' safety, three schools, Lake City, Coeur d'Alene and Moscow, moved games to the indoor facility today starting at 3 p.m. There will also be games there Saturday, which means playing them is assured. That's not the case for the rest of the schools in North Idaho. The folks in charge of making sure the Friday night lights are turned on probably got up this morning and checked their phones just like I did. According to the Spokane Regional Clean Air Agency, the air-quality index sits at 93 as my fingers work the keyboard. That's OK, just "moderate" in the parlance of the agency, seven points below the "unhealthy for some groups" rating that starts to get folks worried. But that rating can change quickly. This time yesterday the index was well into the "unhealthy" category, making morning workouts off-limits. But by the afternoon, a breeze had come up, the smoke was scoured out and it was OK to exercise outside. So what will the air taste like tonight? It's supposed to be warm today with only a hint of breeze, so there is a chance the air could turn awful again. It all depends on the fires that are dominating our state's attention and the way the wind blows, I guess. Tomorrow could be a tough day for those guys on the fire line, what with a high-wind watch going into effect around here in the morning in advance of a storm. But there is no rain in the Spokane forecast until about 6 Sunday morning, when it gets to be 50/50. It's not a forecast fire-fighters like. Or football administrators.
•••
• WSU: The Cougars are still in prep mode for next weekend's opener – yep, college football is less than a week away, considering the Idaho Vandals open next Thursday night against Ohio – which means so is Jacob Thorpe. He has another position preview in today's paper, this one on the deepest position on the team, receiver. He also has video of first-year defensive coordinator Alex Grinch, practice notes from last night as well as a blog post this morning with links. ... There are a few games not to miss this college football season as well as a few guys who are the early favorites for the Heisman Trophy. The guy who wins this competition probably won't be going to New York.
• Gonzaga: It's also volleyball season, with Jim Meehan previewing the seasons of the area teams. He begins with the Bulldogs, who are expected to be pretty darn good.
• EWU: The Eagles want to get their tight ends involved more. Jim Allen has that story. He also held a live chat yesterday, some of which you can read here.
• Chiefs: Youth was the major point of discussion yesterday as the Chiefs held the first of four days of camp. Chris Derrick was there and he has this story and blog post about what he saw.
• Indians: Eugene is the place Spokane's playoff went to die this season, with the Indians losing again last night, 2-1, allowing the Emeralds to win the series 4-1. Spokane has lost four consecutive games.
• Seahawks: OK, we have off-the-field "news" for you, mainly because it involves Russell Wilson. His recovery water claims have opened him up to a lot of second-guessing, though Pete Carroll has his back. Of course he does. ... In other off-field stuff, Marshawn Lynch and the NFL seem to have come to an agreement about his media foibles. ... Back to the field, the Hawks face San Diego on Saturday and Carroll wants to see what the offensive line does. ... K.J. Wright has been working on his red zone skills while Tharold Simon (pictured) has been working on everything. Dion Bailey is just eager to play.
• Mariners: If you wanted to make a movie about the M's offense this year, I think you should title it "Stranded." It seems to be what the offense does when folks get into scoring position. It happened again last night in the 4-2 loss to Chicago. ... Kyle Seager had the day off yesterday. ... Speaking of Chicago, the M's traded Fernando Rodney to the Cubs for some money. Either he'll be the best reliever in baseball down the stretch or he'll destroy the Cubs' postseason chances. Which is more likely in your mind? ... Yes, I watched the new Macklemore video yesterday, mainly because it was made in Spokane. But Ken Griffey Jr.'s appearance was a bonus.
• Sounders: If you are going to the Sounders match Sunday, the team cautions you to arrive early.
•••
• That's our Friday morning report. What's on you agenda for the weekend? We are still working on ours. Maybe you have a good suggestion. Until later ...
---
---