Mon., Aug. 31, 2015
Cooler weather and football go together like peanut butter and jelly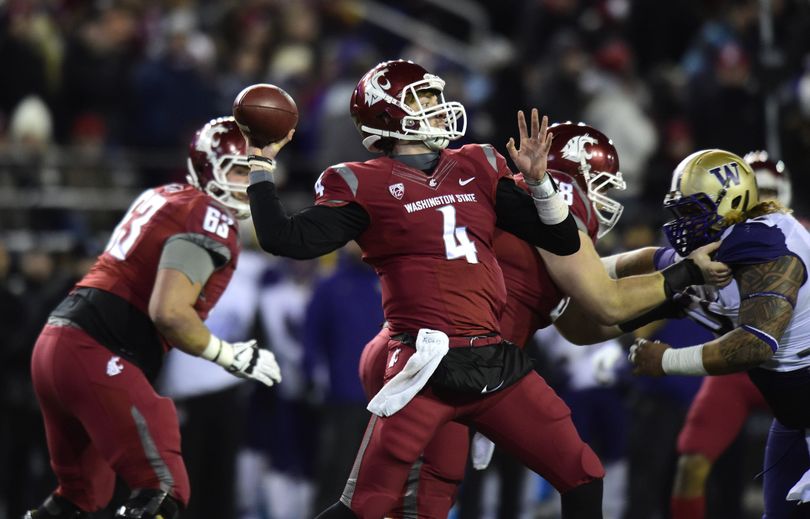 A GRIP ON SPORTS • There is a touch of fall in the air, and we're not referring to the smell of burning leaves. It's more the nip this morning's air left on your skin. That can mean only one thing: It's football season. Read on.
••••••••••
• The heat wave that has been in place since, I don't know, May, finally seems to have broken. The wind has a bit of the north to it, the sky is bluer, the sun a little lower. Before you know it the true sign of fall will be upon us. "Be a good sport ..." and all that college football contains. What follows after is my least favorite season – winter, my nemesis – but for now it's nearing autumn and college football season. Yes, I know. The NFL owns this nation, especially between September and February. But it doesn't own this guy. Ever since I watched O.J. Simpson dash 64 yards through the UCLA defense – all 11 Bruins had a chance to bring stop him, but even if the game had been two-hand touch he still would have scored – in 1967, I've been a college football guy. Oh, I follow the Seahawks and I will sit in front of the TV, marveling at the technological advancement that is the RedZone Channel, but my heart belongs to another in the autumn.
• Like a lot of you, I am still a baseball fan. But boy, has this year been tough. We all have a favorite – if that's the right word – Mariner story to tell from this year of the big disappointment, like the time they blew a three-run lead or the time Felix got shelled. But I also have another team I root for, the team of my childhood. Yep, I still want the Dodgers to do well, though I don't follow them as much as I used to before they turned into a 2015-version of George Steinbrenner's Yankees – complete with Don Mattingly as the manager and a $300 million payroll. You would think that kind of money would buy a hit now and then. But it doesn't, at least not recently. The Dodgers were no-hit last night for the second time in less than 10 days, with the Cubs' Jake Arrieta (in middle of picture) turning the trick Sunday, hard on the heels of Mike Fiers of the Astros last week. Who? My sentiments exactly. At least when the Dodgers of my youth couldn't hit, they won behind the best starting pitching duo in baseball, Sandy Koufax and Don Drysdale. Wait, nothing has changed. The Dodgers are still winning, they still can't hit and they have Clayton Kershaw and Zack Greinke. Now we'll see if they can still win, with the hated Giants coming to L.A. for three games starting tonight. It's like it's 1965 all over again.
•••
• WSU: The Cougars kick off their season Saturday morning in Pullman against Portland State. If the forecasters are right this far out, the temperature should be in the 50s, which seems appropriate for college football. Jacob Thorpe kicks off his week of coverage with a story on two freshmen that are expected to have a big impact on WSU this season. ... He also asked Mike Leach five questions and he has Leach's answers in this video. One of the answers brought memories of Clark Griswold's St. Louis experience in "Vacation." Overall, the interview shows how good Leach is when answering questions only peripherally related to football. ... Finally, Jacob has his morning post with links. ... Here's another forecast of the Pac-12's finish.
• EWU: The Eagles' first opponent is one of the best teams in the nation, and a team with a bit of inside knowledge. ... Southern Utah is hoping to have a better season.
• Idaho: The Vandals have picked their captains. The season begins Thursday night with a visit from Ohio.
• Chiefs: Spokane held its annual Red-White intrasquad scrimmage yesterday, with the White team winning handily, 8-1. But that's not what everyone wanted to talk about. The conversation was more about the Chiefs' bright future. Chris Derrick has more in this story and blog post.
• Indians: The season is winding down and Spokane is about to be eliminated from the postseason. It's only a matter of time after Sunday's 3-2 loss to Vancouver.
• Seahawks: If you watched the Hawks Saturday, then Pro Football Focus' grades won't be much of a surprise. ... The offense is still trying to get its act together and the defense may be more aggressive. ... The snap counts are pretty interesting. ... The Chargers are not happy with Frank Clark.
• Mariners: Stop me if you have heard this before: The M's led, they gave up the lead and they lost in extra innings. Wash, rinse, repeat. Only this time the 6-5 defeat could be blamed more on a leaky defense than the sieve-like bullpen. ... With the aforementioned bullpen taxed to its limit, the M's made a change to the roster two days before the rosters can expand.
• Sounders: Seattle needed a win in the worst way. It got it, scoring when Obafemi Martins took advantage of a Portland giveaway and on a controversial penalty kick. The 2-1 win allowed the Sounders to move into a playoff position once again. ... Again, stop me if you've heard this before: The Portland coach is upset with the officiating. ... Though Clint Dempsey still isn't healthy enough to play for the team that pays him a whole heck of a lot of money, he's been called for national team duty next week. ... Marco Pappa played a lot of minutes. ... The Sounders aren't the team the Timbers are, at least according to the Timbers.
•••
• Yes, it's Monday morning again. (It is, isn't it?) I'll be on 700 ESPN radio today – you can listen here if you wish – and Thursday along with Keith Osso and Rick Lukens from 3 to 6 p.m. Until later ...
---
---