Tue., Dec. 1, 2015
It's December, which brings us snowy days, Christmas music and high school hoops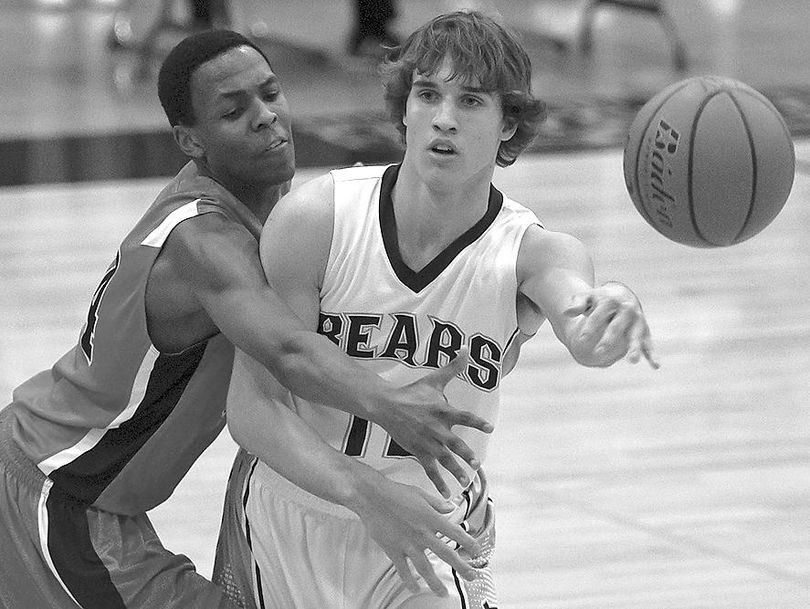 A GRIP ON SPORTS • You know what starts tonight? Yup, high school basketball season. Though there are fewer games than expected thanks to the ill-wind that blew through the area a couple weeks ago. Read on.
••••••••••
• The wind not only blew down trees and snatched power from thousands of us, it also took away practice days from schools around the area. So the Greater Spokane League has postponed its openers from tonight to tomorrow night, though other games will go on. We're looking forward to it. Why? Because there is so much good, young talent around the area in the boys' ranks. There have been stretches of excellent basketball in the Greater Spokane League (and area) over the years and they all one thing in common: You could see them coming for years. Such is the case now. There is more freshman and sophomore talent in the GSL since the early part of the century, when Ferris went to two consecutive 4A title games and Mead followed with a third. Guys like Sean Mallon and Danny Pariseau in one class and Adam Morrison and Derek Taylor in the next helped lead their schools deep into the state tournament. The talent of the classes – there were some other great supporting players sprinkled throughout the area at the time as well – was obvious as they entered high school and they didn't disappoint. I've followed the local basketball scene before and after and I don't recall a better group of young players since – until now. There are sophomores sprinkled throughout the area that are already on major college radar. There are freshmen who will make impact this season and even a couple who are being recruited already. And there is enough upperclassmen talent to give a handful of local teams legitimate shots at state titles. The area is ready for a renaissance. And it all starts tonight. Or tomorrow, depending on how the wind blew.
• Sometimes college athletes surprise even the most jaded of observers. And a couple of us wide-eyed innocents. Such was the case with Cooper Kupp yesterday. Everyone I know that has good connections in Cheney was telling me Kupp was all-but-out-the-door, headed to the pro ranks with a year of eligibility left. But they were all wrong. Kupp tweeted out last night he was returning to Eastern Washington for his senior year – and all of Eagle Nation rejoiced. Before we call Kupp, the best receiver in school history and one of the best all-time in FCS ranks, the antithesis of Vernon Adams, let's remember their situations are a bit different. Adams is an undersized quarterback who needed to show NFL scouts and general managers he can compete against the best the nation has. He's done that this season at Oregon. He couldn't have at Eastern. Will that translate into a shot at the big time? Who knows, but it couldn't have hurt. Kupp, on the other hand, doesn't have to prove the same things. He's big enough, fast enough and talented enough. He has proven his worth even if the competition each week isn't at the same caliber as it is at Power 5 conference schools. He's excelled in games against Pac-12 schools, even when their defenses were geared to stop him (as was the case in Eugene this season). Besides, there is a track record of receivers with his size and skills translating from FCS schools to the NFL. Adams-sized quarterbacks haven't done as well. So there is a difference. All of Cheney gets to celebrate that difference. As do all of us, who will now have another year of watching Cooper Kupp fool cornerbacks, make hard-to-fathom grabs over safeties and outsprint linebackers to the end zone.
•••
• WSU: The WSU women's basketball team suffered its first loss of the season, losing in Stillwater to Oklahoma State, 70-60. ... Where is Washington State going bowling? Your guess is as good as anyone else's. The bowl situation will be impacted by where Stanford ends up. ... Will the firing of Mark Richt at Georgia change the Cougars' recruiting haul? ... Jon Wilner handed out Pac-12 awards yesterday – the real ones are announced today – and he tabbed Mike Leach as the Pac-12 coach of the year and three Cougars on his all-Pac-12 first team. Two of them were defenders. ... Oregon State's housecleaning is underway and a quarterback who started a handful of games is out the door. ... USC made interim coach Clay Helton the permanent guy. His hiring wasn't met with unanimous acclimation and may determine Pat Haden's legacy as AD. ... Utah and BYU will meet tomorrow night in a basketball rivalry game of sorts.
• Gonzaga: Kyle Wiltjer earned a WCC award, though he shared it with a BYU player. ... Speaking of the Cougars, they are building a multi-million-dollar practice facility.
• EWU: Jim Allen has all the Kupp news in this story.
• Chiefs: Everett made a trade to bolster its defense.
• Preps: Greg Lee looks at the boys basketball leagues in the area this morning and has a feature on Logan Adams, the GSL's leading scorer last season.
• Seahawks: One win over a winning team and things are looking up for the Hawks. As long as you don't count the loss of Jimmy Graham. That's the downer. Pete Carroll, ever optimistic, says Graham will be back for next year and he will. But what about this season? It will be more Luke Willson, that's for sure. Will it actually be a blessing in disguise? ... There was another, minor roster change yesterday as well. ... The defense gave up a bucket-load of yards and points Sunday but Carroll seems unconcerned in public. Privately, I'm guessing he's a bit different. The Hawks have already made some changes on the back end, trying to stem the tide. ... The offense has been getting better each week.
• Mariners: Is Mark Trumbo on the way out? It looks as if the M's are trying to trade the power-hitting, slow-footed first baseman. ... They seem to have an interest in a former Giant outfielder as well.
•••
• That's it for today. Have a good one. Until later ...
---
---