Thu., Dec. 3, 2015
Gonzaga and WSU helped each other get better last night and the rest of us got to watch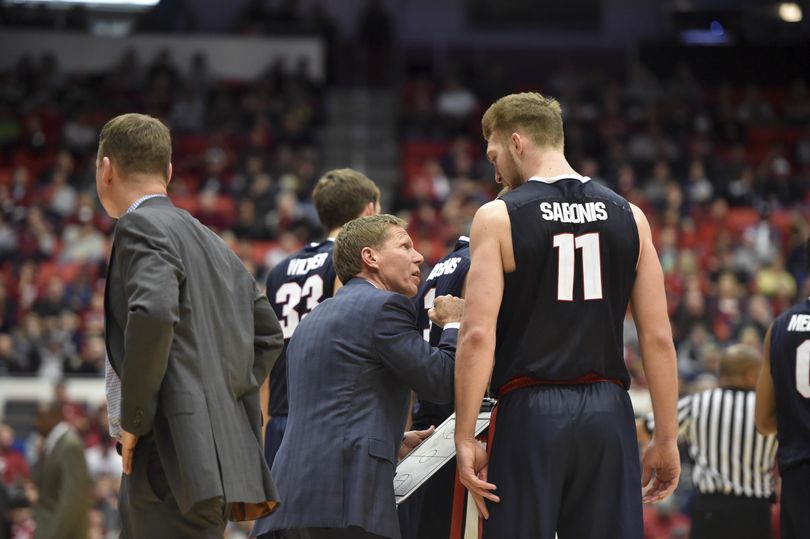 A GRIP ON SPORTS • There was a pretty decent basketball game in Pullman last night, pitting two of the better programs in our area. Kinda fun, don't you think? Read on.
••••••••••
• We've already shared our thoughts about the series between Gonzaga and Washington State, so we won't bore you with a repeat of them here. Suffice to say, not having the two teams meet seems illogical. Last night was a great example of why. Gonzaga is good, one of the better teams in the nation. Washington State isn't of that caliber right now, but Ernie Kent is recruiting a different type of player to Pullman and the change already shows. The Cougars are quicker and more athletic than they've been. Yes, the Zags were missing a key element last night, Przemek Karnowski, and anyone who doesn't think the 7-foot-1, 287-pound senior center wouldn't have made a difference is crazy. Or doesn't know a lot about college basketball. But still, the Cougars' quickness and speed, something the Zags don't see all that often, especially in conference play, offered a great test. And showed us the young GU guards are going to be all right. Heck, better than all right. Pretty darn good. Gonzaga coach Mark Few – Darth Vader incarnate to Washington State fans right now – has been telling basketball folks in Spokane that all summer and fall. We took him at his word and Josh Perkins, Silas Melson and, to a lesser degree, Bryan Alberts, have stepped up. WSU's guards, guys Ike Iroegbu, freshman Charles Callison and Que Johnson, offered differing challenges last night on both ends. Perkins and company were up to the task, handling pressure, initiating the offense, getting back in transition and defending in the half court. The three guards Kent started combined for 45 points, but it took them 43 shots to get there. And only Johnson converted half of his attempts. With Gonzaga's superiority in the frontcourt – despite not having Karnowski last night – most every game, all the Zag guards have to do is get a push for them to be successful. But most nights they'll do more than that, especially as the season wears on. They are only going to get better. As will the Cougars. Facing a team like Gonzaga, with its size and athleticism, can only help. There are few teams on the West Coast that are as complete as GU, and last night's effort should go a long way in helping Kent convince his group they are on the right track. Now if there was just a way we could do the same with this series.
• One last thought from the game: What happened to the tighter officiating? Has it already disappeared? The three Mikes with the whistles, Scyphers, Reed and Irving, called just 27 fouls in a game that probably, if played two weeks ago, would have drawn 40 to 50. The NCAA says it is adamant about cleaning up the game, giving the offense freedom of movement and improving the flow. Well, that mandate must have not gotten to Pullman just yet, because the hand-checking, slapping and just plain holding by both teams was out of hand – if you are really serious about cleaning up the game. It doesn't bode well for the long-term success of the initiative, does it?
•••
• WSU: Because the game was in Pullman, Jacob Thorpe had the S-R's coverage with a game story, the statistics, videos of Cougar players and Kent postgame as well as a morning post with links. ... Tyler Tjomsland has a photo gallery from the game. ... Jacob held a live chat yesterday. ... It was a busy day around the nation, what with the Cougar GameDay flag missing as well as football thoughts from California and around the Pac-12. ... Arizona State won a game last night, though it was a tight one.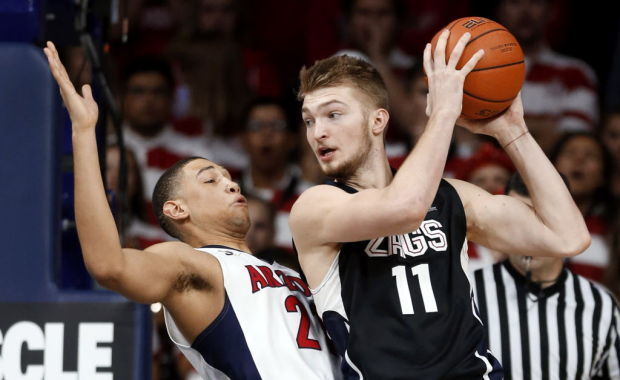 • Gonzaga: It was also a busy day for Pac-12/WCC matchups, with Gonzaga winning in Pullman but BYU losing two ways in Salt Lake City. They lost the game, 83-75, to Utah and then lost it mentally. Freshman Nick Emery connected on a punch, pulled an Ali standing over his victim and was ejected. After watching the sequence more than once, it's obvious Emery won't be playing a while. Like a month maybe, and rightfully so. ... The other Pac-12/WCC hookup went to Oregon State over Loyola Marymount. ... This weekend's matchup with Arizona is already gathering steam in Tucson. ... USD earned a home win last night. ... Portland has Portland State's number.
• EWU: Though Eastern didn't make the FCS playoffs, Portland State is ready to begin its run.
• Idaho: The Vandals were at home last night as well, hosting Cal State Bakersfield. UI held on for a 67-63 win. Sean Kramer has the story.
• Chiefs: Spokane wasn't in action, but Everett hosted Tri-City with the Americans taking home a 4-1 victory. ... Portland lost 5-3 to Prince George.
• Preps: Basketball started last night with Greg Lee covering the girls and boys roundups.
• Seahawks: Up this week is one of the best running backs in NFL history, Adrian Peterson, and the resurgent Minnesota Vikings. The Hawk defense seems ready for the challenge. ... The Hawks seem to like to take mulligans. ... The Sherman family is tight-knit, we knew that. They are also giving. ... The passing game is improving. ... Was the Jimmy Graham trade a good one? Pete Carroll thinks so despite Graham's season-ending injury. He's looking long-term, of course.
• Mariners: The M's are remaking themselves into Jerry Dipoto's long-term image, that's for sure. The team is already tremendously different and the offseason still has a couple more months to go. Nori Aoki in, Mark Trumbo and others out and there is money and space for other changes.
• Sounders: Speaking of change, the Sounders will have a new look next season as well, especially after not picking up contract options for nine players.
•••
• College basketball rolls on this week. But that doesn't mean there isn't football, college and professional. Isn't it a great time of year? Until later ...
---
---