Tue., Dec. 8, 2015
The Heisman Trophy is still a big deal even in this day and age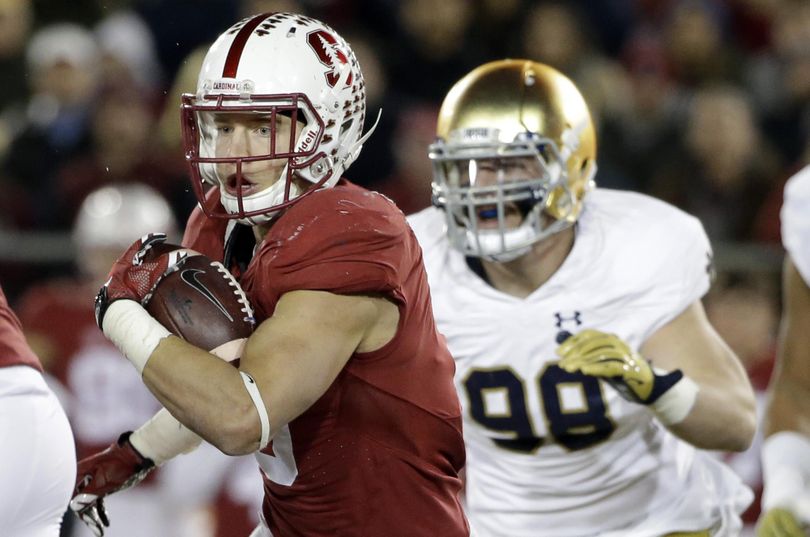 A GRIP ON SPORTS • Remember when the Heisman Trophy really meant something? When the statue of Jay Berwanger, the first winner, actually was a really big deal? You mean last season? Read on.
••••••••••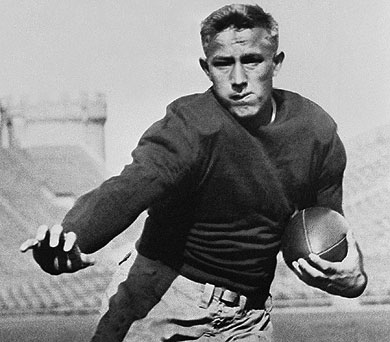 • It may be appropriate, in an odd way, Berwanger (pictured) attended the University of Chicago, a school that no longer fields a football team. The Heisman used to mean something different than it does now, back in the day when Roger Staubach won it and then headed off to war in Vietnam. The Navy vet didn't return to the NFL for years but he always held the moniker "Heisman winner" no matter what his duty in the jungle. The same can't be said about Reggie Bush, who put together one of the greatest years ever, won the Heisman and then had to give it up when the NCAA decided his parents received help on their rent. (As an aside, if I ever won a major trophy like that and someone decided to take it back, they would never get it. If I were in Bush's shoes, the Heisman would be still sitting on my mantle to this day.) The Heisman has a checkered history – O.J. won it then basically tried to hock it years later, Cam's dad reportedly picked up $50,000 before Newton earned the trophy – in more ways than one. The winners seemed to have to deal with a curse while in the NFL. Of the 80 winners, only a handful of them have become NFL stars. For every Barry Sanders (winner in 1988) there is an Andre Ware and a Ty Detmer. For every Charles Woodson there is a Danny Weurffel and an Eddie George and a Rashaan Salaam and a Charlie Ward, the four winners before Woodson in 1997. The award doesn't guarantee anything except your name on a Wikipedia list. Such are the vagaries of sports. Which brings us to our point. The three finalists this season aren't guys you saw coming some 10 weeks ago. Oh sure, Alabama's Derrick Henry was on everyone's preseason list, mainly because he was the best running back on Alabama's roster. No matter who you are these days, that gets you on preseason lists. But Henry wasn't considered the best running back in the SEC halfway through the season, let alone the best in the nation. But there he is, the favorite going into the ceremony. Deshaun Watson was Clemson's quarterback when the season started. So? But the Tigers kept winning, he kept playing well and now he's a finalist as well. Then there is Christian McCaffrey. If there is any of the three who embodies what the trophy is supposed to honor – the nation's best college football player – than that's McCafffey. He does it all for Stanford. Runs with the ball. Catches it. Throws it occasionally. Returns kicks. Sits in the booth and calls the defenses. OK, I made up the last one. Still, McCaffrey is the best all-around player, statistically, ever, surpassing Sanders' great 1988 season. (Before you point out McCaffrey has played more games than Sanders, let me point out the Stanford star passed Sanders' total with fewer touches. In other words he averaged more yards per touch this season than Sanders did in that incredible year.) But McCaffrey is considered a darkhorse candidate, with Henry the favorite. Still, I'm thinking he may win. The Heisman is a nationwide vote, divided into six regions. Each region has 145 media votes, and those folks tend to vote for the players they see more often, the ones in their area. McCaffrey should lead the Far West and Watson the Mid Atlantic, basically their home areas. The South is Henry's turf. But what about the other three areas, the Mid West, North East and South West (to use their Heisman designations)? That's where the trophy will be decided. Will Henry's year – he set a Southeastern Conference rushing record – and name recognition be trump in Big Ten territory? Will McCaffrey's passing of Sanders hurt or help in the South West, Big 12 country? And who ever knows how the North East will vote. McCaffrey does look a bit like Doug Flutie, however, and that should help in Boston. It's the regional nature of the award – a throwback to a time before television – that makes it interesting. And gives McCaffrey a chance. We'll find out Saturday.
• Hey, breaking news. Washington State left tackle Joe Dahl, a U-High graduate, was named second-team All-America today by USA Today.
••• • WSU: The Cougars have set their plans in preparation of their Sun Bowl appearance, which is what's also happening at nine other Pac-12 schools. Oregon is playing TCU in the Alamo Bowl, which may just may be the most entertaining game of the bowl season. The Ducks are also the lone underdog among conference schools. ... Vernon Adams' move seems to be working out. ... Steve Sarkisian isn't going away quietly. He sued USC yesterday for $12 million, or the remainder of his contract. ... The Oregon basketball team played in Hawaii on Pearl Harbor Day and defeated Navy.
• Gonzaga: It's bounce-back time for the Zags, as they host Montana this evening. Jim Meehan has this advance of the game.
• EWU: Portland State's Bruce Barnum began the season as an interim coach. He ends it as the FCS coach of the year.
• Idaho: USC used a big second half to race past Idaho 74-55 in Los Angeles.
• Chiefs: National duty is going to cost Everett one of its better players for a while.
• Preps: North Central's Justin Janke finished seventh at the Foot Locker West Regionals last weekend.
• Seahawks: After bottling up Adrian Peterson and the Vikings, the Hawks have a familiar look to them. How did Pete Carroll do it, keep this team together and get them ready for a stretch run? My guess is relentless positivism. ... Cary Williams was a starting corner a few weeks ago. Now he's no longer a Seahawk. They cut him yesterday. ... Up next is Baltimore, a team ravaged by injuries this season. ... Marshawn Lynch is trying to bounce back from his injury. ... Great, the Hawk offense is figuring it and now Darrell Bevell might leave?
• Mariners: The M's missed out on re-signing Hisashi Iwakuma, not being willing to add a third-year to a contract. (Why not? It's only money.) So Jerry Dipoto traded for another starter, getting lefthander Wade Miley from the Boston Red Sox. Dipoto had to surrender the M's best young reliever, Carson Smith, to get it done.
• Sounders: Lamar Neagle is no longer a Sounder. He was traded yesterday to D.C. for allocation money. ... The roster realignment that goes on all around the MLS this time of year means there are a lot of familiar names available.
•••
• You wonder if any of the former Heisman Trophy winners really care about the trophy itself. I mean, do you think someone has it in his bedroom on a stand with a light shining on it? Or is it more plausible most of them use it for a doorstop? Until later ...
---
---