Wed., Dec. 9, 2015
Day after Montana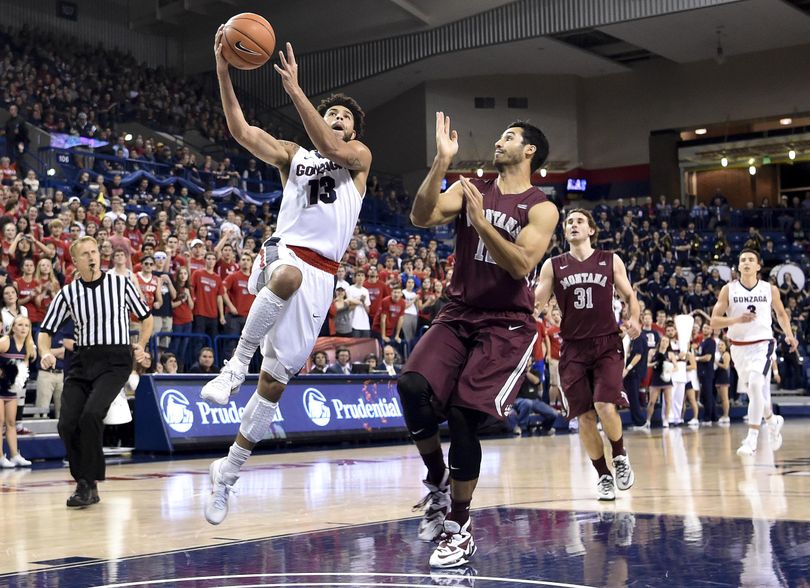 Let's get right to the day-after Montana post. The links: My gamer, Tyler Tjomsland's photos and the Missoulian gamer.
Read on.
--The Zags seem to be operating at extremes: trying too hard/forcing the action or appearing tentative/unsure. They can't seem to find that comfortable middle ground.
"We're kind of struggling right now, we have a lot to work on," forward Domantas Sabonis said. "We just have to slow our pace down and play with poise."
"Everybody wanted to come out and play as hard as they can and be really aggressive," guard Kyle Dranginis said. "That kind of bit us in the butt a little bit."
"The guards came out with this aggressive mind-set, which is fine, but some of their decisions were just ridiculous," coach Mark Few said. "They need to temper that, get back to doing what we do and when the opportunities present themselves take advantage."
--Redshirt freshman point guard Josh Perkins and senior guard Eric McClellan experienced 40-minute rollercoaster rides. McClellan was scoreless with two turnovers in nine first-half minutes but rebounded with a strong second half (11 points, one assist, no turnovers).
Perkins' final numbers were fine (13 points, six boards, three assists and two steals, just one foul) with one glaring exception (five turnovers).
Both players came through with big buckets in crunch time, none bigger than Perkins' 17-footer that touched nothing but net with 38 seconds remaining.
"We're getting better every time in this (tight, end-of-game) situation," Perkins said. "From here on out, that's the results we want."
"Just aggressiveness, especially with Josh," McClellan said. "Being so young and being put in a position like that and how he was turning the ball over a bit, to come back in the second half when we really needed him to make huge plays, that's something you really can't teach.
"He'll provide that for you guys for the next three years."
Perkins has provided that on several occasions already, nailing the biggest shot Tuesday, last week against WSU (a 3-pointer after GU's lead was trimmed to six) and putting together a 15-point half against Texas A&M in the Bahamas.
"I thought he was awful early and awful to start the (second) half," Few said. "And then to his credit he made some big plays and that's not easy to do in the world of sports or in life. … So I was proud of him there."
--The Karnowski-less Zags have now strung together their three worst shooting performances of the young season (42.9% vs. WSU, 44.3% vs. Arizona and 40% vs. Montana). GU had to hustle to get to 40% last night and to reach the 60-point mark.
Judging by Przemek Karnowski's slow, measured steps walking to the bench, he's not close to returning as he deals with a disc issue in his back.
It's been mentioned here before that Karnowski is one of the most underrated players in the country, and his absence the last three games due to a back injury only reinforces that belief. The big man is a rim protector and shot influencer at the defensive end, which came to mind when Arizona's Allonzo Trier repeatedly drove carefree into paint Saturday and when 5-10 Grizzlies guard Walter Wright blew by his defender and found a clear path to the rim on two straight second-half plays.
The big man is also a force at the offensive end that puts foul pressure on opposing bigs, draws considerable attention, passes well out of double teams and generally helps the offense connect all the dots. That came to mind with the GU's normally productive high-low game producing more turnovers than baskets against the Griz and the general lack of easy baskets.
--With the guards struggling in the first half, Few turned to walk-on Dustin Triano, who played four minutes and had one assist, one rebound and one point.
"He's been working really hard and made a lot of shots in practice. He's a great team guy and he deserved it. And our guards weren't playing good."
STATS OF NOTE
--Gonzaga has been outscored in points off turnovers in seven straight games by a combined 39 points. Montana had a 14-4 edge.
--GU held Montana to 36.1-percent shooting, nearly mirroring the season-long average of Zag opponents (36.4).
--Put it another way: Texas A&M's 44.7-percent accuracy is the highest against Gonzaga this season.
--The Zags were better at the FT line (13 of 17, 76.5%). Sabonis was 6 of 6.
QUOTEBOOK
Perkins: "We found a way, found a way."
Dranginis: "We got the win, that's what really matters. It was definitely an ugly game but we're going to have ugly games. Every team does, and it's important to win those games, too."
Few: "We made some plays. That was a big rebound by Domas, good free throws by Wiltj, Josh stepped up and made some shots and Eric kind of got off the schneid and made some plays. I'm hoping that will get them going. They're making the game a little too hard and maybe feeling the pressure of playing here and getting off to a rough start."
Montana second-year coach Travis DeCuire: "It was the best defense we've played since I've been at Montana."
---
---