Wed., Dec. 9, 2015
Just another great day in December – despite the weather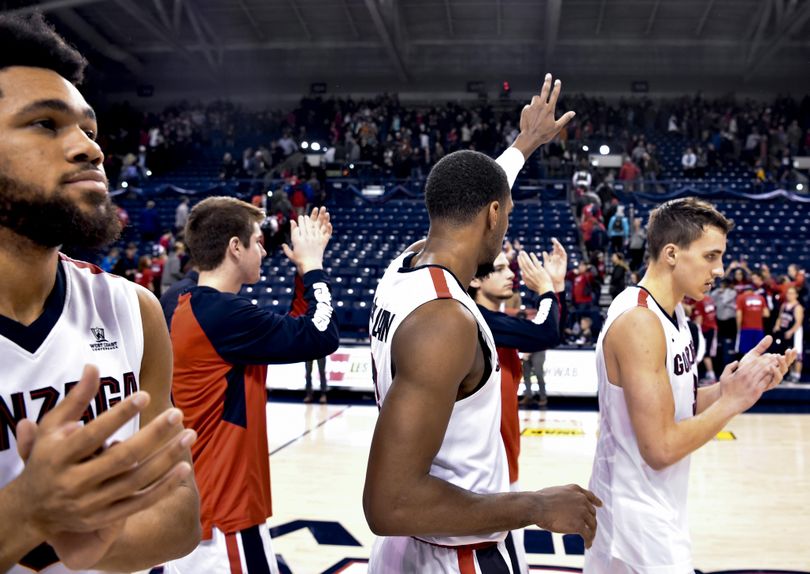 A GRIP ON SPORTS • Now that's more like it. By that I mean if you like basketball at any level, last night was for you. Read on.
••••••••••
• The Zag men hosting Montana in the Kennel. The WSU women doing the same with the Gonzaga women in Beasley. High school basketball all over the place. Heck, even the NBA on the tube. Last night was a basketball lover's dream. Which, considering the weather, was perfect. Basketball is the perfect indoor sport played in the time of year when indoor sports are advisable. Rain, wind, snow, sleet? Who cares when 3s are raining down inside. If Montana had hit one more of those – Colfax's Brandon Gfeller had a look to tie the game in the waning seconds – they might still be playing over at GU. As it is, the Bulldogs had to bulldog a tight-fought win over Montana despite playing without their mountain man in the middle, Przemek Karnowski for a third consecutive game. In a form of irony, sitting on the Montana bench was assistant coach Ken Bone, who, when he was Portland State's head coach, earned the only win in the Kennel for a Big Sky team. It was an accomplishment he couldn't duplicate while serving as Washington State's head coach. But the Cougars did earn a win over Gonzaga last night, albeit on the women's side of the ledger. WSU, 8-1, is off to its best start since the prehistoric era – 1989-90 – though they had to hold off a GU team still without two key players, 6-foot-5 Emma Wolfram and senior guard Shaniqua Nilles, both dealing with injuries. In a defensive battle, the Cougar defense was better, holding GU to 28 percent shooting and forcing 20 turnovers. But that wasn't all the basketball available last night. There was a game at pretty much every-other high school in the area. From big to small schools, you could have watched a girls or boys game just about anywhere. So the wind may blow – and it's expected to blow really hard tonight – and the rain may come down, but, inside, where it is nice a warm, there is always basketball. As long as the power stays on.
•••
• WSU: The Cougars returned to the football practice field yesterday in preparation for the Sun Bowl and Luke Falk was there to run the offense. Jacob Thorpe has a practice report. On the blog, Jacob has the news we reported to you here yesterday morning, Joe Dahl is All-America. He will also play in the Senior Bowl. Jacob also has an interview with Falk after practice and a morning post with links. ... Jacob was also at the women's basketball game last night and has this story on the Cougars' 55-48 win over GU. ... ESPN.com's Pac-12 blog has its all-Pac-12 team and Falk, Dahl, Gabe Marks and Destiny Vaeao all made it. ... California's basketball team isn't in a zone just yet. ... Back to football, USC is dealing with another Reggie Bush problem. And we want to say goodbye to an old friend, one whose career and mine crossed paths long before we became sports writers. Chris Dufresne is moving on from the Los Angeles Times.
• Gonzaga: The Bulldogs don't know when they will have Karnowski back, but they could have used him last night. The shot a season low 40 percent last night, and the 7-foot-1 Karnowski's presence under the hoop would have definitely helped that. Jim Meehan has the game story while Tyler Tjomsland has the photo report. We also can pass along the game story from the Missoulian. ... Portland lost a tough one at home to Idaho State. ... A Gonzaga volleyball player earned all-region honors.
• EWU: A couple of Eastern track and field athletes earned Big Sky awards. ... Is the Big Sky becoming a minor league for the Pac-12?
• Whitworth: And a couple of Pirate football players earned all-region honors.
• Chiefs: Spokane will be without a couple players due to national team duty. ... Everett wants to play hard and rest easy.
• Preps: We will start our prep report with Jim Allen's college women's basketball notebook, because Jim catches us up with a former Central Valley player now at Carroll College. ... We have a Greater Spokane League basketball roundup as well as girls and boys roundups from around the area.
• Seahawks: So the Hawks' chances of making the playoffs are getting better and better. (Though an upset loss in the season's final four weeks certainly wouldn't help.) The teams' veterans seemed to know it all along and the stats seem to be showing it these days. ... The roster continues to churn, though three rookies are secure. ... The faith in Tom Cable and the offensive line seems to have been well-founded as well.
• Mariners: Speaking of roster churn, we'll use the M's as the prime example in Seattle. Jerry Dipoto continues to remake the team, adding a reliever yesterday and saying the M's will convert a minor league starting sensation with injury problems into a reliever as well. ... Hisashi Iwakuma was called a low-cost alternative for the Dodgers. He came at too high a cost for the M's.
•••
• Hey, I'm back on the radio. It's a two-hour show today, from 3 to 5 p.m., and I'll be joining Dennis Patchin and Rick Lukens on 700 ESPN. You can listen here if you like. Until later ...
---
---