Thu., Dec. 10, 2015
The Empire strikes back this morning … or something like that
A GRIP ON SPORTS • From a new name for our local indoor football franchise to one of the longest-running college basketball rivalries in the nation, there is a lot to get to this morning. So let's get to it. Read on.
••••••••••
• First off, sorry for the late nature of this post. No excuses other than two airport runs – a pickup and a drop off – within five hours overnight and this morning. So what is on our plate? There's not a lot other than news from around the area and world of sports. The M's traded for a first baseman, but probably not an everyday first baseman. The Cougars and the Vandals will meet for like the 500th time tonight in Moscow (that is if you count the times the players from the adjacent schools play each other every summer). The Chiefs held off Seattle in the Arena last night while Eastern couldn't outscore Davidson in North Carolina. In other words, a fairly typical midweek night this time of year.
•••
• WSU: The Cougars practiced for the Sun Bowl again yesterday and Mike Leach talked with the media afterward. Jacob Thorpe has the video. Just wondering. How many of you are headed to El Paso to watch the game live? How many will just buy tickets to support the program, but not go? And how many will sit in your living room and yell at the TV? ... Jacob also held a live chat yesterday and he posted the transcript. ... Around the conference in football, ESPN.com's Pac-12 blog explains its major awards and details the North's superiority again. WSU played a role in both. ... Jon Wilner looks at Sonny Dykes' contract and why it is fair. ... Arizona and California, two of the conference's better basketball teams, won last night but neither steamrolled their opponent. ... The biggest conferences don't have continuity in their football schedules. That has to change.
• Gonzaga: Jim Meehan, as he does, looked back yesterday at the game the night before. He has lots of good stuff in this next-day post about the Montana game. ... Jim also has a story detailing how Gonzaga athletic director Mike Roth hopes to keep up in the college basketball arms race. ... UCLA, who comes to the Kennel on Saturday, has a score written on its lockerroom whiteboard. ... BYU amped up the defense and handled Utah State 80-68 last night. ... USD upset San Diego State the other day but couldn't get past Denver last night.
• EWU: The Eagles traveled to the Charlotte area to face a Davidson team that is always tough on its home court. And the Wildcats, specifically Jack Gibbs, were again last night. Gibbs had 37 points as Davidson won 96-86. ... Weber State lost at Utah Valley State, 84-81, in double overtime.
• Idaho: Sean Kramer has a blog post with some notes and quotes in advance of tonight's 6 p.m. game with Washington State. ... The women lost 78-62 at Texas Tech.
• Chiefs: Seattle kept taking shots but Spokane made the most of its opportunities last night, winning 4-2. Tom Clouse has the story. ... Portland scored five times in the third period to shock host Everett, 7-5.
• Empire: Yep, that's the new name for the local indoor football franchise. Jim Meehan has the details on the name change and how the Spokane franchise came up with the moniker.
• Preps: Wrestling season is underway and Greg Lee has a league-by-league preview as well as a feature on Post Fall's defending state champions. ... Greg also has a column on Gonzaga Prep and ACH's state football titles. ... Jim Allen has an interesting feature on an Olympic hopeful in a sport that often doesn't stand out in this area. ... We also can pass along a roundup of all the action from Wednesday night.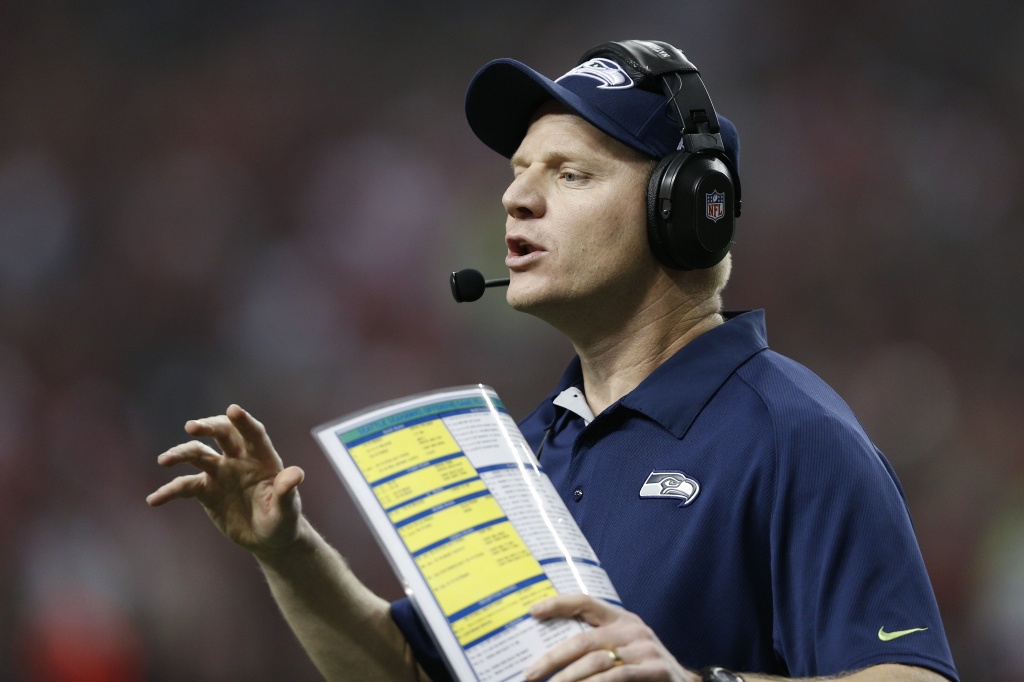 • Seahawks: Don't worry folks, Darrell Bevell isn't going to BYU this season. Pete Carroll won't let him leave right now. ... For those of you who were made unhappy by the last sentence – you know who you are – maybe you shouldn't look at these quarterly grades. ... Speaking of Carroll, he spoke on a variety of topics yesterday. So did Richard Sherman, and that's always interesting. ... The Hawks re-signed tight end Anthony McCoy, who is familiar with their routine. ... Marshawn Lynch was back in Seattle, if not practicing. ... Kickers' lives are tougher these days.
• Mariners: The latest move by Jerry Dipoto? The acquisition of Adam Lind, a left-hand hitting first baseman who much better against righties. ... Dipoto is following a similar script as Carroll did with the Hawks back in the day, though the M's seem to be trying to win in the upcoming season.
•••
• One more day on the radio. It's a three-hour show, from 3 to 6 p.m., at Northern Quest, but I'll be there with Dennis Patchin and Rick Lukens on 700 ESPN just for the first two. You can listen here if you like. Until later ...
---
---