Fri., Dec. 11, 2015
Verlin: Perrion Callandret will be the best guard in the Big Sky
The challenge Don Verlin laid upon Perrion Callandret this season isn't insignificant.
"I've challenged Perrion to be the best guard in the league," the eighth-year Idaho coach said in his preseason press conference on Nov. 3. "I think he has that ability and he's got to be a marquee player in this league for us to be successful at the level we want to be. I like what's Perrion has done so far in fall workouts and really happy he's back."
It's a heavy assessment of a guard that's served little more than a reserve role the last two years in a conference that called Sacramento State's Mikh McKinney and Eastern Washington's Tyler Harvey its best guards last season.
But give Verlin credit, he hasn't backed away from those claims. Even as Callandret has struggled through portions of Idaho's non-conference schedule.
Callandret had Verlin's back on Thursday night, lighting up rival Washington State for 25 points on only 13 shot attempts helping Idaho claim a second consecutive win in the Battle of the Palouse. It was Callandret's second 20-plus point performance in the span of four games.
Remembering the reporter he made the claim to, Verlin made sure to reiterate it.
"I told you Perrion is going to be the best guard in this league, he's going to be the best guard in this league," Verlin said following Idaho's 78-74 rivalry win. " ... Perrion is a real good basketball player, he has been. He's really matured since he's been here, he's done what he's supposed to do since he's been here. He didn't play much as a freshman, he was a reserve. He does what Vandals do, he's come to work every day since he's been here, he's worked and now he's taking advantage of it. I couldn't be happier for him."
Callandret was named the starting point guard after starting only one game in his first two seasons combined. A highly-touted prospect out of Bothell, Wash., Callandret wasn't able to catch on in the rotation after vying for a starting position as a true freshman. He played only 12.5 minutes per game as a freshman and 21.3 minutes per game last season.
This year, Callandret has started all 11 games at point guard, averaging 14.5 points per contest. The last four games, however, may be telling to what is expected out of Callandret. He's scored 75 points on 23-of-51 shooting, including going 21 of 25 from the free throw line in that span.
He's followed a similar path former Idaho standouts Kyle Barone (WAC Player of the Year in 2013), Stephen Madison (First-team All-WAC in 2014) and Connor Hill (Second-team All-Big Sky in 2015), all of whom came in as freshman and started slowly before being among the best players in the conference.
The same could be said for current true freshman Nick Blair, a highly-touted freshman who scored the first field goal of his career in the win over the Cougars.
"I tell him every day that it's a process. I'm not at where I'm at because I gave up, I could've gave up a long time ago," Callandret said. "That's the biggest thing he has. Nick's never given up, he's never down on himself. He's one of the main guys before the guy in the huddle 'come on guys, I need you guys to go', he's always energetic. He's happy to be there. For him to come out and have a good game like he did, it's amazing. It just shows to always be ready, no matter what your role is because anybody can help win a game."
Comparing the numbers
Here is how Callandret compares to other players Verlin has recruited out of high school and ascended to earning conference honors.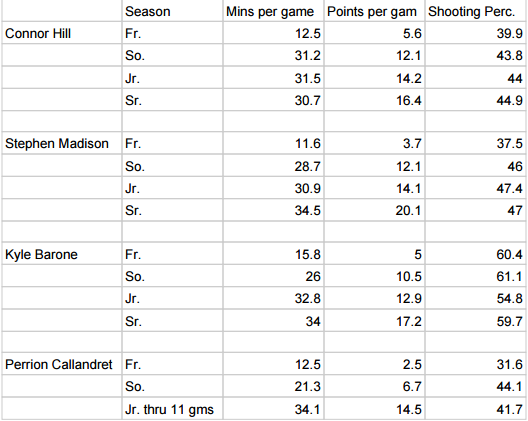 Don't forget about Vic
Not to forget about the other Idaho guard out of high school doing big things. Victor Sanders, who hails from Stephen Madison's alma mater, Jefferson HS in Portland, is tearing it up in his sophomore campaign. The 6-foot-5 guard scored 20 of his own on Thursday night and is actually leading the team with 15.1 points per game as the starting 3-guard.
He drained this cold-blooded 3 at the shot-clock buzzer to give Idaho the last lead it'd need.
His biggest impact may have been on the defensive end, however, where he helped hold Washington State's capable group of shooters to 7 of 18 from beyond the arc — 4 of 12 outside of Renard Suggs hitting a pair of deep indefensible shots.
Here's what Sanders had to say about it.
"I just like playing defense, period. I'll do anything to help our team. If I have to take a charge, I'll take it. If I have to sit in the stands and serve drinks for my team to win, I'll do it. Defense is just a part of the game and you have to do it to win. If you don't play D, you don't win. If you don't get clutch stops, you don't win. So as a team, we come together every day in practice and focus on our defense. When we get in the game and get in tough situations, we can come together as a unit, build a wall and be tough down the stretch."
The rivalry
The Idaho win edged it to 109-162 in the all-time series and 67-62 in Moscow against the Cougars. It was Idaho's first win over WSU at the Cowan Spectrum since a 62-58 win in 2002. It was the first time Idaho won back-to-back games over it's Pac-12 rival since the 1988-89 and 1989-90 seasons.
---
---