Sun., Dec. 13, 2015
There is little that surprises us about basketball anymore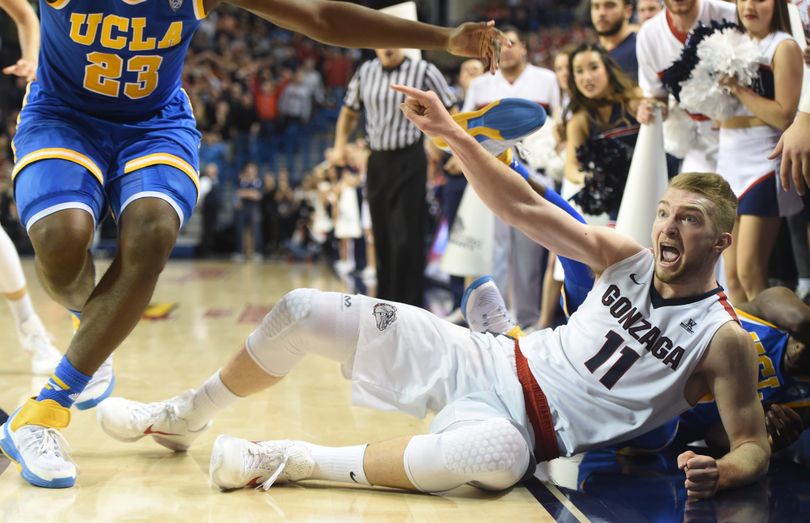 A GRIP ON SPORTS • Basketball is a fun game. Predictable too. If you are willing to predict it will revert to form. It did at the professional level last night. And it is on the college level as well. Read on.
••••••••••
• I was just a young pup back in 1972, a starry-eyed high school junior who was sad to see Elgin Baylor retire. The Seattle U. alum wasn't my favorite Laker – that would be Jerry West – but he had been around my whole life and could be counted on a highlight or two every game. But his retirement seemed to unburden the West- and Wilt Chamberlain-led Lakers. Early in the season (right after Baylor retired actually), the Lakers went on a 33-game win streak that still stands as the longest in NBA history. The reason it still stands is the Golden State Warriors, playing their second road game in as many nights, lost to the Bucks 108-95 last night. Ironically, it was the Bucks who snapped the Lakers' 33-game winning streak back in the day. Last night they ended the Warriors 24-0 start to the season and their 28-game winning streak. Of course, this wasn't the Warriors team that won most of those games. Not without Harrison Barnes, out with an injury, and not without a fully healthy Klay Thompson. The former WSU star missed the Boston game with a rolled ankle and, though he played last night, he wasn't the same. And neither was Golden State. Not on the offensive end, where a healthy Klay is the perfect compliment to Steph Curry – Klay was 4-of-14 from the field last night – and not on the defensive end, where Klay matches up with the opponent's toughest guard. So the Lakers of my youth still stand as the gold standard of NBA winning streaks.
• Speaking of the old days, do you remember those pronouncements back in November the NCAA was going to "clean up" college basketball? That the officials were going to call fouls all year to make sure there was freedom of movement on the perimeter and in the post? Good times. Too bad it didn't last until Christmas. While tooling around the dial yesterday, I decided to count the times a post player accepted an entry pass and the defender kept an arm bar on him, something that is supposed to be, by rule, a foul this season. And was called early in the year. I quit counting after counting a dozen – without even an occasional whistle. ... There is a reason why, and I'm going to have to be a bit embarrassed here. And say this is why I am glad to know a few college coaches, one of whom who texted me to inform me I was wrong. So this qualifies as a correction. The armbar is banned on the dribbler, of course. But it is allowed this year in the post, to allow the defender the ability to stop an offensive player bulling his way to the hoop. No wonder I saw so many. My bad.
•••
• WSU: Ever been a parent of football-playing child? Then you will identify with Luke Falk's mom Analee as described perfectly in Jacob Thorpe's feature story this morning. ... It was an up-and-down day in Pac-12 basketball, with UCLA getting a big win (see next paragraph) but Utah, Oregon and Oregon State all falling. Washington routed Montana, Stanford was victorious over Dartmouth and California won the battle of State Route 24 with a 63-59 win over St. Mary's. ... In football news, Austin Meeks wonders what a lot of us have wondered: What happened to Oregon's quarterback recruiting? ,,, The WSU women's basketball team lost just its second game of the season.
• Gonzaga: With Przemek Karnowski not even capable of sitting on the bench due to his back problems, the Zags were thin up front last night against UCLA. And it showed as bigs Domantas Sabonis and Kyle Wiltjer seemed to wear down as the game wore on. But that was just one of GU's problems last night. Jim Meehan describes the others in his game story of the 71-66 loss. ... John Blanchette also has a column and Jesse Tinsley a photo report. ... Portland picked up a home win over Sacramento State. ... BYU also lost to a Pac-12 team, 92-83 at Colorado.
• EWU: There were a couple games in the Big Sky last night with Southern Utah picking up a victory and Idaho State losing to Utah Valley.
• Whitworth: The Pirates are 8-0 following their second win of the season over Colorado College. ... Linfield fell in the NCAA Division III football semifinals.
• Chiefs: Spokane kept building leads and Tri-City kept coming back. The Americans finally came all the way back and earned a 4-3 win in the Arena last night. Tom Clouse has the story. ... Everett handed Seattle a 4-1 loss.
• Preps: Went out to a high school basketball game yesterday afternoon and joined a packed crowd at Gonzaga Prep for the Pups' 68-51 win over Central Valley. That game leads our boys roundup. We also have a girls basketball roundup, wrestling roundup and cross country news.
• Seahawks: It's only a couple hours to the Hawks game with the Ravens. Seattle knows, no matter who is playing quarterback for Baltimore, it can't look past the host Ravens. ... And the NFL is learning to quit counting out the Hawks. ... The Ravens will have a familiar face at wide receiver. ... Another new face is helping Seattle in the secondary.
• Mariners: The bullpen rebuild continued yesterday with the M's signing a possible closer. Free agent Steve Cishek will join the almost completely new pen.
•••
• The Hawks have won a lot recently. One of our family members has watched each win at another location. Coincidence? Maybe. But we are not taking any chances. He's been banned. Until later ...
---
---