Mon., Dec. 14, 2015
Carroll, Seahawks on a high as the regular season rolls to an end
A GRIP ON SPORTS • You know, when you are winning, a coach's antics, like standing on top of some lockers to address the team, are considered "cute" and "fun." When you are winning. Read on.
••••••••••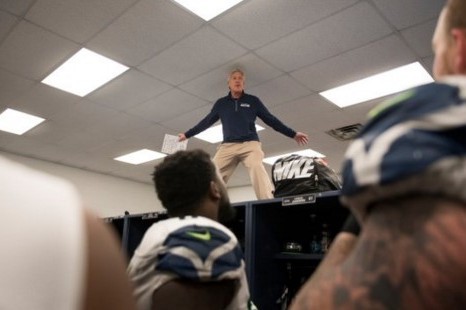 • The Seahawks are winning right now. Even without three of their five most important offensive players. So, when Pete Carroll hauled his 64-year-old butt up to the top of the lockers in Baltimore's visiting locker room, his players went nuts. It reminded me of Mark Few's dance last season following an NCAA tourney win. Except Few's display seemed so out of character. Carroll's? It is what he does. The guy is a relentlessly optimistic, always glad-to-be-here person. At least in front of his team. There may be a painting of Pete in his office that has aged prematurely and is always weeping. You just don't know. But whatever it is about Carroll, it has worked in Seattle. As it did at USC. The guy has won games. Is his team undisciplined at times? Sure. When they are losing, as happened early this season, the play that most illustrates their woes seems to be Michael Bennett jumping offsides. But when they are winning, undisciplined morphs into loose, a much-better term. The Seahawks are loose on both sides of the ball right now. The offense has turned loose Russell Wilson's arm and Doug Baldwin's legs – the only healthy two of the top five – and it is working. Wilson threw another five touchdown passes yesterday and has had, arguably, the best four-game stretch in NFL history. Baldwin dropped a pass yesterday – his first this season – but also caught six others and has eight touchdown catches in three games. The defense played without Kam Chancellor for a long stretch yesterday and still was nearly perfect – albeit against a Baltimore team that had a JV look. Still, there is little space to run and little space to throw against the Hawks these days as they are once again flying all over the field making plays. If there is a hotter team in the NFL – Kansas City has won seven consecutive times but does anyone outside of Kansas really think the Chiefs are a contender? – than I'm not sure who it is. OK, Carolina. The Panthers have yet to lose – they had the good sense to play in Seattle when the Hawks were floundering a bit – so they have to be considered on another level. But otherwise, even Arizona is a bit of a wash with the Hawks. Thanks to the slow start, Seattle will end up as no better than the five seed, a wild-card team that will have to win three road games to make a third consecutive trip to the Super Bowl. But would you bet against them right now in a playoff matchup at Washington and Carolina? Or in an NFC title game in Phoenix? Me neither. That's for down the road, though. Maybe Marshawn Lynch will be back – with Thomas Rawls storybook season ending with a broken ankle yesterday, the Hawks could use him – and be able to Beast Mode for one last playoff run. But who knows about next week, let alone next month? Right now the Hawks are winning. And the coach is on a level above. A higher plane, if you will.
•••
• WSU: Speaking of being in a zone, the Cougars played one often yesterday and it played a part in their 84-68 win over UTEP at Beasley. Jacob Thorpe was there and has this game story. ... Jacob also has video of interviews with players and coach Ernie Kent. ... Around the Pac-12, USC defeated Yale 68-56 to raise its record to 8-2, while Arizona demolished Missouri 88-52. ... The Times' Stefanie Loh examined the Cougars' food service for their athletes. ... Stanford won the NCAA men's soccer title. ... Travis Wilson will play his last game for Utah against local rival BYU.
• Gonzaga: Jim Meehan revisited the UCLA loss yesterday with his day-after post. ... The Gonzaga women had a breather to end their road trip, dominating Colgate 80-50.
• EWU: There was a lot of basketball action in the Big Sky yesterday, though the Eagles won't play until tonight. But Montana State earned a win at San Jose State, Northern Colorado handled Colorado State and host Denver edged Weber State.
• Seahawks: There isn't a lot more to say about the Hawks' performance other than it was as dominating as it was debilitating. The loss of Rawls was one of those blows that could have derailed the train, but Wilson just continued to throw darts all over the field. And the maligned offensive line functioned nearly perfectly, though it was a whiffed assignment that led directly to Rawls' injury. The 35-6 win may not be the Hawks' best this season but it's right up there. ... Richard Sherman's hair is a calling card, part of why he was mistaken for a rapper this week. But it also served as a handle for Chris Matthews after an interception.
• Mariners: Jerry Dipoto seems to be following a script made popular in this area by Carroll.
•••
• It's Monday again? Great. You can start your week with this New York Times story of a college basketball player who does more in one day than most of us do in a month. It was passed along by a reader on Twitter. Thanks. Until later ...
---
---