Thu., Dec. 17, 2015
Our sports Christmas list includes a healthy back and another power hitter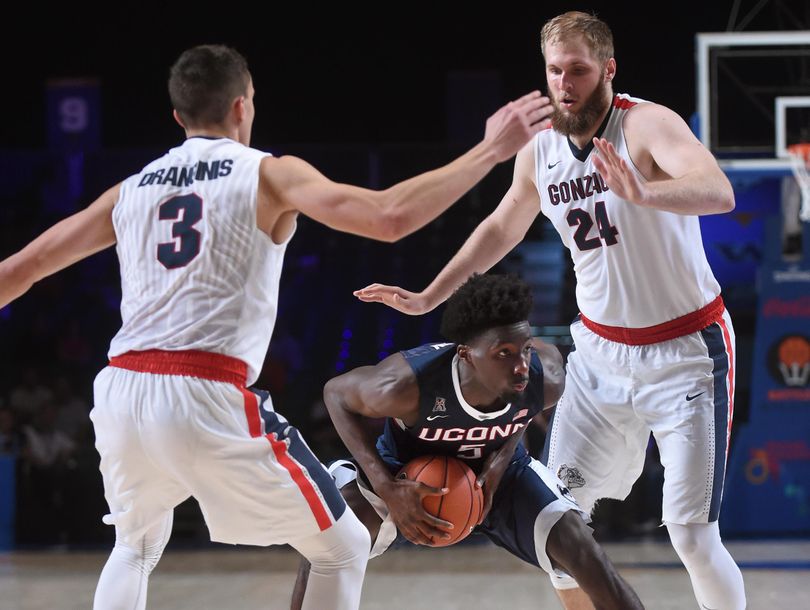 A GRIP ON SPORTS • Christmas is just around the corner. Have you bought my present yet? Well, if you are still shopping for the perfect gift, I have some suggestions. And all of them are sports related. Read on.
••••••••••
• You'll never go wrong buying me a James Garner video – I especially like "Support Your Local Sheriff" or "Murphy's Romance" from his movies and anything he did for television – or a nice pair of sweatpants, but when it comes to sports there are a few things I would love to receive this Christmas season. They are simple really. And not that expensive.
• Is it possible that one of you could talk with Jerry Dipoto and induce him into signing one more left-handed power hitter? I was hoping for a Chris Davis in my stocking, cost be darned. Yes, I know the club pays Robinson Cano the equivalent of a Spokane County's budget, but the best present I could receive is the opening of the purse strings once more. Signing Davis would also allow the M's to package newly acquired Adam Lind with a couple of prospects from their deep farm system – that's sarcasm, as this piece from prospect specialist Christopher Crawford shows – for a mid-rotation starter. Those moves would give the team a chance to make the playoffs, another gift we've all been waiting for too long.
• Health. Not for me mind you, but for some athletes in the region. Przemek Karnowski for one. I know how debilitating a bad back can be – ask my friends what type of jerk I was last spring when mine was acting up – so I sympathize with Karnowski. And besides, it's always more fun around here when Gonzaga is in the national conversation, and the Zags will have a hard time joining it without their big man in the middle. Another person who deserves his health is Marshawn Lynch. The guy has sacrificed his body for the extra yard or two for the past few years in Seattle and it's time for karma to give back. He deserves one more Super Bowl trip for the effort and we could all come along for the ride. Let him get healthy, lead the Hawks past Arizona in the regular season finale and then he, Russell Wilson and Doug Baldwin could cut a swath through NFC defenses in the playoffs.
• Speaking of health, how about a safe Sun Bowl for Luke Falk and his teammates? I'll take that no matter the score. Sure, my life would be easier the day after Christmas if the Cougars build a big lead over Miami and then hold it through the final gun – as opposed to the last time they went bowling. A ninth win in a season that was expected to produce four or five would certainly put a crimson glow on everyone's New Year's celebration. But, most importantly, let's hope everyone wearing a Cougar or Hurricane uniform finishes the final game of their 2015 season without any injuries. That would be great.
• One last gift and I'll be happy. Buy the newspaper, either in print – the old-fashioned (or tried-and-true) way – or online. Keep it humming. Not just for my sake, but for the good of us all. Newspapers in this country serve a vital purpose. Heck, they serve a lot of vital purposes. They are government watchdogs, a role that ticks off everyone at some time or another. They serve as your eyes and ears in the sporting world, another role that probably has gotten your dander up in the past year. They keep you informed of when your street is going to be fixed – or tell you why it isn't. But everything newspapers do costs money, including the free stuff you find here. So support your local – or the New York Times, Washington Post or whatever big-city publication you prefer – newspaper. Buy your dad an online subscription for Christmas. Get your daughter or son or nephew or neighbor one. It will not only put a smile on my face, it will help ensure you'll enjoy the presents you find on your doorstep – and iPad – every day continue.
•••
• WSU: One of the biggest differences in Pullman this year is the defense. Coordinator Alex Grinch has helped the Cougars take huge strides in the area. He and his defense are the subjects of Jacob Thorpe's story this morning. ... The history of success in Miami was the subject of Jim Allen's piece yesterday that I somehow missed. I pass it along today in the hopes you'll not miss it. ... The beat goes on, as the Cougars signed a junior college defensive end who should play some next season. Jacob has that in this blog post. He also has a transcript of yesterday's live chat. ... ESPN.com's Pac-12 blog looks at the returning starters for each school next season. There will be one less at USC. ... It was a quiet night in Pac-12 basketball, with just three teams playing but all three, Arizona, Arizona State and Utah, winning. ... Klay Thompson went off in the third quarter last night and had a UW-in-the-Pac-12-tourney type of night.
• Gonzaga: St. Mary's hosted Southern Utah last night and dominated the Thunderbirds, 92-36.
• EWU: The Eagles were supposed to host Morehead State tonight but travel problems forced the game to be put off until next season. ... The All-America honors continue to roll in for Eastern.
• Idaho: Yesterday was the first day junior college players could sign letters of intent and UI had two players sign LOIs and a high school player agree to enter school early. Sean Kramer has more in this story and blog post.
• Chiefs: Everett came to town last night and left with a 7-4 victory. Tom Clouse has the story of the Silvertips' win.
• Preps: The stories today run the gamut, with Greg Lee offering a feature on Post Falls guard Max McCullough and a preview of GSL gymnastics. Greg also has a notebook that advances the wrestling tournaments this weekend and a roundup of last night's sports action.
• Seahawks: Lo and behold, the prodigal son returns. Christine Michael, who was traded earlier this year after not fulfilling his promise, was brought back from the Redskins' practice squad to help fill the void at running back. In a season of interesting developments, this one ranks right up there. ... Bryce Brown is also looking for an opportunity carrying the ball. No matter who it is, the Hawks hope to keep their offense humming. ... Pete Carroll had a lot to say about the running back spot and other things yesterday. He also spoke about what goes into challenging a call. It's an interesting process. ... We know Johnny Manziel will be on the field Sunday for Cleveland. What we don't know is who will be trying to stop him. ... This comment didn't seem to bother the Hawk faithful at all.
• Mariners: The M's signed another relief pitcher yesterday, which cost them Spokane's Tyler Olson, who had to be designated for assignment to clear room on the 40-man roster.
•••
• You wanted a white Christmas, didn't you? You got your wish. At least right now. And there is more snow expected. Though it might all melt before the big day. It better. I'm not a fan of driving on the ice rinks they call neighborhood roads around here. Until later ...
---
---