An Advanced Statistical look at Idaho hoops pre-Big Sky play
With Big Sky Conference play only two days away, I'm here to break down what to expect when the Vandals open up at North Dakota.
The trip to the great north is the first of three road tilts for the Vandals to open up league play before coming home to face Northern Arizona.
Idaho finished nonleague play with a convincing 68-51 win at UC Davis to enter Big Sky play at 8-5 (6-5 against Division I opponents).
In order to project what team we can expect to see in conference play, I'll turn to the statistical analysis of Ken Pomeroy. Pomeroy is one of the most respected minds in college basketball analysis.
What we know about Idaho
The Vandals are a good defensive basketball team. Idaho ranks second in the Big Sky in Pomeroy's Adjusted Defense metric. He projects Idaho would concede 100.2 points per 100 possessions to an average Division I basketball team. That ranks No. 130 in the country.
The Vandals force opponents into turnovers 19.7 percent of the time, also good for second in the Big Sky. Idaho ranks first in the Big Sky in the 'Effective Field Goal percentage' metric on defense, which is the same as field goal percentage except that it gives a team more credit for hitting 3-point shots. Teams are only shooting 31.6 percent on Idaho from beyond the arc this season, a testament to Idaho's length on the perimeter and how disciplined the team has been in the packline defense system this year.
The Vandals are a very good rebounding team. Idaho ranks 85th in the nation and third in the Big Sky in offensive rebounding percentage, nabbing an offensive rebound in a whopping 33.6 percent of opportunities. On the other end, Idaho only allows opponents an offensive rebound in 25.3 percent of opportunities, good for 34th in the country and tops in the Big Sky.
The big surprise on that stat is the emergence of fourth-year junior Ty Egbert. Once a lanky freshman who faced an uphill battle toward being a Division I player, Egbert is now top 20 in the Big Sky in offensive and defensive rebounding percentage. He nabs 7.3 percent of Idaho's offensive rebound opportunities and 17.3 percent of Idaho's defensive boarding chances. That includes a nine-rebound night, three on the offensive glass, against the towering big men of Washington State. Idaho has three of the top 20 players in the Big Sky in offensive rebounding percentage.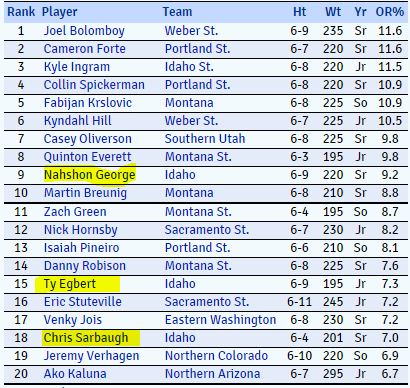 Idaho is a bad offensive team. Well, so far. Idaho ranks No. 10 in the conference in Adjusted Offense, which projects the Vandals to score only 96 points per 100 possessions against an average team. Idaho ranks ninth in the conference in efficient Field Goal percentage at 45.7 (286th in the country). But what's really atrocious is how much Idaho has given the ball away. The Vandals rank dead last in the country in turnover percentage, giving the ball away on 25.3 percent of possessions. In fact, the teams in the nation that turn it over on a worse rate are Grambling State, Prairie View A&M and American. Four Vandals rank in the top 11 in the Big Sky in turnover rate, led by Chris Sarbaugh at 36.3 percent.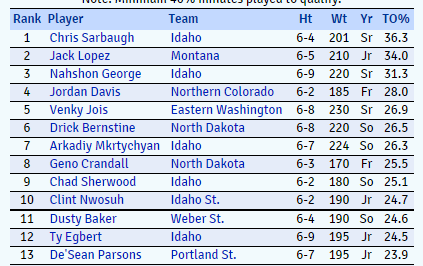 These offensive statistics may not maintain for a number of reasons. For one, they are very uncommon for a Don Verlin team. Verlin's teams are usually very efficient on the offensive end, ranking 108th, 154th and 57th in the country the last three seasons in AdjO. Secondly, it will all be on the back … or left knee … of sophomore Arkadiy Mkrtychyan to improve that as the season goes on.
The 6-foot-7 forward from Moscow, Russia by way of Portland is Idaho's leading returning scorer and had surgery on his left knee prior to the season. He's been slowly integrated back into the team's offense after missing the season opener at San Jose State. When he's on the floor, the ball will go through him. He's ended an Idaho possession 26.5 percent of the time he's on the floor, compared to 22.9 percent for junior guard Perrion Callandret and 22.1 percent for sophomore guard Victor Sanders.
The problem is he's not producing. His eFG percentage is 32.1 and he's shooting just 34 percent on 2-point shot attempts. His Offensive Rating is 71.9 (where 100 is average and anything over 100 is a good offensive player). Last season, Mkrtychyan was far better. His ORtg was 112.2 and hit on 57.6 percent of shots from 2-point range.
It's likely that Mkrtychyan is going to find a rhythm once he gets comfortable with his knee and become much closer to the numbers he put up last year. But how quickly and how much will he improve? That remains to be seen.
Idaho has two of the best guards in the Big Sky. And they can both shoot. Victor Sanders ranks 10th in the Big Sky in ORtg at 113.4 and Perrion Callandret ranks 22nd at 108.0. Both are top 15 in the conference in 3-point field goal shooting and both top 20 in eFG percentage (Sanders at 53.5, Callandrent at 52.7).
Idaho doesn't have much depth at guard. Idaho is currently starting three guards – Callandret at point, Sarbaugh at shooting guard and Victor Sanders as a 3-guard. Walk-on sophomore Chad Sherwood is the first guard off the bench … and the only other guard seeing regular minutes. After a bit of a hot shooting start, Sherwood has struggled mightily. He's shooting only 28.6 percent from 3 and turns it over an astounding 25.1 percent of the time.
Obviously, the abrupt departure of Sekou Wiggs damaged the vision Verlin had for his backcourt this season. The time it will take redshirt freshman Jake Straughan, who came to Idaho after playing in Washington's class 1B at Colton High, to adjust to Division I basketball is another issue. Junior college transfer Pat Ingram, a point guard, has also struggled to acclimate and hasn't earned regular minutes either.
What could help? The emergence of a legitimate small forward, allowing Chris Sarbaugh to come off the bench. Redshirt sophomore Jordan Scott has underwhelmed in limited minutes, shooting only 1 of 11 from 3-point range and not showing an ability to space the floor offensively. True freshman Nick Blair has only seen action in 6.8 percent of the team's minutes, but featured in the Washington State clash, including sinking a key 3-point basket. However, he won't see consistent minutes until is able to prove himself in practice, Verlin said. It will have been nine days since Idaho's last game when the Vandals take on North Dakota, so it will be interesting to see if Nick Blair will have made a case for more time on the court by then.
Most used lineups. The Vandals have been consistent with the starting five of Callandret, Sarbaugh, Sanders, Mkrtyhcyan and Nahshon George. Nate Sherwood and Ty Egbert are the first two bigs off the bench, while Chad Sherwood is the only guard regularly used off the bench. Jordan Scott is the last man off the bench, playing on the wing.

Big Sky projections: Idaho ranks fifth in the Big Sky in Pomeroy's Pythagorean rating (No. 233 in the country) and projects Idaho to finish 10-8 in conference play. Excruciatingly enough, his system projects Idaho to lose 66-65 on New Years Eve. Keep in mind that these projections will fluctuate as games played adjusts Idaho's statistical rankings. Also keep in mind that playing at home is very important in these projections.
The percentage chance the Pythagorean rankings gives Idaho to win each conference game before any are played are as follows:
At North Dakota – 50
At Northern Colorado – 61
At Eastern Washington – 27
vs. Northern Arizona – 79
vs. Southern Utah – 82
At Montana – 25
At Montana State – 43
vs. Sac State – 61
vs. Portland State – 77
at Southern Utah – 56
at Northern Arizona – 51
vs. Northern Colorado – 85
vs. North Dakota – 78
at Portland State – 48
at Sac State – 30
vs. Eastern Washington – 58
vs. Weber State – 44
vs. Idaho State – 86
---
---