From Bear Raid to ground-and-pound, there is a lot to like about the diversity in college football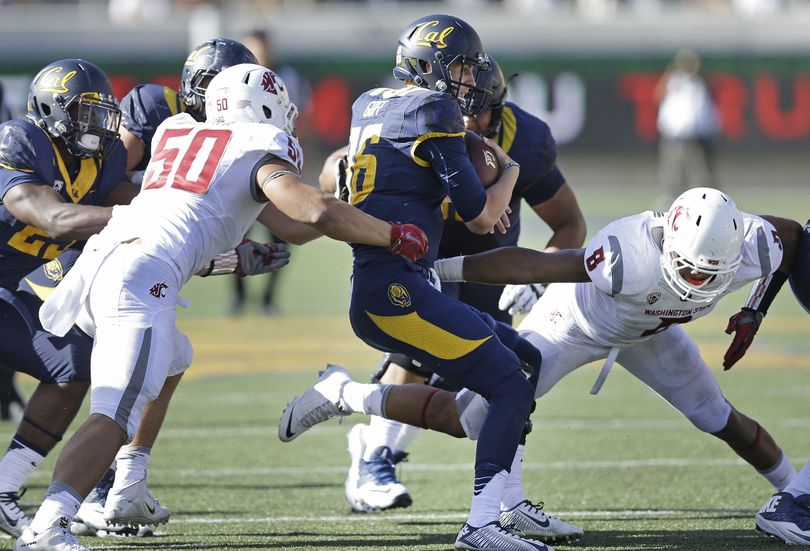 A GRIP ON SPORTS • There is a lot to love about college sports. The pomp. The circumstance. The emotion. A college graduate half-naked in a snowstorm. Read on.
••••••••••
• Yes, I love college sports. Have to admit it. Put it out there. It's only fair, because it colors my opinions about such things. But how can you not love it when it means so much to everyone involved? Did you happen to see the Cougar fan at the Sun Bowl, standing shirtless in freezing weather with only a sombrero covering his head? He's a college graduate for goodness' sake. And a gainfully employed member of society. We won't rat him out by naming him, but we will point out two things: WSU has had a few of these types recently, from "popcorn guy" a couple years ago to "whatever" girl during the Apple Cup; and they are just part of the great panorama that is college athletics. The made-for-the-internet fans support their school in a way most of never would (though I might go shirtless at a UC Irvine baseball game – and may have at Omaha a few years back). It's cool – really cool, probably, for the guy at the Sun Bowl. But that isn't the only reason college sports are so interesting. Diversity is another reason that comes to mind. We're not speaking in the real-world sense here. We're speaking about how different schools play the same sport in widely varying ways. A Virginia-Kentucky basketball game, for instance. Or this morning's Armed Forces Bowl. On one sideline is Air Force, the most inaccurately named football team in America. Our soon-to-be nation's representatives of air-power run the triple option, a ground-based attack straight from the middle ages. Or 1975 if you prefer. An offense that was devised in middle America that still appeals to the Silent Majority (maybe). On the other sideline are those liberals from California, playing a fast-and-loose passing game that Tom Hayden and the Weather Underground would have found enjoyable. Conservative ground game vs. let-it-fly Bear Raid. Yes, please. Do you ever find such a thing in the NFL? Heck, Chip Kelly comes in and even hints of playing remotely fast and the whole league has a seizure. And tries to run him out. Variety is welcome in college. Encouraged even. We may be leaning toward political correctness in poli-sci classes and on the quad but in the athletic arena, doing things in unconventional ways is still encouraged. And that's to be celebrated.
•••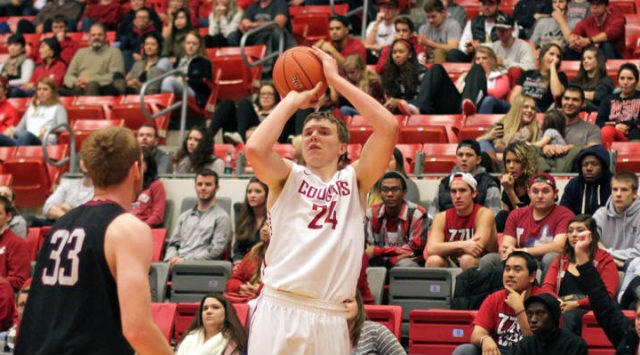 • WSU: With the Cougars' football season finished – and almost all of their fans finally out of El Paso – it's time to turn our eyes to basketball. Josh Hawkinson won his first Pac-12 player of the week award in a week WSU went 1-2. Jacob Thorpe has that information in this blog post and short story. ... Jim Allen has an advance as the Cougar women open Pac-12 play tonight by hosting UW. ... Stephanie Loh has an advance as well in the Times. ... Back to the men, Utah, Arizona State and California rolled to non-conference wins over overmatched foes. ... UC Santa Barbara traveled to Seattle and upset the Huskies. Our friend Christopher Caple has the story.
• Gonzaga: Saint Mary's finished up non-conference play with an easy win at home over Utah Valley.
• EWU: Conference play is right around the corner and both Weber State and Sacramento State prepped with easy wins. ... Southern Utah is going to miss Ed Lamb.
• Whitworth: The Pirates are in Las Vegas for a big NCAA Division III basketball tournament. Tom Clouse has an advance.
• Chiefs: The Christmas trading moratorium is over and there have been some big deals around the WHL. • Seahawks: One more regular season game awaits the Hawks and their playoff fate is out of their hands. Who they will play will mainly be determined by the Sunday night game between Minnesota and Green Bay. If the Vikings win, it doesn't matter what the Hawks have done at Arizona. If the Vikings lose, Seattle has to have defeated the Cardinals to play at Washington. Arizona will be playing for home-field advantage throughout the NFC playoffs. ... Marshawn Lynch has been rehabilitating in the Bay Area. But he's expected back at practice Wednesday and may play this Sunday. ... The Hawks' mistakes are haunting them more this season than in the past. ... Luke Willson seems to be bouncing back well from his concussion. ... Johnny Hekker is trying to bounce back from a huge mistake.
•••
• Kind of icy out there, isn't it? And cold, too. Way too cold to be running around with just a sombrero on. Unless your team is playing. Until later ...
---
---