With this season's success fresh in everyone's mind, coaches reaps some spoils at WSU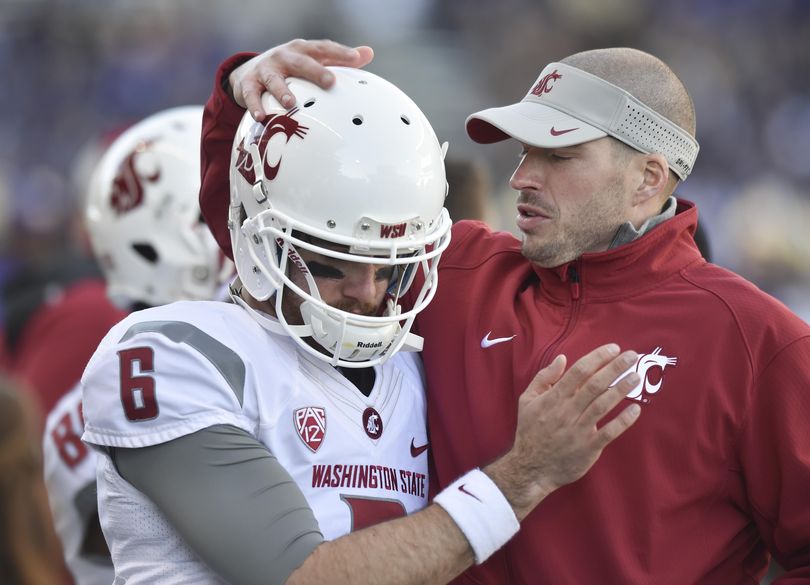 A GRIP ON SPORTS • With success comes spoils. Or some old Roman saying like that. Same is true in college football, as yesterday's announcement out of Pullman illustrates. Read on.
••••••••••
• Washington State surprised no one, least of all Mike Leach, when it rolled-over the football coach's contract this week. In case you didn't know, athletic director Bill Moos likes to have coaching contracts with a five-year window – he feels it helps recruiting to be able to tell prospective Cougars the head coach will be in place for their tenure in Pullman – so he reviews results and then either allows the contract to extend a year or not. After a 9-4 season, WSU's first bowl win in a dozen years and a building excitement with the program, it was a no-brainer to allow the added year. But Leach wasn't the only one who reaped the benefits of the most successful season at WSU since Bill Doba's first year. Nope. Defensive coordinator Alex Grinch, who helped key a resurgence on that side of the ball in his first year, was given a multi-year extension. That's common practice at a lot of schools but a little rarer in Pullman. His three-year deal is as long as any assistant coach deal I can remember for WSU. Joe Salave'a, widely credited for helping to improve the team's athleticism through his recruiting and aggressiveness through his defensive line coaching, was also extended. Salave'a (pictured) was given two more years. The details of the assistant coach's extensions were not announced yesterday, but the contracts are public records and will be released at some point. The salaries will be interesting but maybe not as much as the ancillary elements, such as buyouts. Salave'a has been wooed in the past and will be again. He's stayed with Leach in Pullman since the beginning but that doesn't mean he can't be enticed away at some point. And Grinch, who was Missouri's secondary coach before making the move to WSU, will be a hot commodity if the Cougars continue to excel on that side of the ball. And, with more than a handful of starters returning along with some highly touted new faces coming in, Washington State is poised to build on this year's improvement. If such success happens again next season, expect a similar post – and more extensions – next year at this time. Or maybe a week later.
•••
• WSU: Jacob Thorpe has probably already put in his records request for the contracts but what we know now is contained in this story and blog post. ... The Cougar women opened Pac-12 basketball play by hosting rival Washington. It didn't go well. Jacob has that game story as well. ... In football yesterday, California added another mark in the bowl win column for the Pac-12 as Jared Goff, probably playing his final game as a Bear, set records in Cal's 55-36 victory over Air Force. ... Jon Wilner talked with a bunch of former Stanford quarterbacks about Kevin Hogan. ... One of the best running backs in the Pac-12 is running away. ... In hoops, Oregon tuned up for conference play with an easy win over Western Oregon.
• Gonzaga: Shelby Cheslek has grown in her five years at Gonzaga, though the senior center isn't much taller. Jim Allen explains her "growth spurt" in his women's basketball notebook. ... BYU opens WCC play tomorrow with a tough matchup: at Saint Mary's.
• Idaho: Sean Kramer takes a look at Idaho's non-conference season through a statistical prism in this blog post. ... Portland State picked up a nice out-of-conference victory, 89-82 over Cal State Fullerton.
• Whitworth: The Pirates' Las Vegas adventure was almost too close for comfort. Actually, maybe it was. They pulled out a 68-65 win over Calvin in a tournament behind Kenny Love's career-high 28 points. ... The Pirate women weren't as successful.
• Chiefs: Spokane traveled across the state but lost 2-1 to Seattle. ... Tri-City pounded Portland 5-1. ... Everett has welcomed back a couple key players this week.
• Preps: It's tournament time and we have all the coverage in these roundups of boys and girls basketball games.
• Seahawks: The Seahawks have made the postseason. They will have set some team offensive records by the time this week is done. And yet they still don't know what they are going to get out of their offensive line each week. ... The final two opponents on the Hawks' 2016 schedule will be determined this weekend. ... Michael Bennett wants to cherish each and every moment.
•••
• After another year culminating in a bowl of cereal, we hope to earn the spoils of having our contract extended once again. But we're not sure. Hopefully, the extension will include only a small buyout clause in case Sports Illustrated or Al Jazeera or Entertainment Weekly comes a calling. Our fingers are crossed. Until later ...
---
---