Just another typical Wednesday in La-La Land – and beyond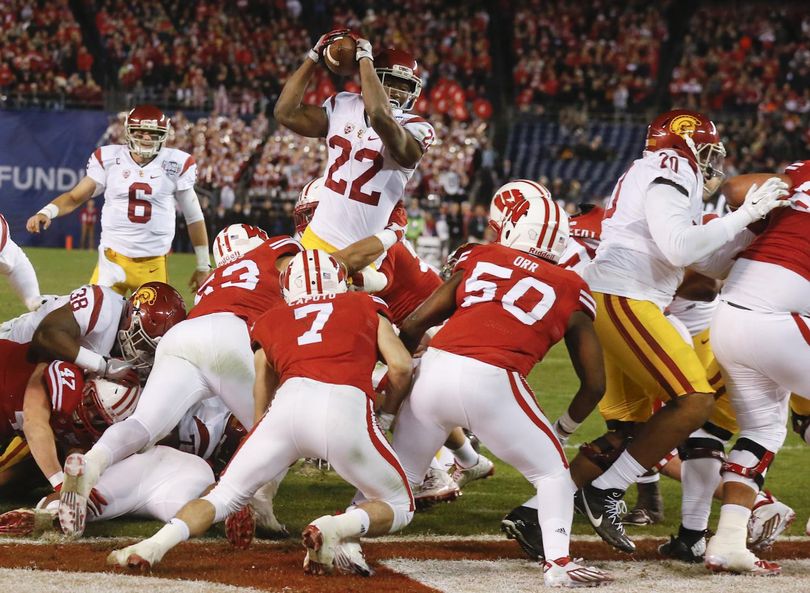 A GRIP ON SPORTS • Let's see, what happened Wednesday? Oh ya, Los Angeles let down the Pac-12's football fans again. Pete Carroll was grilled a bit by the Seattle media concerning Marshawn Lynch. And the NCAA rules' overly rigid shortsightedness was illustrated once more. Just a typical Wednesday. Read on.
••••••••••
• If you root for the Pac-12 football teams during the bowl season, and most college football fans in this area do just that, then you probably thought there was a good shot the conference could go undefeated this year. And there was. Except the two Los Angeles schools aren't holding up their part. First UCLA lost in Santa Clara to a Nebraska team that was, we're not making this up, two games under .500 going in. That's bad. Then last night USC self-destructed down the stretch and lost 23-21 to Wisconsin. In San Diego's Holiday Bowl, just a couple hours drive down Interstate 5 from USC. Nice. Five other Pac-12 teams have played their bowl games and have won, many of them handily. Stanford will have its hands full in the Rose Bowl with Iowa, Arizona State hosts a depleted West Virginia team and Oregon will be challenged by TCU in the Alamo Bowl, though some news that broke this morning should make the Ducks' path to victory easier. If the conference goes 8-2, then maybe it should contemplate dropping the L.A. schools. After all, it's the conference of champions, right? And they may end up being the only two who don't play that way.
• When Pete Carroll meets the Seattle media, the sessions usually hold little-to-no resemblance to media inquisitions in Philadelphia or New York or Washington, D.C. That's due to a few reasons, not the least of which the Hawks have been so successful recently, the need to ask tough questions hasn't been as great. But yesterday, while addressing the status of Lynch, Carroll was put on the spot a couple times. He was asked if the long-time running back was getting special treatment, not by doctors and trainers, but by the organization. It was a fair question to be sure, seeing as Lynch has been rehabilitating his injury with his people in California. Is there a double standard with the Hawks as it pertains to Lynch? For my money, Carroll should have just answered yes and moved on. What's wrong with a professional sports team treating players differently? This is YMCA soccer or something. Everyone doesn't get orange slices at halftime. It's work, tough work, and like most workplaces, there is a hierarchy. The better players make more money and accept more responsibility. They also get special treatment. I once heard former Detroit Pistons' coach Chuck Daly speak. He was asked about rules. He laughed. He said he didn't have any. For example, the Pistons' practice time started when Isiah Thomas arrived. That way the star guard couldn't be late and force Daly to make a decision about punishment. It seemed to work. Lynch knows the score. If he doesn't return at top form from his injury, he'll be cut and forfeit a bunch of money. That's motivation enough for him to get back.
• Riley Sorenson is Washington State's starting center. He didn't play in the Sun Bowl. Why? Because his dad, who traveled from Southern California to the game, suffered a heart attack just before the game and was hospitalized. In El Paso. This comes on the heels of Sorenson's mother dealing with a deadly form of cancer earlier this year. So now the Sorenson family is dealing with a medical emergency a thousand miles from home. That's tough. So the bowl game directors, who need to be praised profusely, have set up a GoFundMe account to defray the Sorenson's ancillary costs. There is one problem, though. The WSU compliance office has some concerns with the campaign, as explained here. OK, I get it. But there have been GoFundMe accounts for other student athlete's family in the past year or so – CougCenter's Jeff Nusser found one for a Miami player from October – that seem to be OK by the NCAA. Washington State is trying, rightfully so, to protect itself. It has to do it. Boosters shouldn't be giving money to players or their families, no matter the circumstances (think Reggie Bush and his NCAA problems). Still, this seems like a moment when the NCAA should allow members of the community to reach out and help, just as if Sorenson was any WSU student. Besides, GoFundMe donations can be made anonymously, making it pretty tough for a non-governmental agency like the NCAA to trace the funds. I'm not encouraging rule-breaking here, no matter how silly the rules are. I'm just pointing out the reality of the situation.
•••
• WSU: Jacob Thorpe had a blog post last night on the Sorenson situation and fund-raising effort. ... The Times Stefanie Loh also has a story. ... He also has an advance of the Pac-12's opening weekend, a conference power ranking and a short preview of the Cougars' schedule. ... Arizona is the hoop favorite and rightfully so. ... This will never happen. ... Finally, I love this story. The first time I walked on this field I was in ninth grade. It was cool then, it is cool now.
• Gonzaga: Jim Meehan is in California as the Zags continue WCC play today at Santa Clara (the game is on during the first football semifinal, so that might keep ratings down a bit). He has his weekend preview. ... BYU begins conference play tonight at Saint Mary's.
• EWU: The Eagles seemed to have been on the road every game. It's not true, but they do open Big Sky play this weekend there. Jim Allen has the weekly short preview.
• Idaho: The Vandals are Eastern's travel partner, so their opponents every week are the same, just switched. Sean Kramer has the short preview of their weekend.
• Whitworth: The Pirates won both games in Las Vegas, including yesterday's 68-58 win over Mary Hardin-Baylor.
• Chiefs: Spokane's annual New Year's Eve game with Tri-City is tonight. ... Everett won in Kelowna last night. In overtime.
• Seahawks: The Lynch saga seemed to dominate the discussion yesterday. He won't be available this week at Arizona, it seems, but he should be back by the playoffs. ... Is this his last hurrah? ... The Super Bowl defeat was the defining moment of the year. ... Speaking of this week's game, it's been a long time since the Hawks were this big an underdog. ... Patrick Lewis and the offensive line want to move on from last week's debacle. ... There are three Huskies playing wide receiver for the Hawks.
•••
• It's New Year's Eve. The final day of 2015. Before you know it, football will be over, baseball will be starting and my golf game will be in the dumpster. Time marches on. Until later ...
---
---