Tue., Feb. 3, 2015
Ernie Kent Q&A: returning to Oregon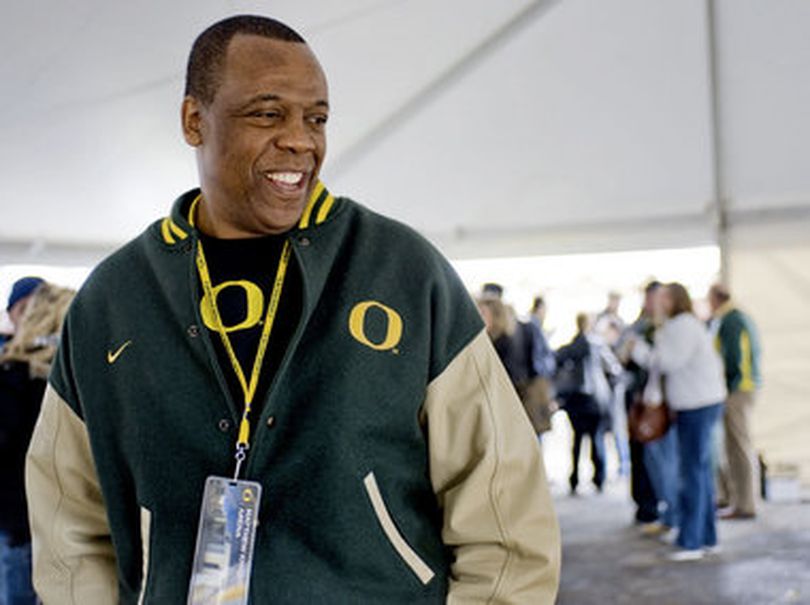 Washington State basketball coach Ernie Kent spoke at length with the media on Tuesday.

He talked about coaching at Oregon, where he played and coached, for the first time as a Pac-12 rival. Additionally, he talked about his team, who is improving and how the minutes are getting divvied up.
The transcription of that interview is below.
WSU coach Ernie Kent
Question: Is the fact that scoring in college basketball is down a concern and how would you improve it?
Ernie Kent: Well this is something that we, the NABC board, has talked about the last couple of years because we looked at the scoring last year and I think it was the lowest in the last 20 years, lowest number of fouls, lowest 3-point percentage, everything was the lowest. We talked more about freedom of movement and I think that's why you saw officiating change a little bit: to create more freedom of movement offensively.

If you think back the NBA went through the same thing four or five years ago, where their scores dipped and they all of a sudden put in no hand-checking and things like that and their scores started to comeback.

The difference being, I feel, at our level coaches are going to coach close to the belt. And one of the reasons for that is if you have superior talent over me, I have no way of winning that game unless I do what? Control tempo, slow the game down, do some things that way. It's a different kind of game in this day and age. Are we concerned about it? I would say yes, just because I think for entertainment value and things of that nature you want to see and exciting product on the floor. But at the same time, college basketball is very unique and very different than a lot of sports and I think people like to see the David and Goliath scenario, particularly when it comes to March Madness and everything else.

Q: What about shortening the shot clock?
EK: Well again, I don't know if the first step is shortening the shot clock. The first step might be, and I might be a little outside the box in saying this, in terms of you talk about coaches and the pressure to win games, you're not going to tell me a shot clock is going to force a coach to jack the ball up anymore when I know I can't compete with you unless I shorten down possessions, not get more possessions.

With that kind of pressure on coaches needing to win games and things like that to keep their jobs, I don't know if there's a lot you can do to say this is going to allow the game to speed up. We're still going to coach to win games.
Q: What will it be like for you to return to Oregon?
EK: I'm glad the games are Thursday-Sunday because it gives you some opportunity and time to visit with my family, see some friends and things like that as we come back into the area. But the games are going to be tough basketball games first and foremost. Oregon State obviously playing extremely well, particularly at home. They beat us here.

There are some adjustments we're going to have to make and really our focus on that game. Once we get through that game, now it becomes a different scenario altogether just because of having to come into Eugene, back in Eugene where you spent half of your adult life for the most part in Eugene.

It will be a different set of emotions but once the game gets going it becomes just another game to where you have to do the things you need to do to give your guys an opportunity to be successful. Hopefully we'll play well, it becomes a chess match in the game like a lot of the other games do and you really get lost in the moment or lost in the game.

As the game ends I think again you have to deal with all the aspects of coming back and playing your alma mater where you not only played but coached as well and spent so much time.
Q: Do you have a hard time finding time for everyone you want to see?
EK: No, because it's really not about seeing them. It becomes a business trip for us. There's not a lot of seeing a lot of people I need to do and will do. I'm going to spend as much time as possible, as I normally do, with our team. Because they need to understand it's business as usual and those things that we do in terms of walk-throughs, our dinner, our movie time, our study table time and all of those sessions remain the same for us. No different than if we were at Utah or Colorado and had the extra days, here's the things we do with our team.

So first and foremost I will do that. So there's not a lot of time that I'm going to be spending with family and friends. They know that. I can always come back in the spring time a lot more relaxed and spend that time with them. Right now we've got two games we have to play that will take all of my attention.

Q: Where do the Pac-12's attendance issues start?
EK: Well a couple of things. Number one, this conference was decimated a few years back with the NBA coming in and bringing so many guys out to the draft. You lost a lot of great talent if you think about them being here and of course the argument is other conferences lose talent, also.

And then I think you have to look at attendance across the country because I don't think it's just the Pac-12. I think with our economy today, people are getting stretched for dollars. I think the NBA is concerned about their attendance, I know the NFL is concerned about their attendance, I would say baseball. I think across the board we're all fighting for the same dollars when you talk about families and what they're able and not able to do. So I don't know if it's just a Pac-12 issue but obviously again, if you've got an extremely competitive conference. If you've got talented teams, talented players in this conference, people will come and see games.

But at the same time, I don't know if it will be like it was in the old days just because again, it's a bigger issue than just what's going on in the conference because when you talk about economy and people's dollars and being able to stretch those dollars and all of those things.

Q: Is winning the only way to cure those issues?
EK: I relate it to Field of Dreams, "if you build it, they will come." My whole thing is if you put a product on the floor, and we're in the process of doing that because the students are coming back and that's the whole thing with us is the students, who are here on campus, and if we can put a product on the floor that consistently plays up to our potential, that's exciting – and I feel like we're in the process of doing that – there's no doubt in my mind that this will become a very difficult place for people to come in play in.

Just because, number one, I don't think people like to come up here and play and number two, when they get here I think we're going to have a great college basketball environment. And that's part of the process of not just building your program but building back up your fan base and everything else and that goes hand in hand with having good character kids, guys that do the job academically in the classroom around their classmates, coming to the games and seeing consistency of winning, consistency of performance and we're in the process of really upping the ante in all of those areas and these guys have done a really good job of that.

Q: What was it like the first time you saw what facilities you had to work with as a coach at Oregon?
EK: Remember now I already knew what those facilities looked like from my playing days and just being back and forth so it wasn't like you walked into an environment that you had not seen at all because you spend so much time at Oregon even in your vacation time and things like that. The analogy I gave Bill Moos was that we were asked to build Saint Mary's and we were given this little toolbox to do it, to build a program that when I walked into the office literally the only thing in the office was a TV.

There was nothing else there at Saint Mary's. When I got to Oregon and they said, "build this program," well, gotta understand, coming from Saint Mary's to Oregon they said, "Build it, and oh by the way you've got this Mack truck sitting over here full of tools." That Mack truck was obviously, we didn't have the extra facilities. Even though they were not top-notch facilities, we had them there at Oregon. When you looked at the (Casanova) Center in the athletic department, we didn't have that at Saint Mary's. The offices with walnut, mahogany in your offices and stuff like that, those are all recruiting plusses.

You have your own TV show, you have your radio show, we didn't have those at Saint Mary's. So walking into Oregon it was like, we just built this one with this, now I get all of this. Was it enough to stay up with the Joneses? No, that's why we needed to build but I felt like walking in the door what we had was adequate to get done what we needed to get done.

(Former UO coach) Jerry Green didn't think that because he compared Oregon to Kansas and Oregon didn't have what Kansas had so he talked about how Oregon needed to upgrade and do this and do that. I compared Oregon to my days of playing there and when MacArthur Court was full, it was one of the top-10 all-time toughest places to play. So that's the thing. I felt the passion, I could sell Oregon differently than any other coach coming in there. Because I didn't look at it as we didn't have this, I looked at is as wow, look at what we do have and that was that building and what that arena looked like full.

Q: How does your first year at WSU compare to your previous first years?
EK: It's different in a sense that we have more here. We have more at Washington State than we had at Saint Mary's. We have more than when I was an assistant at Colorado State starting out. We have more than we had at Oregon, as well, too, and even in a sense, with the exception of the weather, we have more than what Stanford had because Stanford had Maples. They didn't have any practice courts or anything when I was there with Mike Montgomery so coming in the door here and talking about building a program and seeing that beautiful practice facility over there.

Are there some things that we need? Yes. Do we have enough to get it moving in the right direction? Yes. And that's the thing I look at. I always look at things from a positive perspective as to what we have versus what we don't have. We have these students sitting here. And if we can get them to buy-in then this building can become an incredible home court advantage just sitting there and in time we'll get a new building down the road.

We have practice facilities, we have a locker room, we have enough here to be successful here. I commend Bill Moos for what he's done in a very short period of time but I also know he's a visionary, he knows where we need to get to and I know where we need to get to as well.

Q: Is your relationship to the players similar to those early years at Oregon?
EK: It's different because at Saint Mary's you've got to realize they were a program that had an interim head coach, one of the assistants. So they had to remove him and bring me in. So you've got a whole different set of dynamics that you have to work through but in time, boom, everybody moved in the right direction.

Oregon was different as well too because at Oregon you had to go in and correct a lot of things behind the scenes in the program and in doing that the players were different than what you have here. The character and everything else became an issue there.

This group here, the thing that I noticed number one, you see them all the time and you interview them and watch them in shoot-arounds. They had a tremendous amount of character. They just needed to go through a transformation in terms of their confidence. So this one is different here because we were able to bring them all together and get them all moving in the right direction quicker because of their strength of character.

Q: Is it harder to sweep a team or to beat them after losing the first game?
EK: I would say it's harder to sweep a team because again, you may not match up in that first game as well as you match up in the second game and those become issues and everything else.

The Utah trip it's harder to win the second game just because of all the Utah-Colorado dynamics of being in the altitude and all of those things. It's hard to sweep because it's hard to beat anybody on their home floor in conference play and whenever you do that it's a major accomplishment, to be able to get that done.

Now with that said and done, this team has a come a long way and we should go down there with a lot of confidence that we can play with both of those teams and it's still going to come down to the ball is going to have to bounce the right way in the last few minutes of the game for us to have an opportunity to win those games.

Q: What do you take away from that first game against Oregon State?
EK: First and foremost, make sure we're well-rested, which we are having them on the first time around and just different dynamics coming into the game. And number two, looking at tape, there's not a lot of major adjustments we need to make. People talk about their zone, which is very, very good, but we've got to look at it from the perspective of did you get shots, did you get ball-movement, did you block out, did you defend, what you did do and what you didn't do. When you look at it from that perception there's a couple tweaks we need to make but the biggest things are we need to bring our energy and our confidence to the game.

Q: How is Gary Payton II able to rebound so effectively as a guard?
EK: Well you've got to talk, are they offensive rebounds or defensive rebounds because defensive rebounds mean other teams are missing shots and he's got the inside position and he's able to rebound.

If you're telling me he's averaging eight offensive rebounds per game than that's a lack of something that we're not doing so it's a little bit deceiving, he's a big guard that can go get the ball for you but some of those rebounds are coming on the defensive end, not necessarily meaning he's averaging eight offensive rebounds, we're not blocking him out, we can't handle him off the glass, that's not it at all. He loves to go rebound the ball, has a great mentality for that.

Q: Can you talk about Ny Redding's progression at the point guard position?
EK: You know we look at that possession as the toughest position within our program and we've been up and down at times and he's given us an opportunity to have two guys there that we can move in and out of that position at any given time in the game.

That's huge to have. For a freshman to be able to come in the door and do that, that's pretty good.

Q: Is Josh getting better on the defensive end?
EK: Well he was pretty good against Stanford. In fact, he made the comment the other day, "Wow, you got after me so much my defense improved," and I said, "Is that what I need to do?"
He's come a long way just because I think maybe being able to handle his minutes more. He's played a lot of minutes and fatigue is a factor with him. When you talk about the position he's playing at – you, me and anybody else in the room we couldn't guard Reid (Travis). That guy is strong and physical. Your body takes a pounding so he's guarding people that are really pounding him night-in and night-out so you might not see the significant improvement in his defense until next year, when all of a sudden he's had a spring and summer for his body to develop more.

He becomes now his junior year more mature, more strong and is able to do some things to neutralize some of that pounding he's taking. I'm happy with where he's at. I think with him he has to be really smart on defense and do a better job of playing positioning defense, meaning sometimes front, sometimes three-quarters, sometimes play behind and never give one certain look because now guys can kind of sit on him and cause him some problems that way.

Q: Does your tempo or pace change with Ike Iroegbu at point guard instead of Redding?
EK: I would say yes and no. It changes. Ike is more of a speed dribbler that can get you up and down the floor from point A to point B a lot quicker. Ny is more of a passer and when you look at the game the pass is faster than the dribble so if Ny's able to read the situation, he'll get the ball down the floor faster than when Ike handles the ball pushing it.

But they give you two different looks, which is good, because you can play them at different times and some teams are running back to shut down those wings for the pass and all of a sudden Ike's running down the middle of the floor speed dribbling, it causes defenses problems with both of those guys in the way they play.

Q: Did Que Johnson show you enough in the Stanford game to consistently start?
EK: Que showed us in the last game his ability to really be a star in this conference and I would love to see him come out with that same kind of intensity today in practice. And obviously in this game we need firepower so to say he's going to start or not, we make those decisions the day before the game but there's a pretty good chance that we'll put him in there again.

Q: Why didn't Brett Boese play very much against Stanford?
EK: Because of Que and (Dexter Kernich-Drew) played so well in the game and we went to put him in the game, put him in the rotation, Stanford instantly went big. They went back to Reid and (Stefan) Nastic, that's a bad matchup in the game for Josh and Jordan (Railey) to play that. It was going to be very difficult for Brett to handle Reid. There're some four men that we don't worry about. They're not as physically pounding, physically as tough as Reid is so it was strictly a matchup thing with him.

Q: When things didn't work out at Oregon what was it like realizing you might coach against your former school?
EK: I think the biggest thing that I learned going through that, and when you remove the fact that it's your alma mater and your love for an institution as a student, as a coach and all of that, and it's something that I preach to coaches all the time. When you get fired, you get real emotional, some coaches get bitter and all those things. You've really got to slow down.

Because again, and I've said this time and time again, when you have a program in your hand, no different than when you have your jobs in your hands, you're just a caretaker at that point in time of your job at that program. And when you move on, be fired or go take another job, you really have to look at it as: What did you do with your job when it was in your hands? What did we do with the program when it was in your hands?

And if you can look back on that and look at what we accomplished, and grow your job and grow your program like that, there's nothing to be angry about. I could walk out of that door saying, "My goodness. Look at what we did for my alma mater, look at what we did for Eugene as a community and look at the number of players that you impacted their lives and made them so successful." Be it that they're millionaires or be it that they're successful business people because of your self-improvement program, when you really look at it we did our work there.

Now we get an opportunity to do it again here at Washington State and that's how I focus it. I really have moved on from that and you have to do it that way. It will be a great opportunity to go back into that arena with a different team and a different program. For this team to look at that arena and look at those pictures and those banners and realize the success that we had, that we're building here right now, and they're at the foundation of all that.

They get a chance to leave footprints right here right now, that's a huge teaching moment for us because again, this program has the potential to accomplish everything we accomplished at Oregon. We've just got to get the students behind us, we've already got the administration behind us. We've just got to get everybody moving in the right direction. You have to get lucky down the road with recruiting and things like that but we have the same ability to do exactly here what we did in Eugene. That's the beauty of it and that's on the floor and off the floor when we had the graduation rights – we're right on track here getting academic awards already in 11months because these guys have bought into beign accountable academically so as you look at your careers, and you look at mine, I mean you guys might get fired one day. Or you may have to move on one day. What did you do with it? Did you grow it? What did you do? I can honestly look back at Oregon and I'm going to walk into that building with a big smile on my face because that building is going to stand for the next 100 years, long after I'm gone. And that's the way you look at it.

The programs, the institutions and in most cases your jobs, the institutions have been there already for 100 years, 100 years. The constant is the institution. The change is the players change, the president changes, the athletic director changes, the coaches change and in some cases the fans. So again, when it's in your hands as a caretaker: did you take care of it? I think I took care of the University of Oregon pretty good.
---
---