Sun., Feb. 15, 2015
Morning links: NCAA considers coach-to-helmet communication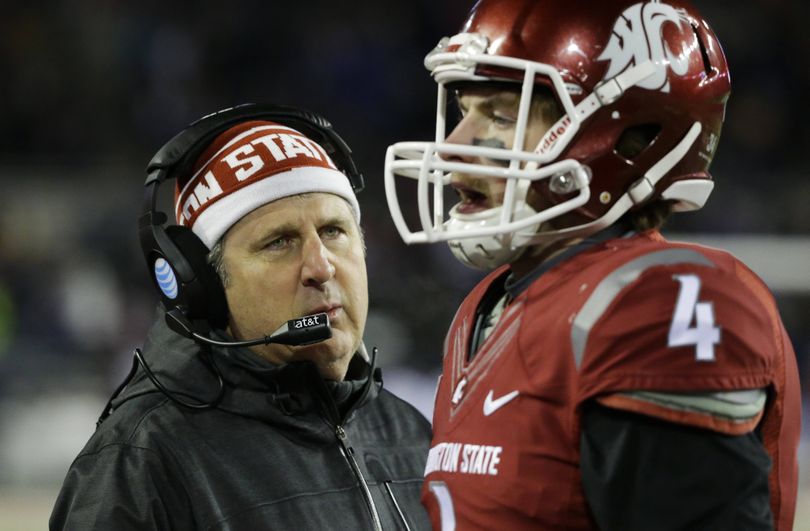 The NCAA is considering a number of rule-change proposals, the most significant of which would alter the way coaches communicate with players on the field.
If the rule is eventually adopted the college game would look more like the NFL, where certain players have wireless devices in their helmets that allow them to communicate with coaches until there are 15 seconds left on the play clock. I was curious what Washington State coach Mike Leach though of the rule change so I asked him, and he told me.

Today the men's basketball team will host the only team to beat Gonzaga, No. 7 Arizona, at 3:30 p.m. There might even be some daylight left for this one.

Here are the links:

-- We have a preview of WSU's game today against the Wildcats, but first check out our glance back at the win over Arizona State.
-- Here are some interesting notes about WSU's opponent today, including the reason why the Wildcats always stay in Spokane.

-- Former WSU coach George Raveling was elected to the Basketball Hall of Fame yesterday and John Blanchette does the man justice with a great column. We also have a post on the blog.

-- Abby Regan broke the WSU indoor mile record yesterday.

-- USC picked up its second Pac-12 win of the season, snapping a nine-game losing streak against Oregon State.

-- As if the loss wasn't bad enough, the Beavers had some scorpion issues that delayed their trip home.

-- The Ducks stalled against UCLA and Norman Powell.
---
---