Tue., Feb. 17, 2015
Bill Pierce's almanac: Jud Heathcote's start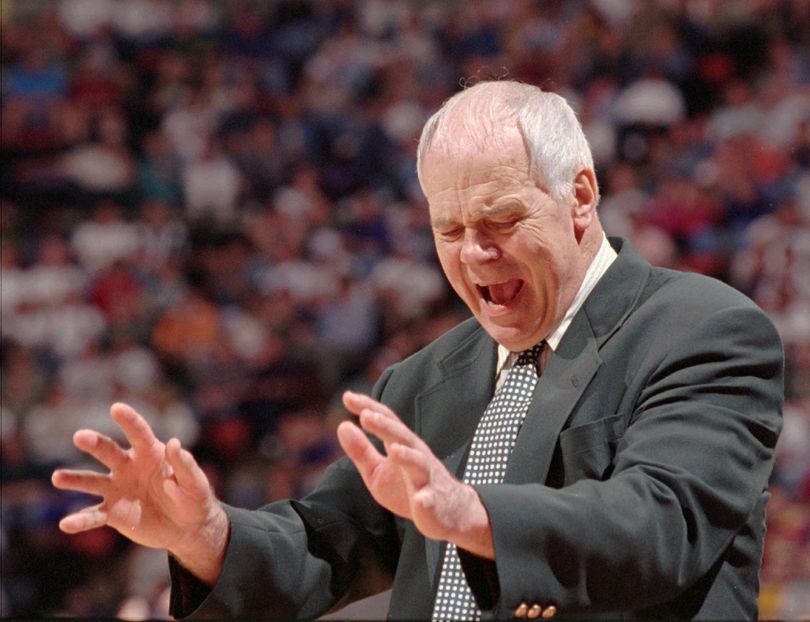 George "Jud" Heathcote is a nationally recognized Hall of Fame coach, who first cut his coaching teeth on the high school courts of Spokane.
Heathcote, a native of North Dakota, moved to western Washington at a young age after the death of his father. He attended South Kitsap High School where he was a three-sport star and the school's first all-state basketball player.
He played college ball at Washington State, and in 1950 became head coach at West Valley High School in Spokane. The Eagles were then in the Spokane City League, and at the time of Heathcote's hiring weren't having much success against the larger city schools. In his first year, the Eagles were winless and there was some thought of pulling out of the league, but Heathcote encouraged them to stay. West Valley wound up winning the city championship the next three years.
Heathcote was at West Valley for 14 years, and the Eagles were competitive in the City League for his entire tenure at the school.
Feeling a need to move on, Jud became Washington State's first full time assistant basketball coach under Marv Harshman in 1964. While there, he coached the freshman team to a 99-9 record. In 1971 he was hired as head coach at the University of Montana.
At Montana, he led the Grizzlies to both their first Big Sky title and NCAA appearance. He coached there five years, garnering two league championships, before leaving to take on the head position at Michigan State.
Heathcote was at Michigan State for 19 seasons, retiring in 1995 with an overall record of 329-221. In 1979, with Magic Johnson leading the way, the Spartans won it all, defeating Larry Bird and Indiana State for the NCAA championship. Heathcote's overall college coaching record was 419-274.
Heathcote was Big Ten coach of the year twice, and named National Coach of the year in 1990. In 2009 he was inducted into the College Basketball Hall of Fame.
After retirement in 1995, Jud returned to Spokane. Among other activities, he kept busy with handball, a sport in which he excelled, and recreational golf. He is a regular attendee at Gonzaga basketball games, and enjoys a monthly lunch with GU coach Mark Few.
---
---