Wed., Feb. 25, 2015
Thomas' recovery time begins now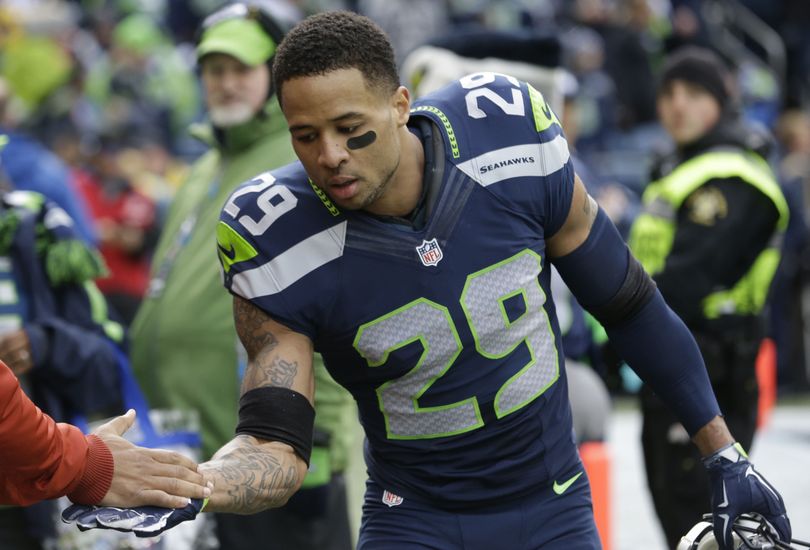 A GRIP ON SPORTS • One of these days a professional athlete is going to undergo major surgery and be ready to play two, three months ahead of schedule. One of these days. Read on.
••••••••••
• Of course, it has already happened. Adrian Peterson seemed to return from major knee surgery in a blink of an eye. He was an exception, but not that much of one. Whenever an athlete has a surgical procedure, a length of time is given when they should return. Say six to eight months. And they always seem to be back on the field or court or whatever right around the early time frame. Why bring this up now? Earl Thomas, the Seahawks defensive quarterback, underwent labrum surgery yesterday. The timeframe given for his return? Six to eight months. How long before the Hawks play a regular season game? About six months and three weeks, give or take a day or two. And yet everyone who commented yesterday in the Seahawk organization is confident Thomas will be back for the opener. Oh, he may have to miss some preseason practice and games, but when the bell rings, Thomas will be there. And he probably will. But what if it takes eight months to rehabilitate the injury? After all, why would the timeframe be listed as "six to eight months" if eight weren't a possibility? Why wouldn't it just be listed at six months? Is the length just one of those "cover-your-rear-end" type of things, in case something goes wrong in rehab? Probably. But how often, outside of Derrick Rose and Chicago, does that ever happen? Not often, to answer my own question. Guys like Earl Thomas are not your typical patients. They are motivated. They are used to hard work. They are superb physical specimens. They are the guys who heal on the short end of the timeline. So expect Thomas back for at least the end of preseason practice. Don't expect him to take a snap when it doesn't matter but when it does, expect No. 29 to be where he usually is, playing centerfield, calling out defensive audibles and delivering hits.
•••
• WSU: Believe it or not, the Cougars' basketball workweek begins tonight in Los Angeles against woeful – sorry Kent – USC. And then the team will fly home before returning for Sunday's game at UCLA. Welcome to the modern Pac-12. Jacob Thorpe spoke with coach Ernie Kent yesterday and shared Kent's comments in this blog post. He also has a morning post today with links. ... There is no shortage of candidates for the Pac-12 coach of the year award.
• Gonzaga: The Bulldogs finish up the regular season at home, with senior night scheduled for Saturday against BYU. That will mark the end of Byron Wesley's short stint as a Zag, a stint he and Gonzaga are both grateful for. Jim Meehan has more in this notebook. ... A big man surprised BYU with an announcement this week.
• EWU: We've said it before and we say it again: The Vernon Adams situation is the story that will never die. Jim Allen delves into it from two angles today, looking at what Adams is up to and how Beau Baldwin sees the relationship. ... Speaking of Baldwin, the Eagle coach made some coaching assignment changes this week. Jim covers those in this blog post. ... The Eagle women have already won 17 games this year. But two key conference road contests in Montana loom this week. Tom Clouse has more in his weekly women's basketball notebook.
• Idaho: Don Verlin won't be saying anymore on the bench incident in Flagstaff, according to this blog post from Sean Kramer.
• Whitworth: Kenny Love and Matt Logie won NWC player of the year and coach of the year honors, respectively. Tom has more on the postseason awards in this story.
• Chiefs: It's Wednesday, so that means Chris Derrick has his weekly WHL notebook in the newspaper. ... Portland traveled to Kennewick and came away with a 6-4 win over the Americans. ... Everett has a pretty successful goalie.
• Preps: Last night Post Falls added a 5A Region I title to its league championship. Greg Lee was there as the Trojans defeated Lake City, 69-56. ... A longtime Ferris assistant football coach died this week. Chris has Tom Hedemark's obituary.
• Seahawks: Besides Thomas' surgery, the only other piece of news on Hawks is this summary of mock drafts and Seattle's first-round selection. How come no one predicts they with trade the pick for a couple more choices?
• Mariners: Robinson Cano arrived in camp and announced the Mariners look like a world championship contender. On paper. OK. At least Cano isn't afraid to challenge his teammates. And himself. ... Willie Bloomquist wants to get going. The M's want him to take it slow. ... Fernando Rodney is in a dancing mood. Maybe Cupid hit him with an arrow or something?
• Sounders: The preseason is about experimentation, right? At least a little bit. ... The Sounders recently made a trade because the player wanted it. ... Depth at goalkeeper is one thing Seattle is trying to build. ... If you are into this sort of thing, the Sounders will reveal their new uniforms soon. ... FIFA is about to pick a fight with the world's biggest soccer leagues. Should be interesting.
•••
• We are back on the radio this week, joining Keith Osso and Rick Lukens on 700 ESPN today from 3 to 6 p.m. You can listen here if you are so inclined. Until then ...
---
---