Thu., Feb. 26, 2015
All the M's need now is someone named Oscar in the bullpen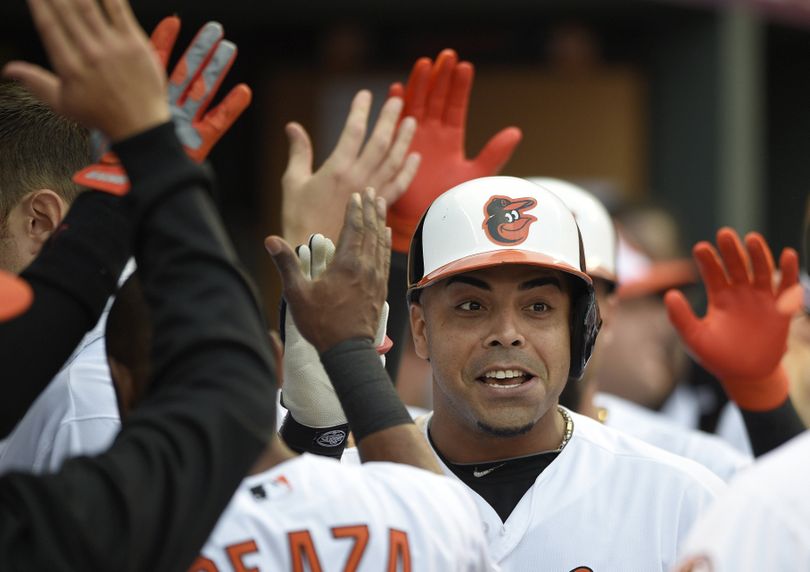 A GRIP ON SPORTS • Forget this new movie on Marshawn Lynch's life – and if reports are to be believed, Marshawn Lynch would like you to. What we need right now is a movie about the 2015 Mariners. Oliver Stone needs to direct. Heck, he already has a title. "Platoon." Read on.
••••••••••
• Where do you think newly acquired Rickie Weeks (pictured) spent his defensive workout time yesterday? Yep, in the outfield. The career-long second baseman is getting ready to share time in leftfield with Dustin Ackley, another guy who began his career at second. Weeks hits right-handed. Ackley left-handed. If they share the position, that, in baseball parlance since at least the late 1940s, is called a platoon. Lloyd McClendon is loath to use that word, mainly because players hate to be seen as a platoon, or part-time, player. But the M's could have as many as, wait for it, four platoons this season. That would be half of the defensive positions. How, you may ask? We already know the M's plan to platoon in right field, with Justin Ruggiano – the right-handed hitter – and Seth Smith – the lefty. If Ackley and Weeks split left, that's two. No decision has been made on the starting shortstop, with Brad Miller, a left-handed hitter, and Chris Taylor, a righty, battling it out. What if neither takes the job outright and the M's decide, correctly, Ketel Marte needs more minor league seasoning? Platoon No. 3. The fourth one? That would be at first base, where former super prospect Jesus Montero, looking fit and ready, may just stroke his way into the discussion. A righty, Montero is competing with left-hand hitting Logan Morrison. That would be your fourth platoon. There is only one problem with the last one. Morrison has hit better in his career against left-handers than right-handers. Yep, he's hit .247 against righties and .262 against southpaws. Now Morrison's power numbers are better against right-handed pitchers, which might be a deciding factor, especially is Montero shows his new-found fitness translates into a recovered power stroke of his own. In his career, a career almost derailed by weight problems and attitude issues, Montero has hit .318 against left-handed pitchers, with an OPS of .827. If Montero can match those numbers, that would mean another decent bat in the Mariners' lineup. And another platoon. Maybe the M's should invite Tom Berenger and Willem Dafoe to Peoria.
•••
• WSU: Yesterday on the radio I said I would be "shocked" if the Cougars lost to last-place USC in Los Angeles. And I almost was. Twice. The first time was when WSU built a 19-point second-half lead, something as confident as I was I didn't see coming. Then I was almost shocked again when the Cougs frittered away almost all of it with hard-to-fathom turnovers and a suddenly porous defense. But Washington State held on for a 70-66 victory. Jacob Thorpe has the game story in the paper as well as postgame video from Ernie Kent and a few players. This morning Jacob has a blog post filled with links. ... I found a couple more links to game coverage – USC announced after the game its starting point guard would have season-ending surgery – as well a football mailbag from ESPN.com's Pac-12 blog. ... Being that it is Thursday, Jacob also has his weekend preview in the paper, though the only game is Sunday at UCLA.
• Gonzaga: The Zags finish off the regular season this week by hosting USD and BYU. Jim Meehan has his preview. ... To supplement that, we can pass along a preview from the San Diego paper as well as this Kevin Acee column that calls for the firing of former Gonzaga assistant and long-time USD head coach Billy Grier. ... BYU's rebounding woes gave a guard a chance. ... By the way, don't expect the Cougars to be members of the WCC much longer. Not if they can find a bigger conference to take them. ... Hey, we found another story on Kyle Wiltjer.
• EWU: With four regular-season games left, Eastern needs to finish strong to host the Big Sky Conference tournament. Jim Allen has an advance of the task this week against the Montana schools as well as next week on the road. He also has a preview of the weekend.
• Idaho: Not only does Sean Kramer have a preview of the weekend, he also has a feature on senior Connor Hill, the former Post Falls High star.
• Whitworth: The Pirate men and women compete in the NWC postseason tournament this weekend, with the men hosting and the women on the road. Tom Clouse has an advance.
• Chiefs: Spokane came into Wednesday night's game with Everett battling a three-game losing streak. The Chiefs snapped it with a 3-1 victory over the Silvertips. Chris Derrick has a game story and a blog post on Calder Brooks' big night. ... Portland lost to Calgary in overtime.
• Preps: It's Idaho's turn to host state wrestling this week and Greg Lee has an advance of Post Falls' attempt to win a 5A title. ... Greg was also at Lakeland's playoff win over Sandpoint last night. ... Finally, Greg has an advance of the regional round of state basketball in Washington. ... Bill Pierce's history lesson this week takes us back to 1943.
• Seahawks: Another member of the secondary may have undergone surgery recently. ... A free-agent defensive lineman is coming in for a visit.
• Mariners: No matter how many platoons the M's play, the most important bat in the lineup is Robinson Cano's. That is if it isn't Nelson Cruz's. By the way, do you like Cruz's shirt?
• Sounders: The Desert Diamond Cup is a preseason, let's-get-ready tournament. That's why the Sounders have played young players in new formations. It may also be why they found a way to lose, 2-1, with a stoppage-time goal by New England. ... No matter what the reason, coach Sigi Schmid couldn't have been too happy.
•••
• Another afternoon on 700 ESPN. We will be joining Rick Lukens between 3 and just before 6, followed by the Eastern basketball game. You can listen here. Until then ...
---
---