Sat., Feb. 28, 2015
This group of seven may be unmatched around here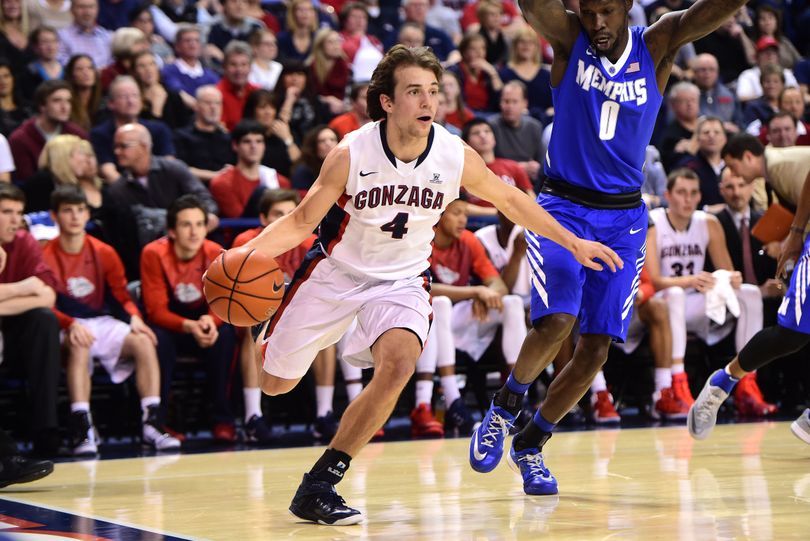 A GRIP ON SPORTS • It is time to say goodbye. To whom? To quite possibly the best group of senior guards this area has ever seen. Read on.
••••••••••
• I've been in this area since the early 1980s and I can't remember a year in which each of the four major college team had at least one, and quite possibly two, exceptional senior guards. But this year that's the case. Oh, we've had lots of guards around here. Great guards. But to have so many of them graduate the same season, that's odd. And just a bit overwhelming. Three of our local schools are celebrating senior day today, which means there will be a need for a lot of hankies and Kleenex. That wouldn't be the case if the guys walking onto the home court for (possibly) the final time hadn't made such an impact. We'll start at Gonzaga, where the twins, Kevin Pangos and Gary Bell, will be honored for four years of special moments – and a lot of wins. Out in Cheney, hometown hero – well, Spokane's own – Parker Kelly will be joined by two-year starter – and star – Drew Brandon. In Idaho, Connor Hill, who has improved every season since arriving in Moscow from Post Falls High, will be front and center, joined by Mike Scott, a transfer who has made an impact. And, though their senior day won't come until next weekend, the Cougars are preparing to say goodbye to DaVonté Lacy, who also happens to be my last direct coverage link to WSU basketball. That's seven guys – seven guards – who have had huge impacts at their respective schools, all leaving at the same time. Today, and the next week or so, are going to be tough. After all, fans live in the moment and saying goodbye to players like that isn't easy to do. But fans also like to look ahead to next year and that's what will make it really tough. After all, how do you replace talent like this? The answer is simple: You don't. So don't worry about it now. Just enjoy the moment and let tomorrow take care of tomorrow.
•••
• WSU: John Blanchette spent some time this week catching up with former Washington State coach Ken Bone, in town with the Montana Grizzlies. The conversation resulted in this column. ... The Dolphins released one of my favorite football players to cover at WSU, Brandon Gibson. ... It's Saturday, so we can offer ESPN.com's Pac-12 mailbag.
• Gonzaga: Of course the big news today is the seniors, including Byron Wesley, who has been here one season. Jim Meehan profiles Kevin Pangos, who Mark Few calls the quintessential Zag, in this feature. ... But there will be an opponent on the court tonight and it's a good one: BYU. The Cougars know a win at GU would go a long way toward helping them earn an NCAA at-large berth. ... Jim also took some time yesterday to look back at the USD victory. ... Bud Withers writes about Pangos and Bell.
• EWU: Besides Kelly and Brandon, the Eagles honor Garrett Moon, who has contributed in subtle ways all season. Jim Allen has an advance of the key Big Sky game with Montana and a look back on the blog at the win over Montana State.
• Idaho: The Vandals announced their football schedule for this fall, moving a game so that the USC and Auburn road tests aren't near each other. We're going to examine this a bit on another day, when the basketball isn't so heavy.
• Chiefs: The last two times the Chiefs played Tri-City, the Americans won by a combined 9-0 score. Think that sat well? Last night in Kennewick, Spokane returned the favor, winning 4-0. ... Everett picked up a big win over Calgary.
• Preps: Last night's prep basketball games were all about earning a trip to the big arenas and keeping alive a state title dream. Greg Lee covered two games, with Central Valley's 4A title hopes dashed against Moses Lake (pictured) and Northwest Christian keeping its hopes alive against Lake Roosevelt. ... Chris Derrick also had two games, the main one being Colton's girls extending their record-winning streak in the 1B ranks. ... Post Falls is in a good spot after one day of the Idaho 5A wrestling tournament.
• Seahawks: The free agent market is heating up as more veterans get released, though the most intriguing free agent comes from a long way away. ... Garry Gilliam wanted to say thanks.
• Mariners: So what do we have today? There are stories about pitchers, of course, with a reliever you may not have heard of front and center as well as a guy who has been in the news seemingly forever. And there is the pitcher the M's need but can't seem to find. ... There is also a story about a catcher I believe will be a solid major leaguer some day, John Hicks. ... And there is a story about a coach who has his hands full. ... Lloyd McClendon (thinks he) is a card.
• Sounders: With only one more exhibition game left, the Sounders are about ready to start the MLS regular season. If labor strife doesn't intervene first. ... One guy who doesn't want a shutdown or a strike is Micheal Azira, who has had a good training camp.
•••
• It's Saturday. Quite possibly the first Saturday in half a year in which I didn't have to be in a gym coaching basketball. So I might just go out back and continue picking up a winter's worth of, well, I have two dogs, so you know. Actually, I would rather be back in the gym. Until later ...
---
---