Fri., Jan. 2, 2015
College football's playoffs are going to be all right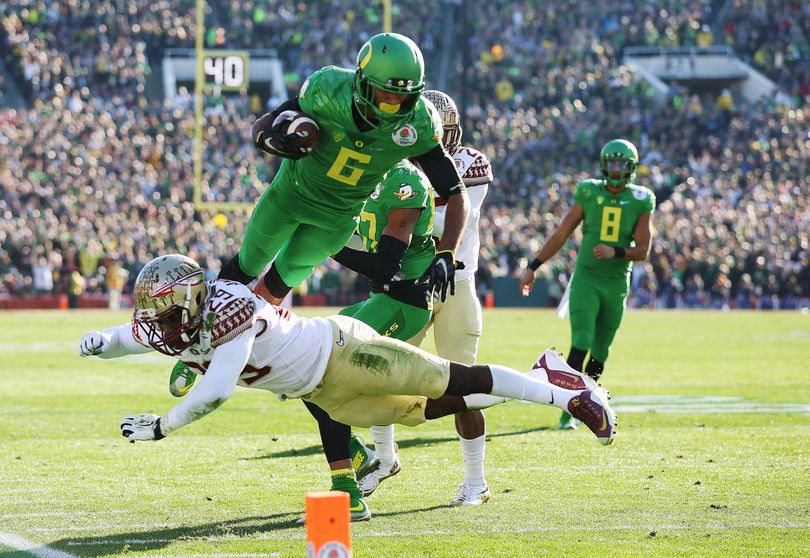 ••••••••••
• Before we get into the football action, first we have a history lesson for you. Back in 1939, the first NCAA basketball tournament was held. Eight teams were invited. The two finalists? Oregon, representing the West, and Ohio State, representing the East. Fast forward to 2015. The first NCAA football tournament featuring the major schools. The two finalists? Oregon and Ohio State. I don't know whether it is ironic or just eerie. Well, there was a "Twilight Zone" marathon going on concurrently to the NCAA semifinals, so we'll go with eerie. I'm sure folks south of the Mason-Dixon Line are using that word a lot today. Other words, too. Words we can't print in this blog. After all, the mighty SEC West, the best division in college football – ahem – is 2-5 in bowl games. The Pac-12 is 5-1 this bowl season, with two more games on tap today. And the Pac-12's champion is still alive for a national title. Which brings up another history lesson. Most of this century we have been subjected to the BCS system to decide the national champion. Two teams, hand-picked by a combination of computers and polls. It is a system that was dominated by the SEC, with at least one of the two teams being from that conference nearly every year. If it were still in effect this season the two teams playing for the crown would have been Alabama, champions of the SEC, and Florida State, ACC winner. How's that for irony, huh? One lost yesterday by 39 points and the other couldn't keep up with a team playing its third-string quarterback. Makes you wonder how often in the past dozen years the best team in the nation didn't even get a chance to play for the title. Even now, with four teams in the playoff picture, the best team might not be playing. Maybe it's TCU, which won its bowl game by 39 points. The Horned Frogs were third in the second-to-last playoff rankings, won by a zillion points in its last game and dropped from the top four. It's enough to want an eight-game playoff next season. It won't happen but if yesterday's semifinals showed us anything, a loser-go-home football game is just as exciting, maybe even more so, than a loser-go-home basketball game. At least the first half of Oregon's 59-20 win over Florida State was. And Ohio State's 42-35 win over Alabama. This playoff stuff is OK, isn't it? Too bad it took 76 years for the NCAA to allow the big football schools to take part. Let's hope it doesn't take another 76 years for it to expand a bit.
•••
• WSU: The Cougars will kick off the Pac-12 basketball season today at Stanford, a noon game that's part of the conference's opening weekend. Jacob Thorpe is there and has this advance. He also has a morning post with links. ... We found another Pac-12 basketball preview piece. ... The Ducks' Rose Bowl rout set a bunch of offensive records.
• Gonzaga: While GU prepared for Saturday's game at Portland, the rest of the WCC was in action. ... St. Mary's won again, this time on the road at Pepperdine. ... BYU also picked up a win, routing Santa Clara. ... Pacific earned its first WCC win, taking down Loyola-Marymount. ... USD also earned its first conference victory, edging USF.
• EWU: If the Eagles want to win their first Big Sky title under coach Jim Hayford, they have to protect the home court. They did that yesterday against the defending conference champs, though it wasn't easy. Riding Tyler Harvey's 39 points, Eastern rallied for an 84-78 win over Weber State. Jim Allen has the game story and Jesse Tinsley adds the photographs from Reese Court. ... Montana held serve, getting past Northern Colorado at home. ... North Dakota earned a road victory at Montana State. ... The Eastern women's winning streak continued.
• Idaho: The Vandals played their first Big Sky Conference game in almost 20 years yesterday and they won. Sean Kramer has this story on the Vandals' 77-54 win over Idaho State behind Connor Hill's career-high 32 points.
• Seahawks: The Hawks didn't get yesterday off but they will have some time this weekend to watch football. And to contemplate a few questions like, is this Marshawn Lynch's best season? ... Bobby Wagner, Russell Wilson and Richard Sherman spoke with the media after Thursday's workout. ... Earl Thomas did as well, though mainly he lets his playmaking ability do the talking.
• Mariners: A long-time member of the M's scouting staff died yesterday.
•••
• I'm not sure I can watch football today. After the past couple days, my eyeballs might just be footballed-out. And my bum as well. Until later ..
---
---