Fri., Jan. 9, 2015
Another great start to the weekend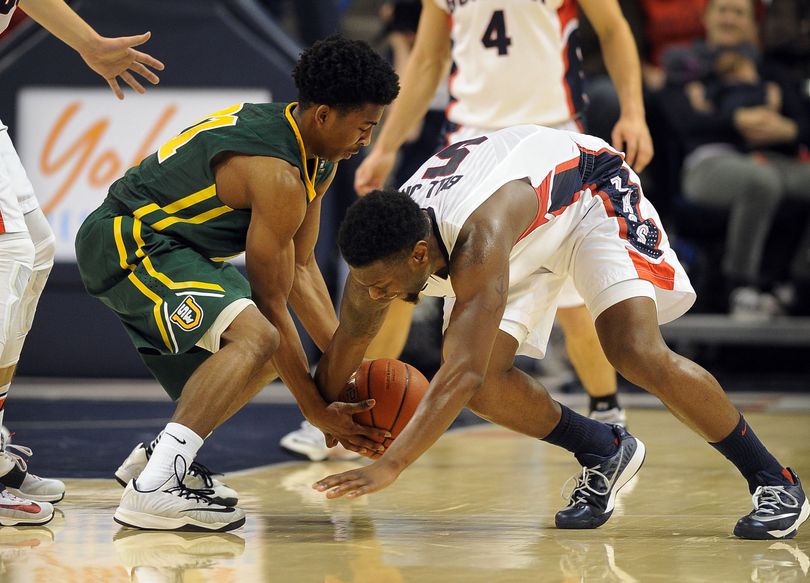 A GRIP ON SPORTS • It's Friday, right? So that means the weekend is about to kick off. Except, during basketball season, the weekend really begins Thursday night. Read on.
••••••••••
• Last night the weekend began at 6 p.m. That's about when they tipped it off over at the Kennel, though the Gonzaga players really didn't show up until, oh I don't know, 6:20 or so. The first 10 minutes of game action was sort of a toss up between lowly USF and sixth-ranked Gonzaga, but after that it was all Bulldogs. Gonzaga's 88-57 win seemed a bit different as I was listening to the final minutes on the radio and I couldn't figure out why. Then I got back home and turned on the DVR and it hit me: The students still aren't back. That's why it sounded so quiet in the Kennel. And maybe explains, a bit, the Zags' slow start.
• There is a big weekend on tap in the NFL, the best weekend every year, actually. The divisional playoff games feature four games and the eight best teams. So this is the Thursday the league chose to release the Mueller Report on the Ray Rice video. Not the Mueller Report on the league's handling of the Ray Rice domestic violence case. There really is no Mueller Report on that. All the former FBI director, Robert Mueller, investigated in depth was whether or not anyone connected with the league offices actually viewed the video from inside the elevator. You know the one, the video that showed Rice knocking out his then fiancé, an act that originally earned Rice a two-game suspension. Anyhow, Mueller released his report, stated he couldn't find anyone who saw the video before Rice's hearing, and the NFL declared victory. However, that pronouncement was about as hollow as the one about Iraq on the aircraft carrier a few years back. Read this Sports Illustrated story and you'll see what I mean.
• Boy, if I were in trouble, I think I would rather have 60 Minutes knock on my door these days than the Oregonian's John Canzano. His column today about Oregon basketball coach Dana Altman's handling of a sexual assault case is damning. And if I know Canzano at all, he won't be letting go of this. I expect columns from here until a change is made in Eugene.
•••
• WSU: It was a quiet day in Pullman but that didn't stop Jacob Thorpe from putting together a morning post with links. ... The Times has a feature on Jordan Railey in advance of Saturday's UW-WSU game.
• Gonzaga: With the Zags back at home for the first time in about a month, we had the full coverage plan in effect. Jim Meehan has his game story and blog post from last night. John Blanchette has a column on Prezmek Karnowski's great play of late. And Colin Mulvany has a photo report. ... Jim also had a blog post yesterday with a little more that didn't fit in his notebook. ... The GU women were at USF last night and won again. ... Remember how we said yesterday BYU's shooters have a green light? Last night, in the second half at least, Pepperdine turned it red. The Waves won, 67-61, in Provo. This is the type of loss that seems to stay on an NCAA resume. ... USD held serve at home, defeat Loyola-Marymount 59-50. ... Portland routed Santa Clara, 78-61.
• EWU: Don't call it a rivalry, yet. Though Eastern and Idaho are the closest of the Big Sky basketball teams, this is the first time the teams have met in a conference game in almost 20 years, so it isn't a rivalry game. But it will be soon. That's part of Jim Allen's feature on Saturday's game. ... Illinois State will honor Jake Rodgers' dad with a helmet sticker during Saturday's FCS championship game. ... Weber State had to win last night. It did, at Montana's expense. ... Northern Colorado picked up a home win over Portland State. ... Sacramento State won a tough road game at North Dakota. ... Idaho State rallied past Montana State.
• Whitworth: Former long-time Pirate football coach John Tully has sued the school over his dismissal, alleging, among other things, age discrimination in the action. Jim Allen has the story.
• Preps: Greg Lee was able to find an important basketball game to cover last night and he got to see a great one. Coeur d'Alene held off Lake City in overtime, 50-49. ... We also can pass along a roundup of GSL wrestling and another roundup of other sports.
• Chiefs: The Tri-City Americans turned the tables on Prince George last night.
• Seahawks: The Seattle Times put together a special section on Saturday's showdown with Carolina and it covered just about anything you might need to know. If it didn't, Bob Condotta's Hawk blog certainly does. Or the News Tribune has a story on the subject. ... The Hawks have one game-time decision concerning injuries. The Panthers might have to make a late change as well. ... Jonathan Stewart will be in the lineup. ... The two quarterbacks really don't compare. ... Bruce Irvin is just thankful to be playing. ... The defense has been great, sure, especially in the second half of the year, but don't forget the contributions of the offense. ... Speaking of the defense, who has been the MVP this season? Heck, that's easy. It's Bobby Wagner. ... Pete Carroll, whose contributions this season have been overlooked a bit, and Kam Chancellor had some things to say yesterday.
•••
• And that's our Friday report. If anyone needs a buddy for the Hawk game tomorrow, I'm available. I was thinking if you supply the 40-yard-line ticket, a nice warm blanket and the beverages, I'll supply the Tony Siragusa-like commentary – delivered by a guy who has a Tony Siragusa-like body. Until later ...
---
---