Sun., Jan. 11, 2015
Day after Santa Clara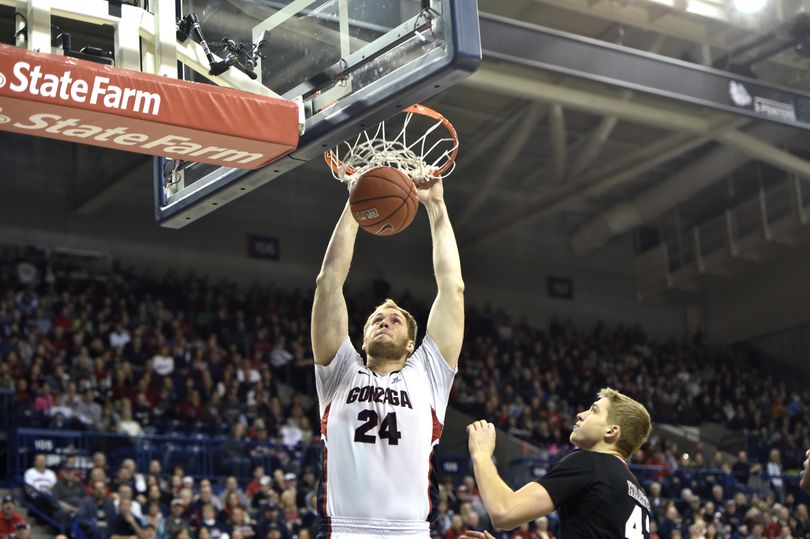 Gonzaga's size was too much for Santa Clara last night as three bigs combined for 45 points in a 79-57 win.
Here's my game story and S-R photos. Read on for my day-after post.
--Center Przemek Karnowski was at it again. He's developing an up-and-under move to counter defenses zeroed in on his patented left-handed hook. He sprung that move on overmatched defender Nate Kratch in the first 20 seconds.
For good measure, Karnowski made a fadeaway 8 footer and took off on another dribble drive from the 3-point line. He also made a free throw that hit back iron, bounded off the top of the backboard and dropped through.
He played a team-high 30 minutes and produced 18 points, 9 rebounds, 2 assists and 2 blocks.
"I'm trying to be more patient on the block," he said. "When I go to my move, I'm trying to be strong and aggressive. Just slow down and analyze. If they double, we have great shooters outside. If I give the ball back to the guards I'm not worried about it going in. Kevin (Pangos) is going to be the best 3-point shooter (in school history) in a couple of days."
(Pangos has 278 career 3s. He's closing in on No. 2 Richie Frahm 280 and No. 1 Blake Stepp 288.)
Back to Karnowski. He was seven inches taller and perhaps 55 pounds heavier than Kratch, but the Broncos chose to play 1-on-1 in the post. They paid for it with the Karnowski/Kratch, Kyle Wiltjer/Matt Hubbard and Domas Sabonis/Kratch-Hubbard matchups all night.
"It's pick your poison," Wiltjer said. "If they double Shem he's just going to pass it out and (we) hit a 3. I was a little surprised because if something's not working you might as well try and change it."
WSU tried the same strategy and Karnowski matched his career high with 22 points.
Coach Mark Few noted that "if you look at our numbers and give up a 3 … and (Byron) Wesley is so good at cutting, it's a tough call. If those 3s start falling, especially in this building, that would be my guess" why SCU didn't change its strategy.
--Pangos pretty much matched his season numbers with two 3s, 13 points, 4 assists and added 4 steals. When Pangos' name is mentioned, it's usually in regard to his shooting and his offense. Those aspects were fine Saturday but his defense probably played a bigger role.
Pangos helped limit senior Brandon Clark to 4 points on 2-of-9 shooting. The two have gone at it for years, much like Pangos and San Diego's Christopher Anderson. Pangos got the better of Anderson a few weeks ago.
Several opponents (WSU comes to mind) have made it clear they were going to test Pangos, particularly on the bounce. Clark tried, too, but without much success.
"He gives you great effort and attention to detail," Few said. "And he's a lot tougher than people think."
--Few makes predictions, oh, about once a decade, but he offered one when asked about Oregon's chances in Monday's college football title game.
"They (the Ducks) are going to win, they'll win by double digits and Marcus Mariota will prove he should be the No. 1 pick hands down."
--Gary Bell Jr. had another tough night offensively. He made just 1 of 6 shots and finished with three points. He's been in double digits just once in GU's last nine games.
Bell didn't, however, let it impact the rest of his game. Bell did a solid job on Jared Brownridge, who registered some points early but made just one field goal in the second half.
Bell had three assists and a steal.
STATS OF NOTE
--Pangos has reached double figures in seven straight games.
--Gonzaga had a season low six turnovers.
--Pangos needs five assists to crack the top five all-time at GU. He needs six steals to do the same in the steals category.
--Karnowski's 85 career blocks is tied for eighth with Cory Violette.
--SCU is fairly ordinary from the 3-point line (31 percent for the season, 33 percent in WCC games), but it made 9 of 20 last night (45 %), led by Colville High grad Matt Hubbard's 5 of 9.
QUOTEBOOK
Few on Karno: "It's just good to see him slowing down. He's really smart player. Mentally he's been tough enough to take coaching. He's a force."
Few on tailoring defense on Clark/Brownridge: "We wanted to make those two earn their shots. You're going to give up some shots (to others) when you do that."
Bell on Brownridge: "He made some tough shots in the beginning but it's hard to keep doing that for 40 minutes."
Karnowski, whose parents are leaving today to return to Poland: "I'll probably see them in May or June. I'm glad I played well" during their visit.
---
---