The Hawks battle their way to NFC title berth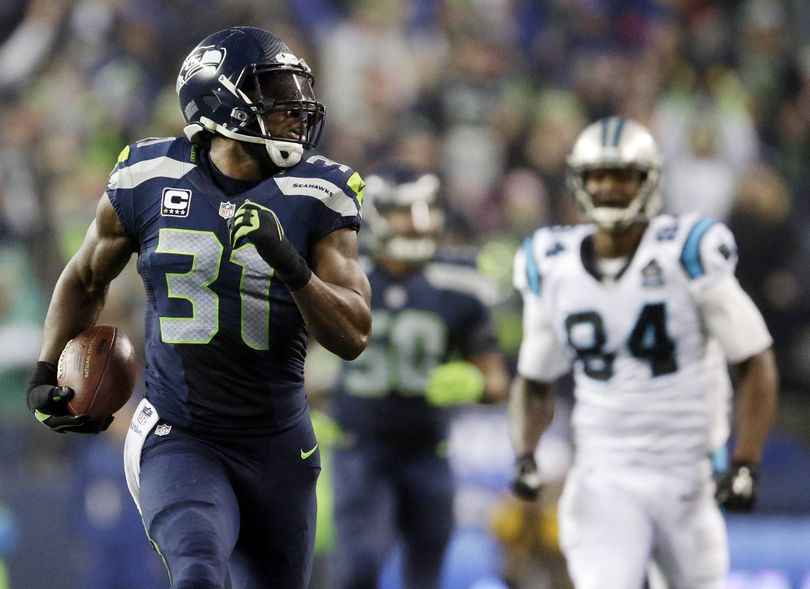 A GRIP ON SPORTS • All's right in the world. It's January 11, there is (more than enough) snow on the ground at my house and the Seahawks are in the NFC title game. As an added bonus, Gonzaga and Eastern are atop their conference basketball standings and WSU just posted a win its fans will remember for a while. Read on.
••••••••••
• This is the type of obsessive football watcher I am – and I am sure many of you are. During halftime yesterday of the Hawks' 31-17 win over Carolina, I ran Kam Chancellor's penalty for roughing the kicker over and over in slow motion. I even stopped it frame-by-frame. Though it was impossible to tell whether the ball actually hit Chancellor or not, it looked to me as if the football made a left turn after it passed Chancellor's body. If it did make contact with his leg, then the penalty should not have been called. Believe it or not, according to commentator Mike Pereira on Twitter, such plays are reviewable. But he didn't believe there was a need, saying it was obvious the ball wasn't blocked, it was just a bad kick, liken it to one of his golf drives. Not sure I agree with that (I've seen Pereira play golf and his drives are a lot better than that), but I do believe there wasn't enough evidence to overturn the call and it was probably right. But it would have been nice to take a look, don't you think? In the grand scheme of things, it didn't really matter, except to kill the first 10 minutes or so of halftime and to exhibit Chancellor's athleticism. That athleticism was displayed in a more telling matter in the fourth quarter when Chancellor stepped in front of an open receiver and grabbed an ill-advised Cam Newton pass. Some 90 yards later the Seahawks had punched their ticket to back-to-back NFC title games. Awaiting them – the opponent will be figured out in a few hours – will be one of the two most-storied franchises in the NFL, either the Green Bay Packers or the Dallas Cowboys. I am so jacked to watch I may just play Chancellor's leap over and over until next Sunday.
• EWU won the battle for the top spot in the Big Sky Conference last night, holding off Idaho in Moscow. A couple hours earlier Gonzaga had pounded Santa Clara to remain undefeated in the West Coast Conference, tied with St. Mary's in first place. Though Washington State isn't leading the Pac-12, the Cougars did open conference play with two wins in three road games, including yesterday's 80-77 victory at UW. With Gonzaga's women also in first place, the Eastern women 3-0 in the Big Sky and the Whitworth men and women undefeated in the Northwest Conference, is there a better area for college hoops success right now? I'm not sure there is. Enjoy it. It may not last.
•••
• WSU: The Cougars were double-digit underdogs going into yesterday's game but their 3-point shooting and perimeter quickness negated the Husky size most of the day. And, after grabbing a late lead, DaVonté Lacy's perfect free-throw shooting held off UW down the stretch. Jacob Thorpe was there and he has this game story along with videos from players and coach Ernie Kent after the game. ... For old time's sake, I wanted to link Christian Caple's game story as well as this column from Bud Withers, one of the few Seattle Times writers not at the Seahawk game.
• Gonzaga: The Zag big men were way too big for Santa Clara last night in the 79-57 victory, as the Broncos decided to play them straight up. Jim Meehan's game story includes the posts' expressions of surprise as well as their profession "it's kind of hard to stop us." Jim also has a blog post from last night and will have another today. ... Tyler Tjomsland has this gallery of photographs. ... The GU women won on the road to remain perfect in WCC play. ... Around the WCC in men's action, St. Mary's needed some help down the stretch to hold off Pacific, USF got out of Portland with an upset victory, BYU had little trouble with a Loyola-Marymount team which benched its best player, and USD couldn't shoot in a loss to Pepperdine.
• EWU: The game story from last night is in the Idaho section, as it was a Vandal home game. ... The Eastern women held off the Vandal women in Cheney and Tom Clouse was there. He has this story. ... In men's action around the Big Sky, Colfax's Brandon Gfeller had 23 points in Montana's road win at Idaho State, Portland State picked up a much-needed win at North Dakota and Weber State edged Montana State.
• Idaho: Despite the 89-86 score, it might have been Eastern's defense that decided this one. That's the premise of Sean Kramer's game story in the S-R. ... Sean also has a blog post on the Vandals losing two assistant football coaches.
• Preps: We can pass along a girls and boys basketball roundups from last night as well as another roundup of action in other sports.
• Chiefs: The Chiefs won't be in Spokane for a while, so they decided to leave town on a decisive win. Chris Derrick has a game story and a blog post on the 5-2 victory over Kamloops. ... Portland earned a 5-3 win over Vancouver last night at home while Everett won on the road.
• Seahawks: Even though the Hawks didn't play impeccable football yesterday, quarterback Russell Wilson did. Well, at least on third down, when he was perfect throwing the ball. And Chancellor? According to Richard Sherman, Chancellor is like Mephistopheles or someone, playing with folks' souls. The use of such words is another reason to follow the Hawks. ... John Blanchette followed them yesterday and has this column. ... Let's see. There are a lot of stories about Chancellor. And, of course, there are stories about Wilson and his receivers, including Jermaine Kearse and Luke Willson. There are stories about the defense, stories about the offense and stories about other things. There are so many stories and blog posts I'm not sure you can read them all before the Packers' game starts. ... The Hawks suffered a couple of injuries that could really hurt next week. ... Carolina just wasn't good enough to stay up with the Hawks – again.
•••
• Sorry this is a bit late. So much to go through. So little time. Plus my computer was a bit slow today. I blame it on the snow. .... Even more fun today. I was mentioned in the S-R's letters. I guess if you don't bow down to the altar of SEC supremacy, then it's disrespect. Guilty, guilty, guilty. ... By the way, though I have had face-to-face conversations with Mike Pereira, I was just joking about seeing him golf. However, I don't believe anyone's tee shots could be worse than that field goal, whether Chancellor made contact or not. Until later ...
---
---