Mon., Jan. 12, 2015
After a long wait, the championship game is finally here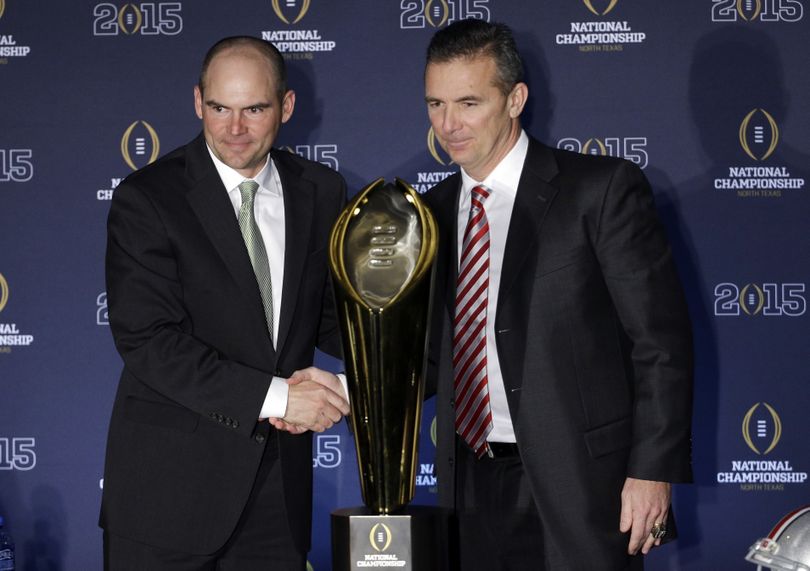 A GRIP ON SPORTS • After more than 100 years of college football, the best team in the country is going to be determined tonight for the first time on the field. That, in a long-winded sentence, is why you have a playoff. It's either going to be the Oregon Ducks or the Ohio State Buckeyes. I'm sure you have a thought on who might come out on top. So do I. Read on.
••••••••••
• First off, I wonder how many Cougar fans out there are holding their nose with one hand and clapping for the Ducks with the other. There is no love lost between the two schools but it seems the right thing to do to root for your conference, isn't it? OK, maybe not. But would you really want a Big Ten school to win the first playoff? After all the Rose Bowls – the first one was a 49-0 whitewash of Stanford by Michigan before there was a Pac-whatever and a Big-how-many – over the years, how can anyone in this part of the country want a Big Ten school to win? But hate, like politics, make for strange bedfellows, so we'll see. No matter who you are rooting for, however, you must have a thought on who will win. Let's see if your thought process followed mine. I put all these facts and questions into my equation: Oregon has the best offense in college football (or close to it) with the best player (Marcus Mariota) and a bunch of other weapons. But the Ducks have struggled against fast defenses before when the opponent has a lot of time to prepare. So is 10 days enough? And will the loss of two key wide receivers – one to a Rose Bowl injury on grass and the other reportedly to grass (sorry, couldn't resist) – put a crimp in their passing game? Is Ohio State's defense fast enough, and in good enough shape, to keep up with Ducks' offense? On the other side of the ball, when is the Buckeyes' third-string quarterback going to play like a third-string quarterback? Is this the game Cardale Jones (pictured) begins to show why he was down the depth chart at the beginning of the season? Is the Oregon defense stout enough this season to not be worn down by the Ohio State offensive line and the speed at which the Buckeyes play? You would think facing your own offense in practice would inoculate the Oregon defense but who knows. And, finally, is there a big special teams play out there to be made, a game turner that happens so often in college football? If there is, who makes it? After spending all weekend watching coaches' film of the two teams ... wait, stop right there. No, I didn't do that like, seemingly, all the talking heads on the worldwide leader. All I've done, like you, is read everything I possibly could and watched as many games as I had time for over the season. With that in mind, I'm going with, crud, I don't know. But I have to pick someone. Remember how I wrote a while back the first NCAA basketball title game pitted Oregon and Ohio State? The Ducks won that, 46-33. So let's say history repeats itself. Oregon wins. And by the same score. I love symmetry.
• To help you get ready for tonight's game, I picked a handful of stories. Most of them are columns from around the West Coast. You can read them at your leisure today.
•••
• WSU: One of the oddest facts in college sports is that Washington State has never defeated Stanford in women's basketball. You would think in the past 30-plus years, the Cardinal would have one bad game and the Cougars one great one, right? But no. Fifty-eight times they have played and 58 times Stanford has won. No. 58 occurred yesterday and it was the Cougars best chance ever to win. Actually, they should have. They had an 11-point second-half lead, were at home and were playing Stanford's worst team in years – despite the way-too-high national ranking. Still the Cougars burped up the lead and lost in overtime. Call it what you will but I'm sticking with "lost opportunity." Jacob Thorpe was at Beasley and has the game story. ... Jacob also had a blog post yesterday looking back at the win over UW and one this morning with links. ... I thought the Cougars' upset of Washington was going to be the big story of the weekend. Then Oregon State goes out and upsets Arizona.
• Gonzaga: Jim Meehan was back on the blog yesterday with his day-after report on GU's win over Santa Clara. ... The weekend revealed BYU's biggest weakness.
• Chiefs: Former Chief Tyler Johnson will be playing in the NHL All-Star game. ... The Tri-City Americans picked up a win on the road in Seattle.
• Seahawks: Now we know who will be coming to Seattle on Sunday: The Green Bay Packers. While watching the Packers' win over Dallas yesterday, I must have switched my opinion on who would be a better matchup with the Hawks at least five times. Finally, I began not to care because both are good teams. ... By the way, the NFL explained why Dez Bryant's game-changing catch (pictured) wasn't ruled a catch. However, why reading the rule the league cited, it seems to me it didn't really apply. He already had made the catch, took two additional steps and made a football move to stretch to the end zone. In other words, he had finished the process of making the catch before he went to the ground. That's what he and his coach were arguing, but to no avail. Oh well. Just another week in professional sports. ... Looking back, the Hawks came out of the Carolina game with at least one major injury, losing rookie receiver Paul Richardson to an ACL tear to a knee that tore in college. It makes you wonder if he can survive in the league. ... Richardson had 13 snaps before he was hurt. ... Once again, the Hawks were extremely popular in the Puget Sound. ... The Packers have been in Seattle before, haven't they? The last two times haven't been all that fun for Green Bay, including the season opener this year. ... Green Bay knows it will have to change some things if it wants to win. And keep Aaron Rodgers healthy. ... How did Kam Chancellor recharge his batteries during the regular season? ... Marshawn Lynch answered questions after the Carolina game. In a fashion.
•••
• So who do you think wins tonight? I'm not at all confident in my pick. Somewhere around a five on a 1-to-10 scale. In other words, I'm basically flipping a coin. Until later ...
---
---