Tue., Jan. 13, 2015
Ducks come up short again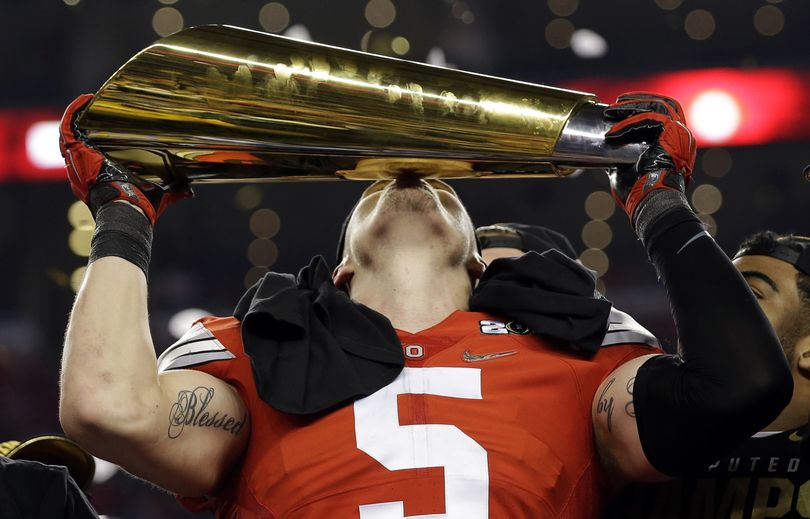 A GRIP ON SPORTS • Now we know a little of how Denver Bronco fans felt the morning after last season's Super Bowl. Disbelief is part of it, so is anger. And frustration. Read on.
••••••••••
• My first thoughts concerning Ohio State's 42-20 beatdown of Oregon in the national title game: How do you play football with both hands around your neck? And why is it the Ducks tend to Duckit – to bastardize a local phrase – in big games so often? Is it the way they play? Is it the Pac-12 competition isn't stiff enough? Is it a lack of discipline? I don't have the answers. I'm sure no one does, not the Duck fan down the block, the thousands in Portland or even head coach Mark Helfrich. But almost every time Oregon has a chance to make a national statement, to take a big step, it spits the bit, as my dad used to say. It happened back in the mid-90s against Penn State in the Ducks first Rose Bowl in almost 30 years. It happened against Auburn in the Ducks first try at a national championship. It happened last night. And that last one hurts even more than the first two. Why? Oregon was the favorite. And it had every opportunity to put Ohio State in an early hole, a two-touchdown deficit that probably would have changed the complexion of the game. But the Ducks dropped the chances. Literally. Two mishandled third-down throws meant Oregon had to punt both times. And the drops also meant Ohio State could just keep pounding the defense. For much of the game, the defense was up to the task in an odd sort of way. Yes, the Ducks bent. And bent. And bent again. But then they would come up with some sort of turnover, whether actually earning it or being handed the ball by the Buckeyes. Exactly how it's supposed to go. But the offense couldn't take advantage. Oh, the first drive of the game was a dissection. The first drive after halftime was efficient – if one long touchdown throw can be labeled efficient. But that's it. And it all goes back to the early drives, the ones that ended much too soon. Yes, Oregon was missing a couple of receivers. Good receivers. And Ohio State's defense is as good as the Ducks have faced this season. Still, the plays were there to be made and they didn't make them. For some reason, they couldn't.
• As per usual, there were thousands of words written about the game last night. We picked out a few columnists from up and down the West Coast and have linked them here.
•••
• WSU: Jacob Thorpe has some morning links for you today, the last time we'll have football links in abundance for a while. ... Guess what. ESPN.com's Pac-12 blog already has a conference power ranking for next season. WSU is 10th. ... There is no extra money coming the conference's way because Oregon played in the final game. ... Here is one voter's final AP top 25, a poll that was released today.
• Gonzaga: The Bulldogs moved up to No. 3 in the polls.
• EWU: Jim Allen has a nice feature today on offensive lineman Jake Rodgers (pictured), who is trying to put the recent death of his father behind him as he moves forward. ... Jim also has a couple blog posts, one on the football team's final ranking and another on the basketball team's projected NCAA chances. ... A former Eagle track star died recently.
• Chiefs: Nothing from Spokane but we can offer this WHL notebook from Everett.
• Preps: Eleven local players were chosen to play in the all-state volleyball matches.
• Seahawks: OK, our attention can turn to Sunday's game with the Packers. ... With Paul Richardson out, the Hawks activate third-string quarterback B.J. Daniels and say he will take part in other aspects of the game. Interesting. ... The four quarterbacks that are left in the NFL playoffs have something in common. ... It looks like, other than Richardson, everyone else should be good to go Sunday, including center Max Unger. ... Pete Carroll met with the media, as is his usual Monday practice. He's happy to be in this position again. ... Kam Chancellor received some help when he was first in the NFL. ... The Denver Broncos have made a change at coach.
• Mariners: The M's have put together their minor league coaching staffs.
•••
• There was a lot of talk after the game last night Marcus Mariota may just be ticked off enough to come back for another year. I'm not buying it, but whatever he wants to do is all right by me. He's a class act. Until later ...
---
---