Tue., Jan. 13, 2015
Eagles soar to No. 13 in mid-major poll, 63rd in RPI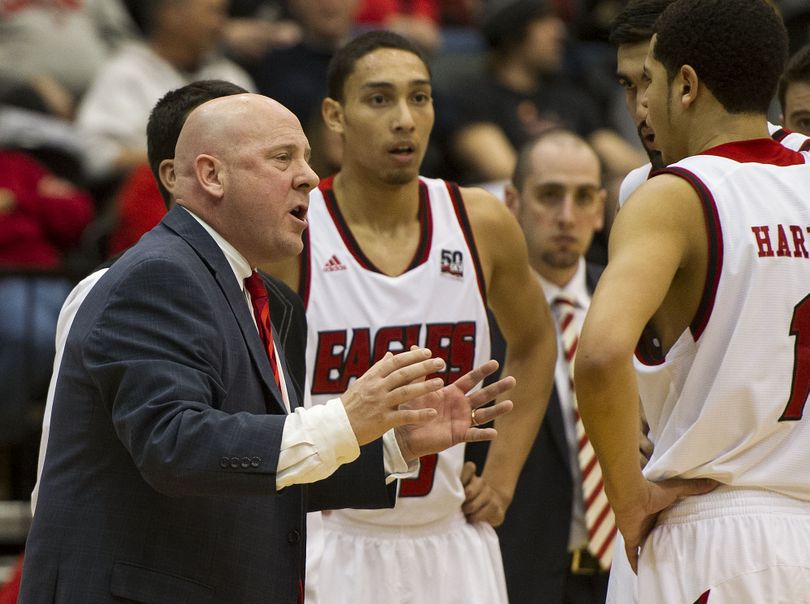 More than six weeks after the big win over Indiana, Eastern Washington is still getting people's attention.
The Eagles are ranked 13th in this week's Collegeinsider.com mid-major poll and 63rd in the NCAA RPI rankings. That's by far the best in the Big Sky Conference: Sacramento State is the next league team at No. 193.
Want more numbers? The Eagles are ranked 15th in Division I scoring offense (80.4 per game), 17th in field goal percentage (49.0 percent), seventh in 3-pointers made per game (9.6) and seventh in 3-point percentage (41.2 percent). The Eagles are also 13th in blocked shots (6.0 per game) and are 20th in fewest turnovers per game (10.7).
"With each road win you gain more confidence," coach Jim Hayford said after the Eagles won 89-86 at Idaho to improve to 3-0 in the Big Sky and 12-4 overall. "I think the Idaho win was a big confidence-builder."
Currently in sole possession of first place in the Sky as the league's lone unbeaten team, Eagles are 3-0 in conference play for only the fourth time in 28 years. The last time that occurred came in the 2002-03 season when EWU won its first five.
Next up: two more road games, Thursday at Portland State and Saturday at Sac State. In the league's preseason polls, the Vikings were picked to finish fifth by the coaches and seventh by the media. Sac State was picked fourth in both polls, while EWU was selected second by the coaches and third by the media.
Portland State enters Thursday's game 2-2 in the league and 8-6 overall after an 82-75 victory at North Dakota and a 90-85 loss at Northern Colorado. Sacramento State is 3-1 in the league and 9-6 overall following a 63-61 win at UND and an 84-73 loss in their next game against UNC.
---
---