Tue., Jan. 13, 2015
Q & A with Liam Stewart of the Spokane Chiefs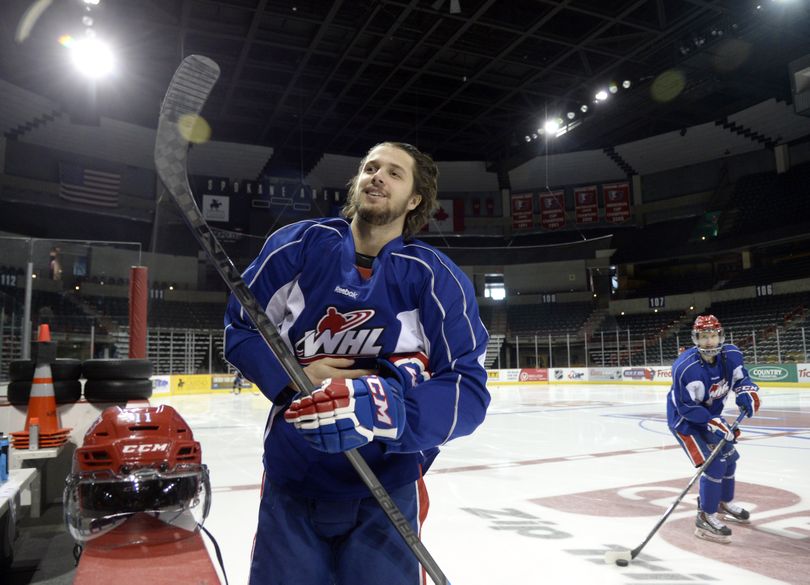 Liam Stewart, 20, is in his fourth and final season with the Spokane Chiefs. The 6-foot-1, 182-pound center was born in London and resides in Hermosa Beach, California. He scored his 15th goal of the season last Saturday, surpassing the previous best of 14 he scored in 2011-12. The son of well-known model Rachel Hunter and rock and roll icon Rod Stewart, took some time to share his thoughts in a question and answer session.
Q: What's the best piece of advice that you've received from your Mom or Dad?
A: I think the best was from my Mom (Rachel Hunter). She always told me, "Stick with it, no matter what happens." She kind of taught me how to have a strong mindset, I guess you could say. "Be mentally tough and you should be able to get through anything." And that's helped me a lot, especially with Don (Nachbaur) being a, I guess you could say, a hard coach, you know he's hard on you sometimes. And that's kind of helped me because I took his advice and just kind of put it into my game. And I've always remembered what Mom told me to keep tough through it and you should benefit from it.
Q: What's the best piece of advice that you got from outside of family?
A: I wouldn't say it's really advice, but just kind of some of the things even Don has said to me have really helped me along the way. And just this whole … Don and even teammates have helped me along the way. I think that's the stuff I'll remember the most throughout my life. … I think everything he says will stick with me.
Q: Is there some advice along the way that you're glad you ignored?
A: Definitely. People have told me, I wouldn't really call it advice, but people have told me that if your mind's not in it anymore, just kind of quit, I guess you could say. And I'm glad I didn't do that because hockey's a fun thing. It's a fun sport to play and I'm glad I stuck with it. And here I am now.
Q: Outside of hockey, what sport is your emphasis?
A: Soccer. We play, I think it's called, two-touch before the game and I think that's my favorite sport, if not for hockey. I'm pretty good at it, too.
Q: So do you think you could be a good soccer player, if not for hockey?
A: I think I could be because I'm fast. I'm a fast runner and I'm pretty good with the ball, so I think I'm more skilled at soccer than I am at hockey, to be honest. Yeah, I think I would have been a soccer player if I wasn't a hockey player. And I think my dad (Rod Stewart) would have been a little more happy with that, too.
Q: Do you think sports are ever overemphasized?
A: I don't think so. Sports are something you love. You get together a lot. It's something that you tailgate over it and do all that kind of stuff. It kind of brings people together, I guess you could say. It's fun. Me and the boys, we all get together sometimes and watch football and bet on football. It's just a fun thing to do together.
Q: Do you have a hero? If so, who is it and why?
A: Someone I look up to, I guess you could say, is the guy my Mom dated, Jarret Stoll (currently with the Los Angeles Kings). I think he was the guy I kind of modeled my game after and really watched him a lot. I think he's helped me along the way, too. He's always kept in touch with me. I think he's a pretty good guy.
Q: What do you think is the biggest problem facing young people today?
A: Social media. I think even the guys are always on Twitter or something like that and I think there's too much of it. I think we need to start getting outside a little more and enjoying each other instead of sitting there, across the room, texting each other.
Q: Do you like where social media is headed?
A: I don't really care where it's headed, to be honest, but I've been trying to keep off it a little more, just to enjoy. You'll be looking at your phone and you could miss something cool that happened or you could miss somebody walk by who could be a good friend. Wherever it goes, it goes, but I think people should look up more instead of looking at their phones.
Q: Who do you think has the toughest job in America?
A: I was going to say the president, but I feel like there's a tougher job. I'm going to say the soldiers do, to be honest. U.S. soldiers, any solider, they're fighting over there for us and they're fighting for their lives. We do that Military Family of the Game, which is pretty cool, every game, and we play as much as we can for them. We have that Military Night. They're doing everything for us. We can't really give back, but we try to play for them and they're doing great for us.
Q: What do you think is the biggest difference between Americans and Canadians?
A: I don't really know, other than how they say, "Eh." I only know Canadian hockey players and we're all the same, but how they say, "Eh," I guess. I guess that's it.
Q: Do you think athletes should be role models?
A: I think so. I think athletes can play a huge role in somebody's life. They give good advice, especially guys who have good stories and can write books for kids to read. Instead of being on social media you can read a book. I think athletes should be role models. I definitely looked up to players as I was growing up, such as Jarret Stoll and all those kind of guys. I think if the going gets tough, you can look up to someone and how they play and hopefully it works out for you.
Q: Do you think athletes should talk about controversial subjects?
A: No. That's just a straight answer, no. Stick to your sport.
Q: If you were the King of the World for a day, what's the first thing you would do?
A: I would take all my friends and family on vacation to a place like Fiji. I'd be a little selfish and go on vacation for like a month.
Q: What do you think is the main thing that old people don't understand about young people today?
A: Probably the social media and the phones, again, going back to that. Old people are probably looking at us young guys like, "What are these guys doing looking at their phones the whole day? They can't even talk to somebody." But that's just the generation we live in now, so you have to live with it, I guess.
Q: Do you consider yourself a good driver?
A: Yes, I do. Me and (fellow Chief Matt) Sozanski were going home and we caught some snow and ended up turning sideways and turning sideways the other way. It was pretty scary. It was the first time we had been (like that). It was coming home on the freeway, too, and I got us out of that, so I guess I'm a good driver. I don't want to jinx anything, though.
Q: Do you have tattoos?
A: No. I'm going to get one when I get home this summer.
Q: What does your Mom think of your hairstyle?
A: She doesn't mind it. She hated my beard, so I kind of trimmed that down a little bit, but for hairstyle, she just kind of lets me do whatever. She likes it longer, slicked back.
Q: What do you see yourself doing in 10 years?
A: Hopefully, still playing hockey. To be honest, it's something I want to do for the rest of my life and hopefully make a profession out of it. Have a family and kids, see where it takes me. But probably still be playing hockey, for sure.
Q: Will it be hard for you in the future when you're not as well-recognized as you are now?
A: I don't think so. I think I'll be fine, as long as I'm still playing hockey. As long as I'm happy, that's all that matters. As long as the family's happy, that's all that matters.
Q: What's the most important trait for a friend to have?
A: Probably just being loyal to your friend. Don't be shady, don't be two-faced to them. Just be honest with them. You'll be friends for life if you're that.
Q: Is it more important to have a few close friends or a lot of friends?
A: A few close friends, for sure. Some people want a lot of friends just so they can say they have a lot of friends, but I'd rather have three or four close-knit friends that I can always count on instead of just having a bunch of friends that you never know what's coming.
Q: What would you guess is your most annoying habit?
A: When I bite my nails. When I get nervous, like before games, I'll bite a nail or two and it's just something I hate doing, but I do it.
Q: What's your biggest pet peeve?
A: Probably people who chew with their mouth open.
Q: What's your idea of a perfect day?
A: Every day's a perfect day, as long as you're alive and healthy and you have your family and friends, that's all that matters. But if you had to have a perfect day, you'd wake up, go sit in a hammock on a beach somewhere and have your feet dangling in the water. Something like that would be nice.
Q: Do you have one day that stands out more than any other?
A: (April 16, 2012) I think it was my first year here. Me, Tyler King and Connor Chartier were on a line and we were in overtime, and I think it was Game 6 of the first round of the playoffs (against Tri-City). And me, (King and Chartier) scored that overtime goal. It was one of those things I'll remember the rest of my life. We were in the paper the next day, all three of us, hugging in the air. That was a pretty cool moment and I think all three of us will remember that.
Q: What advice would you give to someone who's in your position in five years?
A: I think just have fun with it. Have much fun as you can, because I was thinking about it over the summer that it's my last year here. I've enjoyed it a lot. Juniors is probably the best four or five years of your life playing hockey at the biggest level. You just have to have fun with it every day. Yeah, you're going to have hard days, but you have to take positives from every day and just build off the negatives. You have to have negatives to make positives, so just to have fun is the biggest part.
Q: Is there a part of the world that you haven't visited that you'd most like to see?
A: I'm going to say Croatia because I know a bunch of people from Croatia and I think I'm going to go there this summer, if I save up enough money. We'll see how that goes, but it seems like a beautiful place.
Q: Are your thoughts about the future generally positive?
A: Yes, everything's positive. As long as the family's happy, as long as I'm happy, that's all the matters. As long as I'm still playing hockey, it should be fine.
---
---