Tue., Jan. 20, 2015
At least there is always the Seahawks – for the next couple weeks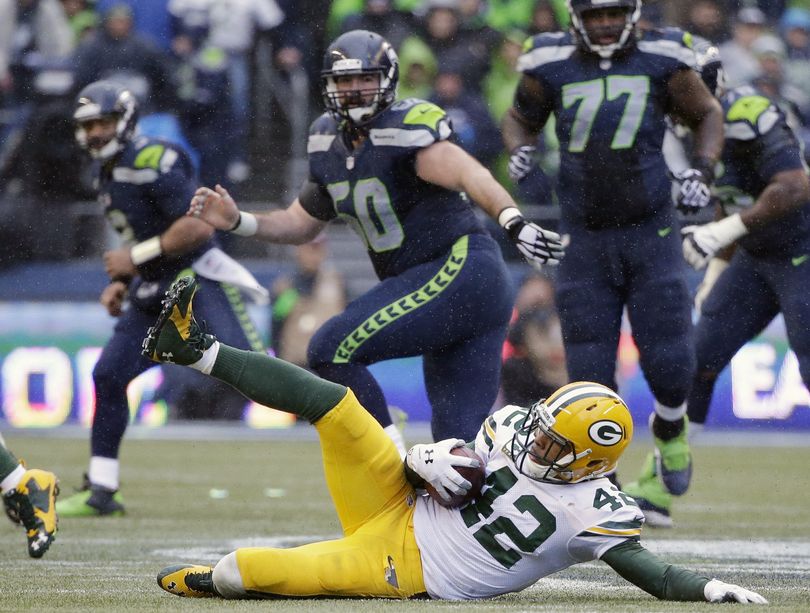 A GRIP ON SPORTS • It seems like a good day to get back on schedule, so we'll do that. In other words, a typical Tuesday with not a lot to pass along. Read on.
••••••••••
• Thankfully, there are a couple of things still hanging around from Sunday's NFC championship game that we didn't get into yesterday, so that should fill up some space here. And take some of your time. We'll start with Clay Matthews' second-quarter hit on Russell Wilson. You can watch it here (and about a hundred other places on the Web) but maybe you shouldn't. It just may tick you off all over again. All I know is when I saw it Sunday, I was ready to drive to Seattle and, well, I don't know what, but it wouldn't have been to bring Matthews roses. I would be surprised if the hit, which was flagged, doesn't result in some sort of fine. After all, this is a league that is trying to protect its quarterbacks and, more importantly, is still dealing with multi-billion-dollar litigation related to concussions. It's those factors that probably would have come into play if the hit had occurred in a regular season game. By that, I mean it wouldn't have been shocking if Matthews had been ejected in a game against, say, Chicago in the middle of October. But officials are hesitant to make a decision in a playoff game that would favor either side to egregiously, so Matthews was penalized and we moved on. But don't expect the Seahawks to forget it.
• Speaking of not making a call that would affect the outcome, Marshawn Lynch's actions after he scored the go-ahead touchdown in the fourth quarter easily could have warranted a flag. Though you might not have seen it – his back was to the camera – Lynch once again grabbed himself as he scored. No, he didn't jump and draw attention to his now signature move, but he once again took an action he knows can draw a 15-yard penalty at a time when his team desperately needed every yard. Think about this. If Lynch's action had drawn an unsportsmanlike penalty, the Hawks' two-point attempt would have been from 15 yards farther back. The chances of converting would have dropped precipitously. And if they hadn't converted? Green Bay probably would have won in regulation. I'm all for free expression, but sometimes discretion is the better part of valor.
• Yesterday marked five years since the death of former Gonzaga University basketball coach and athletic director Dan Fitzgerald. To honor Fitz's memory, a few of his friends – he had hundreds – got together last night to drink a few adult beverages and tell stories. Basketball stories, driving stories, baseball stories, all types of stories. But mainly just Fitz stories. It seemed appropriate.
•••
• WSU: Thanks to a Wednesday night game in Salt Lake City, the week is starting early in Pullman. Jacob Thorpe covered Ernie Kent's press availability yesterday with this blog post that transcribes what he had to say. Jacob also had a post yesterday on another football recruit and his usual one this morning with links. ... There were a lot of interesting posts yesterday on ESPN.com's Pac-12 blog, including a review of WSU's season – with grades – and conference-wide predictions for 2015. To give the new predictions some gravity, there is also this look back at last year's predictions.
• Gonzaga: The Zags are third on this person's AP ballot.
• Chiefs: Nothing from Spokane, but there is a WHL notebook in the Everett paper.
• Preps: There were a couple basketball games in the area last night and we have a roundup.
• Seahawks: Probably the most important question that needs to be answered this week concerns the health of Richard Sherman and Earl Thomas. The two key members of the Legion of Boom suffered injuries Sunday that were bad enough to affect their play. But Sherman's elbow doesn't seem to be hyperextended, just sprained and Thomas' shoulder also seems to be better than expected. Both should be OK to play in the Super Bowl. ... Yesterday was interview day for the Hawks and a lot of folks spoke, including, of course, Pete Carroll. At least he didn't have to spend time answering questions concerning underinflated footballs like Bill Belichick had to. ... Speaking of Lynch, he had as good an under-the-radar game as most of us have ever seen. ... Was it brotherhood that fueled the Hawk comeback win in one of Seattle's greatest games, are was it something else? ... The grades for the Hawks weren't all that good, though Jermaine Kearse's were better than expected. ... We can pass along the snap counts from the game as well as some comments from the Patriots all the way from New England. ... The Falcons seem to be waiting on Dan Quinn.
•••
• This will serve as your official warning. With the Hawks in the Super Bowl, I will be doing quite a bit of radio work beginning Thursday and continuing through next week. Until later ...
---
---