Mon., Jan. 26, 2015
Ernie Kent Q&A: WSU getting its legs back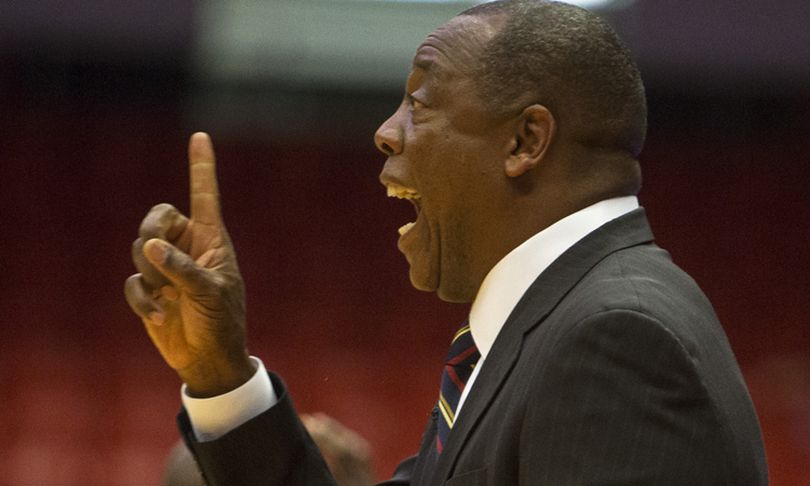 Ernie Kent addressed the media on Monday and acknowledged that his team may be getting a little winded.

In last week's loss at Colorado the Cougars shot just 38.7 percent from the field and were short on most of their misses, a telltale sign that a team is shooting with tired legs.

One example comes in the form of sophomore forward Josh Hawkinson, who began the year as one of WSU's best 3-point shooters but is 0 of 12 from behind the arc in conference play.
Kent credited playing two physical teams in Utah and CU and the altitude with wearing out the Cougars a bit. It may also be that the three underclassmen starters – sophomores Hawkinson and Ike Iroegbu and freshman Ny Redding – are starting to hit a wall, particularly Hawkinson and Iroegbu who have each seen their minutes increase since conference play began.

Here is the full transcript of our meeting with Kent:
WSU basketball coach Ernie Kent
Question: Was the Colorado game the first step back in 'The Process?'
Ernie Kent: I don't know if I would call it "taking a step back" because that is such a tough trip. If you look at the teams playing the second games there in Boulder, I think they're 1-10 with Arizona being the only team that's gotten a victory there.

(This may not be the statistic that Kent was referring to but by my count the Buffaloes are 10-4 in the second home game against Pac-12 teams since joining the conference. -- Jacob)

After I looked at tape, games are never as good as you think they are and they're never as bad as you think they are. Looking at tape I thought we played actually pretty well the first half, a lot better than I thought we were playing. They played super in the game. They shot the ball well, they had great rhythm and great confidence in the game so you have to give them some credit rather than saying we took a step back.

I didn't sense that at all, I'll have a better feel for that as we prepare and play this week though.

Q: A lot of their early scoring game from players that do not often score. Did they do some things that didn't show up in the scouting report?
EK: No, they just shot the ball extremely well. I think I read afterwards that (CU coach Tad Boyle) talked about he had the conversation with them to free themselves up and not to be so robotic in their play and just to "free their minds," as he called it. If you can get a team in that type of rhythm it's hard to shut them down. Like I said I'd give them credit for what they did because teams have run into us like that, too, where everything we've thrown up has gone in.

There's not much you can do outside of that other than to weather it as best as you can but I thought they did extremely well in the game.

Q: Does your team need a confidence boost right now?
EK: I don't think it's needing a confidence boost. If anything, with this team, I think I've got to be careful not to overwork them and make sure they can get reenergized and go back to work again.

The game like the Colorado game, I won't really even show them the tape of that game until we go back at them again and more or less just focus on what needs to be done this week to get them ready to play Cal and Stanford.
Q: How does playing a team for the second time change your preparation?
EK: I think from a coaching perspective the coaches won't be as in-depth and as thorough because we've played them, we have a pretty good feel for them just in terms of going through eight, nine, 10 games and things like that and watching them.

(California has) lost six in a row. I would say they're a team that's desperately needing a win and you need to make sure you guard against any type of a letdown in terms of not being ready to play a team like that.

Our job is to make sure we're ready with our confidence and our game plan and we will be.

Q: Jabari Bird will play for Cal in this game How does he change their team?
EK: There is difference because that's another guy that can really put up points for them and he's starting to find his rhythm, play a little bit better and find his rhythm in each game so it will be a little different for us, just in terms of game-planning and things like that knowing that he's back and he's going to be even better than he was a couple weeks ago when you saw them play.

Q: What do you need to do to keep Jordan Matthews from heating up?
EK: Well defensively I felt like we've struggled all year long. That was a game when we played them there where it wasn't bad and he still had a big game so he is a very difficult player to shut down because he can get rolling on you and he shoots the ball so well and he shoots so deep.

The biggest thing is just making sure you stay between him and the basket and when he catches you've got to be right there with him because if you're a split second late he lets it go and he's pretty pure with his shot.

Q: What is Bird capable of if he's on his A-game?
EK: I think battling through a freshman year and battling through some injuries have kept him off of his A-game. If he's on his A-game – very, very highly recruited player. He's a guy that can score inside, outside. He's tough to matchup with because he's strong, he's skilled enough to put it on the floor. I think people have yet to see the real Jabari Bird just because he's not been on his game due to the injuries and everything.

Q: Are the losses starting to compound for Cal?
EK: I think it's a coaching staff going through the Pac-12 conference for the first time. Again, the preseason is different than the conference because teams can sit on top of your offense, they tend to take things away. Teams know your personnel, they know your building, it's just so different when all of a sudden you hit conference play.
Sometimes as a coach you have to go through that to understand a little bit better, too, so I think they'll be better the second half of conference season having gone through the teams now and seeing what everybody else does; I think they will prepare better and maybe differently and I think their team will play better.

So again, you've got to guard against taking any team lightly because anybody can beat anybody in this conference on any given night. You've got to be ready to play.

Q: Was the elevation difference a factor against Colorado?
EK: It is a factor but again, I always say it's the second game maybe. It didn't affect us at all during the Utah game and we got up and down pretty good. I thought at times during the Colorado game we looked a little winded but you sub guys in and out of the games. There's a physical factor and obviously a mental one, too, and obviously there's a reason those two teams have a lot of success with the second game.

Just look at where they've been and it's because of the altitude and everything but you have to play through it and I think again when you get your team to the level – it doesn't seem like it's bothered Arizona too much – to where you have the players where they need to be and go in there and play that it shouldn't be that big of a factor for you.

Q: Were you surprised fatigue was a factor despite the extra day off?
EK: Well, it's kind of the longer you stay the worse it is in that case. It wasn't like it was a huge factor in the game. Again, they shot the ball extremely well and played really well in the game. Maybe the game goes differently if you had two slow-it-down teams. Washington slowed it down and we slowed it down or Washington was a speed team and we were a slow down team to keep the game a little closer. But we're a an up-tempo team so we're going to run in that environment and everything.

As we came through it the biggest thing for me is we had three or four great days of altitude training and we should be great this weekend when we play.

Q: You've had three teams that have all had very good shooting nights. Why not try a man defense in some of those situations?
EK: When you talk about the three teams I'm assuming you're talking Oregon, Utah and Colorado? You're talking three of the better offensive teams. Colorado obviously had an exceptional night with some guys playing that hadn't put up numbers. But Utah, look at what they're doing to people. They're beating everybody by 20. That's a very good basketball team, well-balanced, they have a nice group of veteran players, they do not beat themselves.

Understanding again, you kind of pick your poison with those teams. Oregon the same way. I knew Oregon was going to be a game where you had to put points on the board to beat Oregon because they score so well, they're very skilled, they get up and down the floor so there's not going to be any zoning or man-to-man against them.

As we build our program we know who we are and I'll say this again. If you look at this team the last two years they were last in defense the last two years, last in offense, last in field goal percentage, last in free throws. We can go a lot of lasts. We're trying to move them forward and I think offensively they're playing better in conference. Our numbers are better, our free throw numbers are better. The defensive part of it yeah, our bodies are our bodies. We haven't figured out that piece and it might come later on down the road for us and everything else but we certainly work at it hard every day. So we're going to have to junk or gimmick it a little bit.

You'll see us full-court pressing, you see us zoning, you'll see us (play man defense), it just depends on the opponent so when you look back on it and say, 'boy, should you have played man more?' probably. But at the time the way they were shooting the ball it wouldn't have mattered man or zone in that game.

Q: Do you expect Jordan Railey or someone else to support Josh Hawkinson's rebounding?
EK: What we've done with Josh if you notice who he's matched up with, that guy is always the guy that sits in that low block because he's such a good rebounder defensively we put him on the team's best low post guy. Even in Jordan's case he plays away from the basket a little bit more because he always takes that four man that maybe is not around the bucket as much, therefore Josh's numbers are going to be inflated because he seeks the ball so well and we keep him close to the basket because he is such a great rebounder.

He definitely needs some help from our guards, not just from Railey. We look at a guy like Que Johnson and how big he is and how athletic he is, he should average more rebounds. We've talked to DaVonte, he should average more rebounds. Brett Boese should get more rebounds but Josh does a good job of patrolling the boards and he gives you kind of a false sense thinking he's going to get every one and guys want to leak out. That's a discipline thing to know your job, do your job on a possession-by-possession basis and they could do a better job helping him out.

Q: Why has Hawkinson been so much more effective this season?
EK: When you look at the way we play the two toughest positions for us to find are the point guard position and the four-man because the four-man has to be able to stretch the floor. He's got to be able to shoot it, he's got to be able to rebound it, he's got to be able to put it on the floor, he's got to be able to pass it. He has to be very, very skilled and sure enough, that's what Josh Hawkinson is.

He's perfect for how we want to play, he's perfect for that position as well, too. As his body matures, he gets bigger he gets stronger this spring into the summer with weight-lifting and everything, he's only going to get better because he's got a nice frame on him. He's long, he's smart. He understands the game and knows how to position himself, he has a great feel for where the ball's going to be and does a great job of what I call "playing in space," meaning you really don't have to run a lot of stuff for him because he has such a tremendous feel for the game. He just makes plays and gets shots because of feel. And that's why that position is hard so to have a player like that in your program that's only a sophomore is pretty unique to play and put up the numbers that he's putting up and he only has an opportunity to get better as his body get stronger.

Q: What made you confident he could take on so much more responsibility compared to last season?
EK: Well I'm sure he would tell you there was a coaching change and with the coaching change a new style and new system came in that fit who he is as a player. He's not a back to the basket, low post player. He's a guy that needs to face the basket and play away from the basket and then you can put him down underneath every now and again as well. I think his development has come because of the confidence that was instilled in him that he's a perfect fit for what we're looking for, giving him the green light to go and play and shoot the basketball.

Keep in mind, here's a player that averaged three to five minutes a game that's putting up major minutes for us and night-in, night-out getting that body pounded right now. So, he's going to hit the wall a little bit and kind of has to regroup and get moving again so he's kind of at that stage right now. I could see a little fatigue in him and it wasn't so much again the altitude in the trip as he's logging a lot of minutes and people are pounding him with those minutes.

We can't get him off the floor because he's so good and does so many different things for us so down the road when you're talking about recruiting and things like that, he needs some help because he can't play those major minutes and play as hard as we need for him to play on both ends of the floor getting those kind of minutes night-in, night-out.

Q: Besides strength are there any other aspects of his game you think could use improvement? His 3-pointers haven't been falling.
EK: He's a tremendous shooter, one of the best shooters on the team. What you're seeing, if you look at his shots they're all short. That's fatigue. And again I would say with the minutes he's having to log it's very important we continue to hit the refresh button on him because he's good in the games. We've just got to get him to the games with the right kind of focus and stamina and work from there. If there's a thing he needs to improve on it's going to be his defense and his quickness.

He may not get any quicker as an athlete but certainly he can get sounder technique-wise and as he gets bigger and stronger, gets into his junior and senior years, and now you're looking at that player – if you look at the Butler players in the past, in your junior and senior year when you're mentally stronger to know your job, do your job – and now all of a sudden he's a senior against somebody else's freshman or sophomore who jumped from five minutes to having to play 30 minutes and you'll just see an even more dominating player because he's mentally tough enough to grind through games because, maturity. So, as he matures he's going to get better. He'll get better physically and he'll get better mentally and as his body gets stronger he'll get better defensively, too.
---
---