Wed., Jan. 28, 2015
The NFL knows how to sell its product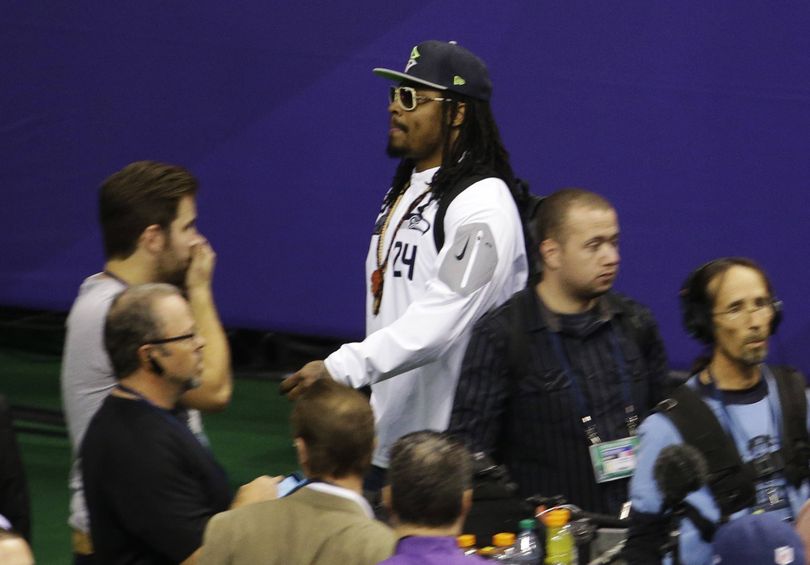 A GRIP ON SPORTS • Yesterday is officially the worst day in American sports. Everything that is wrong with our sporting culture is on display. It is also the worst-named day in American sports. Instead of "Media Day" it should be called "Marketing Day." Read on.
••••••••••
• OK, I will admit the American media is part of the charade, the circus, the one-act play, whatever you want to call it. I don't know why, but it is. Actually, I know why the Nickelodeons, the MTVs and the Telemundos of the world are part of Marketing Day. It's a chance to allow the ratings tidal wave that is the Super Bowl to wash over them a bit. But those backwater channels really don't have anything to do with football. Though neither does the entire Marketing Day experience. What does a guy in a barrel or a salsa dancer or a even horde of sportswriters and broadcasters really have to do with football? Nothing. But it has everything to do with marketing a sport to the masses. An event to the masses, to be more precise. The Super Bowl is a football game, sure. It decides who is the NFL champion. But for most people who watch it is a happening, a day-long excuse to party. The game itself is secondary. And it is for those people yesterday exists. If the Puppy Bowl is your thing, you probably love Marketing Day. If you can't wait to see the newest Doritos commercial, Marketing Day was made for you. If you are trying to pencil out how the Hawks are going to cover Rob Gronkowski, then skip Tuesday all together. Hopefully you'll have a better idea come Sunday afternoon. Tuesday's shenanigans, questions and skits aren't going to enlighten you. Listen, Marketing Day is important to the NFL. If it weren't, would the league threaten Marshawn Lynch with a $500,000 fine if he decided to not show up? There are not many days sans scandal in which the league is plastered all over the nightly news. Or the Daily Show, for that matter. Marketing Day is one of them. So celebrate it for what it is. The legacy of P.T. Barnum. But don't call it a football-related activity. It has as much in common with the sport as Richard Sherman has with Robert Kraft. Or Don Draper has with Dick Whitman. There's a loose connection, sure, but they are from different universes. But all of them, even the fictional characters, were part of yesterday's show. The Marketing Day Experience. They should sell tickets. Wait, they do.
•••
• WSU: The Cougars fleshed out their football coaching staff yesterday and Jacob Thorpe has it covered with this blog post and story. ... Jacob will hold a live chat today and, with Signing Day (another made-for-TV event) a week away, I'm sure there will be a lot of recruiting questions. ... There are a couple Pac-12 basketball coaches who may just be in line for awards.
• Gonzaga: The WCC season is half over and the Gonzaga men are improving in the area they needed to improve: defense. That's the thrust of Jim Meehan's notebook and blog post this morning. ... The GU women are also undefeated, something they didn't anticipate according to Tom Clouse's notebook today. ... There are a couple WCC players on this list, including Kyle Wiltjer.
• Idaho: The Vandals will be in Cheney for a matchup with Eastern, an event that should be a rivalry game soon. That's the thrust of Sean Kramer's blog post from yesterday.
• Chiefs: Everett's confidence may have been shaken a bit by last weekend's two defeats.
• Preps: It was a typically busy Tuesday night in prep basketball, with Greg Lee and Colin Mulvany covering Lewis and Clark's win over Central Valley in boys action. Greg has the game story and Colin the photographs. ... There is also a GSL girls roundup. ... We also can pass along boys and girls roundups from around the area. ... Coeur d'Alene girls coach Dale Poffenroth won his 600th game last night.
• Seahawks: Most of what I can pass along is about the silliness of the Marketing Day activities, so there is that. As for football-related stories, I found a few, including John Blanchette's column on the Hawk receivers. His notebook centers on Lynch's repetitive answers, as do about a 173 other stories I could have linked. Instead we'll just pass along a couple, including Bill Plaschke's well-written column. ... As for the football, we do have a piece on defending Gronk, as well as stories about some forgotten stars, including a former Super Bowl MVP and a former Idaho head coach. ... There are connections between these teams you would have never guessed. ... Michael Bennett is a breath of fresh air. ... The two coaches are a bit different. ... The Seahawks' roster is always under going churn. But there may have to be even more when the teams gets around to signing Russell Wilson to the big bucks he's earned. ... Want more on Marketing Day? (As you can see, I am pulling a Lynch and boycotting the NFL's official title.) We can pass along pretty much everything you could want, including just about everything the Hawks and Patriots said.
•••
• By the way, I am the "official" who has designated yesterday "officially" the worst day in American sports. ... Another day on the radio, joining Dennis Patchin and Rick Lukens. I'll be on 700 ESPN from 3 to 6 p.m. You can listen here. Until then ...
---
---