Thu., Jan. 29, 2015
Apparently, recruiting really does never end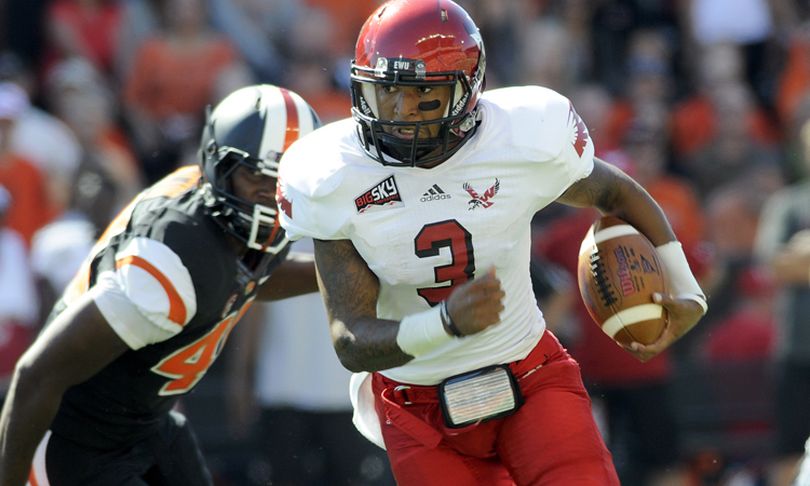 A GRIP ON SPORTS • With next Wednesday the first day of the NCAA's football signing period, it's little wonder recruiting news is front and center today. But the most heavily recruited person in this area may surprise you. Read on.
••••••••••
• Once a player enrolls in a college, he's no longer being recruited right? After all, when a prospective student-athlete (as the NCAA calls recruits) signs a letter of intent, the recipient of that letter can speak about him or her as much as they want. The recruiting process, under NCAA rules, is over. And after that student-athlete has been on campus for two, three, four years and has played, oh, I don't know, 35 football games, you would think the recruiting process is a thing of the past. You would think. And you would be wrong. For evidence I present one Vernon Adams, the most prolific touchdown passer in Eastern Washington University football history. In his three years playing for Eastern, Adams has thrown 110 touchdown passes and for more than 10,000 yards. Twice the Walter Payton runner-up, his senior year awaits. Except it may not be in Cheney. See, Adams redshirted as a freshman. He's on track to graduate in June, a not-insignificant feat considering a four-year degree is a rarity these days even if football isn't part of the equation. But that also makes him a free agent of sorts. And, weirdly, a recruitable athlete again. See, the NCAA instituted a rule a few years back, a rule with the best of intentions. Any athlete who has graduated and still has eligibility remaining can transfer and play without sitting out, as long as the new school has a post-graduate program his or her old school didn't offer. A noble idea to reward good students. At first there was a trickle of athletes that took advantage. But now it's a flood. Heck, Gonzaga's basketball team has been a recipient recently, with Drew Barham coming in from Memphis and, this season, Byron Wesley from USC. Adams will graduate in June. He has a year of football left. And the University of Oregon needs a quarterback. Heisman Trophy winner Marcus Mariota is leaving for the NFL. The other quarterbacks on the Duck roster aren't, presumably, up to snuff. So the Bat Signal was lit. And Vernon Adams may just respond. He told our Jim Allen yesterday he's going to visit to Eugene this week. He has heard, thus far, what he wanted to hear. He's going to explore the option. And why not? The Ducks, a proud subsidiary of Nike, Inc., are on TV every week. Not Root or a local station but ESPN or ABC or Fox or some other nationwide broadcast not including homes with DirectTV. Oregon quarterbacks appear on Mel Kiper's draft board regularly. So what if they rarely pan out? They are in the NFL conversation long before the combine. The Ducks have a lot of pieces coming back from a team that was this close to winning the inaugural FBS playoff title. OK, that played for a national title. A quarterback capable of throwing seven touchdown passes and for 475 yards in a single game against Pac-12 opponents – as Adams has done – may not be among them. So the big school comes a callin'. And Adams listens. And visits. But will he transfer? Stay tuned. He would be leaving a lot behind, mainly friends and teammates he's spent hours and hours with the past four years. Guys who have followed his lead as they've worked to win the elusive FCS title. People who bought what Vernon Adams was selling when he asked for one more lift, one more throw, one more rep. Those guys might be tougher to abandon than you think. But Oregon, with all its glitz, glamour and glory, is an opportunity too special to pass by without at least an examination. That will begin this weekend. And you thought recruiting was only for high school seniors, not their college counterparts.
•••
• WSU: The Cougars aren't out recruiting a quarterback but they are out recruiting, a subject that was part of Jacob Thorpe's live chat yesterday. ... Jacob also has a story and a blog post on the salaries for the newest football assistants. ... On the basketball front, Jacob has a preview of this weekend's homestand as well as a story on California and coach Cuonzo Martin (pictured), who visit tonight. There is also an advance in the San Francisco Chronicle. ... Finally, Jacob has his morning post with links. ... Klay Thompson has had a pretty darn good season. An All-Star season.
• Gonzaga: The Zags host Portland tonight. Jim Meehan has this preview of that game as well as Saturday's against Memphis. ... The WCC's second half begins with one favorite struggling.
• EWU: Besides the Adams' news, Jim has a story on next year's football schedule, released yesterday. The first game? At Oregon. Talk about irony. ... Jim has basketball information as well, including a preview of the Eagles' weekend. ... He also had a blog post yesterday on Venky Jois' status.
• Idaho: Sean Kramer has a feature on senior point guard Mike Scott, who is having an efficient season. ... Sean also has a preview of the weekend, which consists of Saturday's game at Eastern.
• Chiefs: The Winterhawks defeated Victoria 4-3 last night. ... Tri-City's backup goalie isn't playing like a backup.
• Preps: A big night in wrestling included North Central defeating Shadle Park in their rivalry match as well as Mt. Spokane denying Mead a part of the GSL title. ... We also have a roundup of other action Wednesday night. ... It's Thursday so there is Prep Page items as well, including Greg Lee's column and his feature on Mead's Sue Winger. ... Bill Pierce has his prep almanac. ... UPDATE: I couldn't access this earlier but wanted to pass it along now. It's about U-Hi winning the GSL wrestling title.
• Seahawks: What do you want to read about today? John Blanchette has a column on the Hawks' defense and its coordinator. ... But if yesterday's practice report is important to you, we have that, supplied by a pool reporter. If health is more important, well the Hawks had no one sit out practice yesterday. No one. Ah, the healing powers of a week off and an upcoming big game. Except New England wasn't as fortunate. ... You want quotes – and more – from the players and coaches? We can pass those along as well. ... There are features on players, for sure. This guy is my nominee for the most important Hawk of the week. And the two star corners on opposing sides? Their rivalry is mainly a trumped-up thing. ... The partnership that runs the Hawks has done pretty well for itself. ... You know why Marshawn Lynch was at the press conference yesterday, don't you? You also know how important he is to this team, right? ... Earl Thomas is the engine that runs the Seahawk defense. ... The Seahawks had lots of important moments this season. Here are 12. ... This guy supplied the best couple moments from last year's Super Bowl. ... Tom Brady and the Pats are staying in the middle of nowhere.
• Mariners: The M's are still trying to decide who will be their backup catcher.
•••
• That's it for now. We still have a Thursday afternoon doing radio work, joining Dennis Patchin and Rick Lukens. I'll be on 700 ESPN from 3 to 6 p.m. You can listen here. Until then ...
---
---