Fri., Jan. 30, 2015
It's time to really begin your Super Bowl prep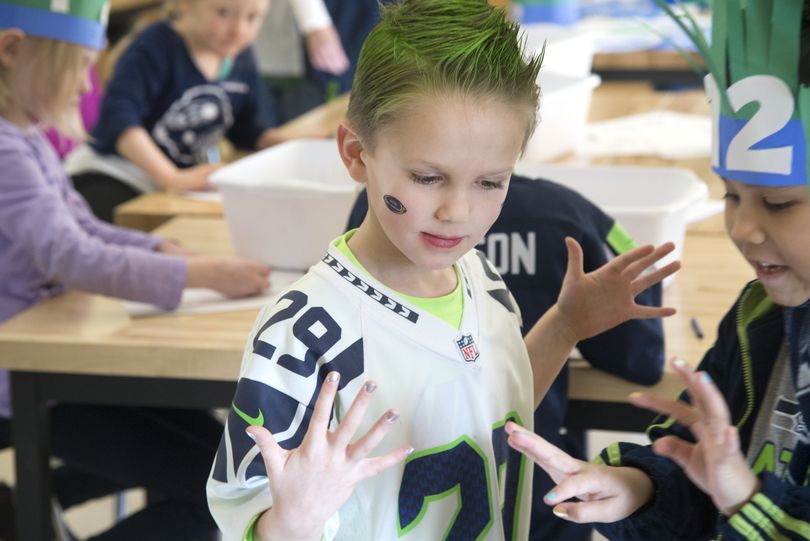 A GRIP ON SPORTS • If you don't have anything else to do today – and I know that's a big if – there is plenty to read in preparation for Sunday's Super Bowl. And most of it is really entertaining. Read on.
••••••••••
• I'm not sure I could offer anything that would fill that "entertaining" role, however, so we're going to keep it simple. I wasn't in Super Bowl mode much last night anyway, what with Gonzaga and Washington State basketball on television back-to-back. The Zags breezed, especially in the second half, while the Cougars battled, but came up short once more. As for Sunday's game, we're nearing the end of the preparation, and we have met the end of the players' media sessions. Thank goodness. The circus has left town. Still, if you dig deep enough you'll find the wall-to-wall coverage contains something for everyone. Heck, thanks to this story, I'll even be rooting for the referee on Sunday. Who saw that coming?
•••
• WSU: Yes, the Cougars battled. But it wasn't enough, not when you can only convert a third of your offensive opportunities. Jacob Thorpe had the late-night duty and supplies a game story, video from coach Ernie Kent and, if you are interested in what else went on around the Pac-12, a morning post with links. ... The San Francisco Chronicle had a reporter in Pullman last night. ... Luke Falk's game at Oregon State was given the once-over by ESPN.com's Pac-12 blog. ... The football coaches in the Pac-12 South make more money than their counterparts in the North.
• Gonzaga: The score was in Gonzaga's favor at halftime last night, but the tempo was all Portland's. That changed after halftime as the Zags got the offense going and shut down the Pilots' looks. Jim Meehan was in the Kennel and has this game story and blog post. He'll also be back this morning with another look at the game. ... Colin Mulvany has these photographs. ... Around the WCC, Randy Bennett picked up his 300th career win last night as St. Mary's got past Loyola Marymount 68-54. ... BYU bounced back with a new lineup but still struggled to defeat USF, 78-74, in Provo. ... USD cooled off Santa Clara 69-64 in San Diego. ... Tom Clouse has a Q&A with Zag Sunny Greinacher on the blog. ... Former Gonzaga women's coach Kelly Graves is having some struggles in Eugene.
• EWU: The Eagles' basketball team is off until Saturday's showdown with Idaho, but that doesn't mean there isn't a lot to pass along. Jim Allen has a story on Beau Baldwin's newest contract, a five-year one that is worth a lot more money. ... Jim Meehan has a feature on Eastern volleyball coach Wade Benson returning to the Eagles after battling throat cancer. ... The Vernon Adams' recruitment story continues and Jim Allen has a piece on EWU's response. (By the way, I read the school's release and it's obvious Eastern is ticked off at Oregon for trying to poach a player off the Eagle roster.) There is more, however, from Oregon including a column in the Register-Guard and a story in the Oregonian. ... The rest of the Big Sky was in action on the basketball court last night, with Montana staying in the title hunt with an easy road win at Portland State and Sacramento State having little trouble at home with Montana State. ... As for Eastern basketball, we found a couple stories from yesterday on Tyler Harvey as well as one on the Eastern program. The Eagles are starting to get some national publicity.
• Whitworth: The Pirates are ready to start the second half of the NWC season. Tom Clouse gets you ready as well with this preview of what's ahead for the men and the women.
• Preps: We can pass along a roundup of Thursday's action in the area.
• Seahawks: There is plenty to read and digest before the weekend begins, starting with John Blanchette's column on the NFL experiences you really don't want to experience. ... Marshawn Lynch fulfilled his final media obligation yesterday by reading a prepared statement and then not answering questions. But he put his time in. The week with Marshawn has been uncomfortable for everyone, including Larry Stone. The players spoke for the last time yesterday, including Lynch, though the coaches will continue to address the media for the next couple days. ... The Hawks style is a fit for any era of the NFL. And its led to eight consecutive wins. ... Just think if Robert Kraft had hung on to Pete Carroll. ... Both New England and Seattle got their practice work in before the deluge hit the Phoenix area last night. And both seem to be healthy headed into the weekend. ... There are starters everyone knows and then there are starters that no one really knows. Most of them are on special teams. ... There is no trick to it. Stopping Rob Gronkowski is one of the keys for the Hawks on Sunday. ... Richard Sherman is about to be a dad for the first time. He's hoping his son will wait until the game is over to make an appearance. ... The Pats' slow start had people in New England wondering. ... Tom Cable's influence reaches beyond the offensive line.
• Mariners: I didn't know where else to put Rocky Bridges' obituary from Greg Lee. But as he was the consumate old-time baseball player, this seems right.
•••
• The weekend is almost upon us. But before we get there, we have a Friday afternoon with a radio show, joining Dennis Patchin and Rick Lukens. I'll be on 700 ESPN from 3 to 6 p.m. You can listen here. Until then ...
---
---