Fri., Jan. 30, 2015
Looking back at California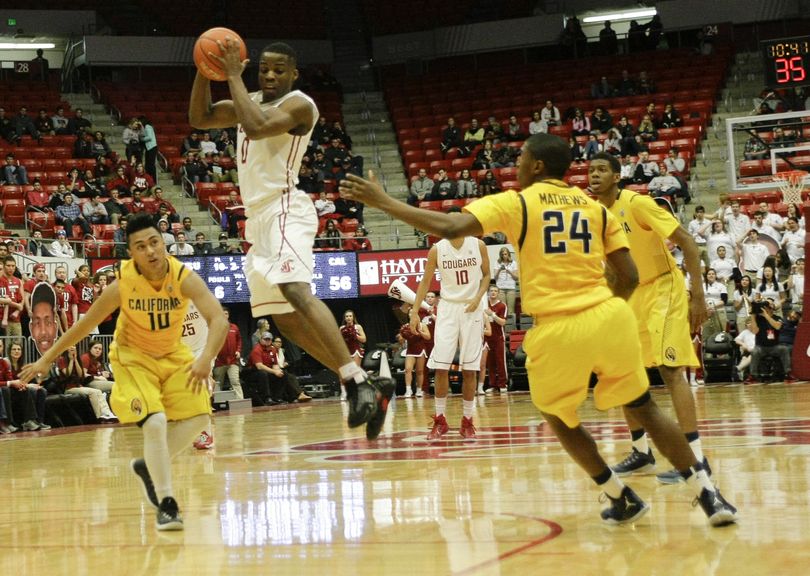 Last night at Beasley a fan won $800 for making a half-court shot. It was one of seven 3-point shots made by someone wearing crimson all night.
Here is our story from Washington State's 76-67 loss to California last night and below is our usual day-after post.

-- It's not that six 3-pointers is an untenably low number, but the Cougars needed 23 attempts to get there. The team has cooled off after some hot shooting early in Pac-12 play and it's unclear if and when the shots will start to fall again from the outside.

Granted, the poor shooting of late began when the Cougars started playing some of the Pac-12's best defensive teams – nobody is shooting well against Colorado, Oregon State or Utah. Cal actually has the conference's No. 2 3-point field goal percentage defense, although there are reasons to believe that is not a predictive statistic.

But from the beginning of this season coach Ernie Kent has made the point that this team's shooting ability is dictated by its confidence. Kent came in and gave everybody a green light to shoot, his players shot well early in the New Year and so their confidence went up.

Now the team has lost its last five games, including one at home to a team it was able to beat on the road, and it's hard to think that all those poor shooting nights against good defensive teams won't affect their confidence going forward. Stanford hasn't been a great defensive team this year so Saturday night's game should provide some insight into whether or not the Cougars can get back in an offensive groove.

-- Cal didn't get much out of its posts yesterday with David Kravish in foul trouble for most of the game. There were times when the Golden Bears went with a "small" lineup, but even when they did there was plenty of size on the floor. It was hard to distinguish who was a guard at times because Jabari Bird is 6-foot-6 and Tyrone Wallace is 6-foot-5. Those two guys combined for 15 rebounds and their size advantage outside helped to offset WSU's size advantage down low.

WSU's guards aren't as big but Kent hopes that they can at least help pick up some of the rebounding pressure that is wearing down Josh Hawkinson. The sophomore forward played 37 minutes last night and collected 12 rebounds. It's great for WSU to have the Pac-12's leading rebounder, but it isn't great for them to have Hawkinson working that hard.

Kent has said that he would like WSU's guards with some size such as DaVonte Lacy and Que Johnson to work harder on the glass so that Hawkinson doesn't have to.
"(Hawkinson is) logging a lot of minutes on that body that he's not used to logging last year," Kent said after the game. "He had an opportunity for great looks tonight because their bigs couldn't come out and play and those shots he's hitting early on, he's not hitting now. But we're going to hang in there with him."

Here are some stats of note from last night:

-- Lacy has 1,369 career points after scoring 24 last night. His performance moved him past Joe Wallace to No. 11 on WSU's all-time scoring list.

-- Hawkinson has 12 double-doubles this season after scoring 18 points and collecting 12 boards last night. One more double double and he'll enter WSU's top ten for a season.

-- Lacy fouled out for the first time this season.

Some quotes from last night:
Hawkinson on a questionable call against Brett Boese late in the game: "I just saw him attacking and he was driving the paint and I timed it and blocked it off the glass. I didn't see Brett give a body or anything like that. It's a tough call but you've got to live with the decision the referee makes."

Lacy on the game plan to attack Cal inside: "That was our game plan going in but just like any other game, if anything's not working, we try to make adjustments and I think we tried to do that once we saw what kind of night it was going to be so we tried to make adjustments but they're a good team."

Kent on letting Cal get out to a good start: "When you're playing a team that's struggled one of the worst things you can do is give them an opportunity to find themselves on offense because now all their struggles turn into positive energy and they tend to shoot it, have great confidence and get rolling on you."
---
---