Fri., July 10, 2015
Eastern Washington takes center stage for a day at least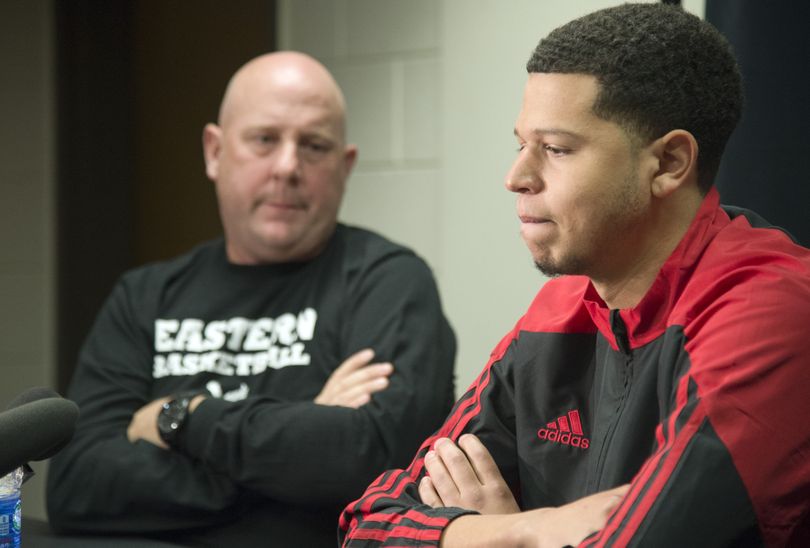 A GRIP ON SPORTS • Here we are in the middle of July and we are offering a post chock full of Eastern Washington University news. That's a bit unusual. Read on.
•••
• Now before all you Eastern fans start bellyaching – I'm looking at you Steve – about my choice of words, I didn't say that was a bad thing. Unusual isn't bad. Kim and I went to a movie the other day – "Me and Earl and the Dying Girl" – and I would say it was unusual. It was also really good. As a matter of fact, one of my favorite movies of the summer. So unusual is OK. It's just not all that often Eastern announces a raise for its basketball coach. Sure, the school gave Jim Hayford a raise last season and, since then, his team has earned an NCAA berth, so back-to-back bumps seems like a good idea. I've been told the school has also come up with more money for Hayford's assistants, which is a good thing considering how small the pile of money for them had been. The best way to build continuity in a successful program is to ensure everyone involved stays in town. Eagles' athletic director Bill Chaves is trying to do that.
• One guy who would like to get the heck out of Cheney with a diploma is Vernon Adams, the former EWU quarterback. But the diploma part is becoming a bit problematic. The school released its list of graduates yesterday and Adams' name was conspicuous in its absence. As Jim Allen explains, that complicates matters for Adams as he tries to earn a starting spot in Eugene with the Oregon Ducks. The degree has always been the crucial aspect of Adams' move, as he can't take advantage of the NCAA's graduate-transfer rule – which waives the usual year of sitting out – without the, you know, graduate part.
• One guy who did get out of Cheney, though Hayford gave him a blessing as he walked out the door, is Tyler Harvey. The nation's leading scorer was drafted in the second round by the Orlando Magic and has been playing summer league for them. But for most of the truncated schedule he's been playing second fiddle to the Magic's first-round picks. Not yesterday. Orlando rested some guys and asked Harvey to take over. He did, scoring 24 points and dishing out a handful of assists.
• Finally, for you Eagle football fans – and again, I'm speaking to you Steve – the school released the starting times for its games. The latest start is a 6:05 home game Sept. 26 against Sacramento State. The rest of the games – other than the televised 5 p.m. opener at Oregon – are your typical times between noon and 3 p.m. I wonder if they need anyone for a postgame call-in show. Those are pretty nice start times.
••••••••••
• WSU: If you are looking for a team in the spoiler role for the Pac-12 North, look no farther than Berkeley. Or Pullman. That seems to be the message from this ESPN.com post. ... Speaking of starting times, the WSU football schedule has three times locked in. That's out of 12 games. When we were writing about the change in the radio broadcast team yesterday, we mentioned how IMG College gets to call the shots because it pays WSU more than $3 million a year for the privilege. That's just a small part of the selling of college athletics' soul that has occurred in the past decade or so. The television contracts are so huge, a season-ticket holder for football really can't plan anything until 10 days or so before a game. The networks don't want to commit to a time until they know the perfect slot to put the game. That leaves the person in the stands out in the cold. Sometimes literally, if, for example, the Nov. 21 game against Colorado is slated for a 7:30 p.m. start.
• Indians: A bases-loaded hit by pitch ended up deciding the Hillsboro Hops' 2-1 win over the visiting Indians.
• Golf: The Lilac Invitational got underway – no, I was not invited to play – yesterday at the Fairways and Tyler Falk shot a 10-under 62 to take the lead. Though none of us were asked to play, we can travel out the course and watch. The four-round event, which ends Sunday, is open to the public.
• Hockey: Want to help youth hockey develop in North Idaho? Here's how.
• Seahawks: Cliff Avril hasn't been able to get the sour taste of the Super Bowl out of his mouth. Welcome to the club Cliff.
• Mariners: Want a sure thing? Well, there isn't one in baseball but recently Felix Hernandez against the Angels has been pretty darn close. The King handcuffed them again last night as the M's opened a four-game series with a 7-2 victory. ... Think a 7-2 victory was a walk in the park? Should have been, actually. But the M's do nothing easy this season. Danny Farquhar, recalled yesterday in a flurry of roster moves, couldn't find the strike zone in the ninth and Carson Smith had to be summoned. Smith earned a save because he came in with the bases loaded (the tying run has to be at least in the on-deck circle). ... The biggest part of the roster changes? Jesus Montero, who has destroyed the Pacific Coast League this season, was recalled as J.A. Happ agreed to be sent to Bakersfield so it could happen. Happ, who won't start for at least 10 days or so due to the All-Star break, has to report to Bakersfield, which earns him my eternal admiration as a true team player. As for Montero, he'll play against left-handed starters, possibly starting tonight. ... Megan Rapinoe, one of the stars of the U.S. Women's National Team and the Seattle Reign, will throw out the first pitch Sunday. Or do soccer types call it the "first field?"
• Sounders: The new MLS rule which allows more spending probably won't affect the Sounders much.
•••
• As I said earlier this week, I won't be posting tomorrow. Though, if I can't sleep and wake up really early, I may. Just don't count on it. By the way, today would have been my father's 90th birthday. Miss you everyday Papa Joe. Until later ...
---
---