Fri., July 24, 2015
Maybe it is time to write about how we never win the lottery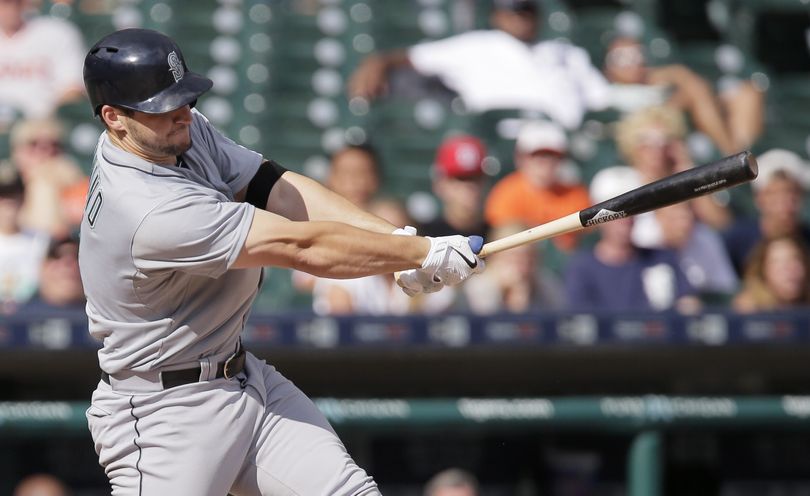 A GRIP ON SPORTS • It's funny, isn't it? There is no such thing as a jinx or curse or the like, and yet strange things happen. Take yesterday, for instance. This is the line we wrote: "... whenever Mike Zunino steps into the batter's box, despair." Read on.
••••••••••
• Zunino stepped into the batter's box yesterday in the 12th inning. He was hitting somewhere around .170. And he delivered what turned-out-to-be the game-winning RBI double. We all know there is no way anything written or said about someone, especially anything written or said about someone from 1,500 miles away, can have any effect on said person's performance. And yet it makes you think, doesn't it? Actually, it makes me think I'm an idiot. It seems as if nearly every time I can someone out in this column, that person does something that makes me look bad. If there is any jinx, it's on me. I have no chance here. Well, actually, I do. I could criticize Jack Zduriencik's handling of the roster and his trades. That will never, ever come back to bite me.
• The non-waiver trade deadline is approaching fast. The question is, what should the M's do? Larry Stone says they need to face facts, the season is a bust and they need to see what they can get for their veterans (as if you Zduriencik making those decisions). John McGrath concurs, though he concedes the M's have very little in the way of trade bait. If they do decided to become buyers, one player who would attract interest is Ketel Marte, who just happened to make his first start in centerfield yesterday. The shortstop is going to get a look in the outfield to see what he can do. Ouch. I just had a painful flashback. Adam Jones. Maybe the M's can trade Marte for someone who will help them win six more games in the second half as they still fall short of the playoffs. And then watch Marte become a long-time all-star for someone else. That would be the typical outcome, wouldn't it?
•••
• WSU: Another offensive category. Another "good shape" designation from ESPN's Pac-12 blog. This time it is the quarterback position.
• Gonzaga: When Chandler Smith (pictured in white) decided to take her talents from Brewster to Nebraska after her senior season, then-Gonzaga women's basketball coach Kelly Graves was deeply disappointed. He had targeted Smith as someone who could keep the Zag women at the level they've become accustomed. Well, Graves is in Eugene and now Smith is at Gonzaga. She decided to transfer back to the Northwest where she will play for new coach Lisa Fortier. Tom Clouse has the story.
• Idaho: The Vandals' Don Verlin has filled the two open spots on his basketball staff. Sean Kramer has all the particulars in this blog post and story.
• Indians: Host Everett put the kibosh on Spokane's somewhat-hot streak with an 8-1 win.
• Seahawks: Will Earl Thomas be ready for the season opener? That's always been up in the air since his shoulder injury and his off-season surgery. An ESPN report calls into question his return for the opener. ... When will the 2013 draft class begin to show some return on the investment?
• Mariners: If any major league scouts were in Detroit yesterday to watch David Price, who is rumored to be on the trading block, they saw a much cheaper alternative. Hisashi Iwakuma, who is a free agent at the end of the season. He pitched well as the M's rallied to win 3-2 over the Tigers in 12 innings. ... Kyle Seager was supposed to sit yesterday. But he wanted to play to clear the palate after a bad game. He contributed mightily to the effort.
• Sounders: Seattle plays in Montreal this weekend. The trip is one big pain in the neck.
•••
• Some programming news for you. An early heads up that we won't be here on Sunday. We have to travel that day and will need to get an early start. So no post. Sorry. Until later ...
---
---