Wed., July 29, 2015
It's not the rule-breaking, it's the coverup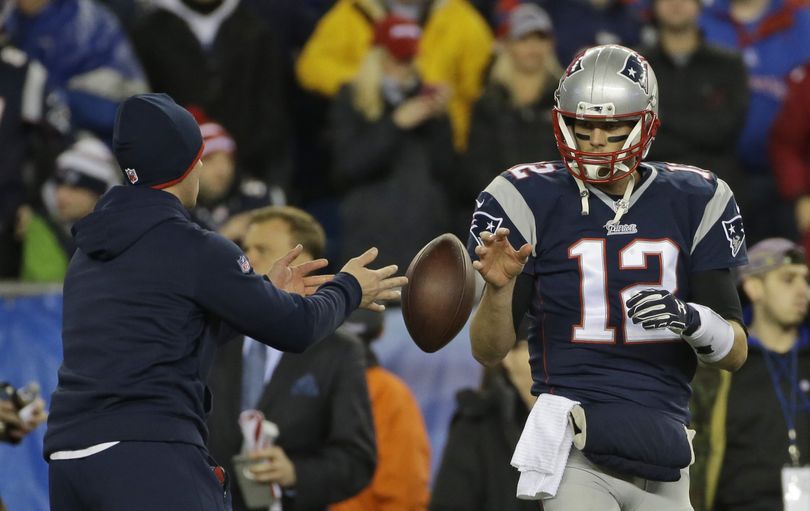 A GRIP ON SPORTS • It's quite simple, really. If your cell phone contained evidence that exonerated you, you would keep it around, right? After all, even if you wanted to fight the good fight, to exert your rights to privacy, to tell your boss to shove it, you would know, intuitively, somewhere down the road you might need the backup. Right? Read on.
••••••••••
• But there's another side to this coin as well. We will call it the Tom Brady side. You can exert your principles all you want but when you destroy the cell phone you used to send text messages that may or may not implicate you in breaking rules, you look freakin' guilty. No, you don't just look guilty. You are telling the world you are guilty. And then to say you always destroy your cell phones to protect your personal information? That's a great defense, if you had destroyed the one you used previously. But you didn't? OK. ... Let's get past this. Brady had a hand in breaking the rules. He was trying to gain an advantage. He knew he was afoul of the NFL. He tried to cover it up. Four games isn't enough. A year would be better. But he's the golden boy. He's out for four. All the money he'll spend fighting the decision in court won't help. He's guilty of breaking the rules, he's guilty of trying to cover it up and, inarguably, he's guilty of being stupid as heck.
• The Mariners' best chance of turning this dismal season into something that may help down the road took a left turn last night. If Hisashi Iwakuma (pictured) had thrown well again, maybe, just maybe, the team could have traded him for one or two prospects that would help in the future. But Iwakuma picked a bad night to struggle. The trade deadline (non-waiver variety) is just days away. His value couldn't have gone up yesterday. And nothing has gone right this year. So my feeling is the M's are about to go on a 12-game winning streak, they are going to play .700 ball until the end of the season and just miss out on the playoffs. That way, they can rope us all in again next spring. Only to rip our hearts out in May and June. Wash, rinse, repeat.
•••
• WSU: Days not weeks. That's the good news. We are only a day away from the start of Pac-12 media days. And only a few more days after that the Cougs open camp in Lewiston. Football is about here. Jacob Thorpe took some time yesterday coming up with five (mostly) bold predictions about the upcoming WSU season. Don't miss them. ... What will the storyline be for the Cougars on Friday? ... Oregon can't wait for the season to begin, though the Ducks, like everyone else, have a few questions to answer. ... For years there has been a myth out there about how hard it is to get into California. For non-athletes, it was true. For football and basketball players, it was as real as Bigfoot. But things are changing in Berkeley. ... The best running back in the Pac-12 just may be a guy who, at one point, was headed to Pullman.
• Indians: Tri-City walked its way through the Indians' bullpen for a 6-1 win last night. ... With the NWL/Pioneer League all-star battle coming up, Chris Derrick has a nice feature on an Indian player who is trying to do something denied his father. ... And, lest we forget, the NWL announced its lineup yesterday.
• Preps: It was a bad day for local legion baseball teams yesterday, with the Bandits eliminated in Washington and Coeur d'Alene tossed into the loser's bracket in Idaho. Greg Lee has the story on the latter.
• Seahawks: So what price will Russell Wilson put on contentment and happiness? ... Pete Carroll is about to be jinxed. ... The line may not be as flashy as the rest of the defense, but it is crucial to the Hawks' success. ... There are still questions to be answered before camp opens.
• Mariners: Besides Iwakuma's less-than-stellar outing last night in an 8-4 loss to Arizona, there isn't much to delve into. New closer Carson Smith won't admit it, but he looks tired and Lloyd McClendon wants to be able to get him more rest. And new lefty Vidal Nuno has been doing pretty well.
• Sounders: A Sounders team that is getting physically healthier also received some mentally uplifting news yesterday concerning Osvaldo Alonso. ... Tyrone Mears is feeling better about his place with the Sounders and his play reflects that newfound confidence. ... Clint Dempsey is still away, along with Chad Marshall representing the Sounders at the MLS all-star match. ... Seattle is still sliding in the MLS power rankings.
•••
• Believe it our not, I intended to write about Jason Hansen's omission yesterday. He was a big miss, even without his NFL career. His four years at WSU stand alone and more than justify inclusion on any All-Pac-8/10/12 team. But I just forgot. Thanks for reminding me. Until later ...
---
---