Thu., March 19, 2015
March Madness is finally ready to go full bore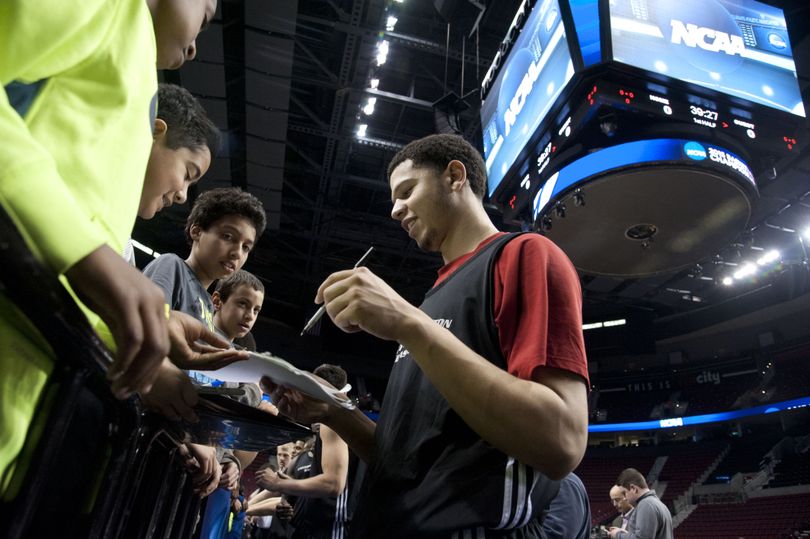 A GRIP ON SPORTS • And now it begins. Read on.
••••••••••
• The NCAA tournament has always been fun, at least personally. When I was a little squirt, it was fun because my sister went to UCLA and I was a Bruin fan. And they always won. Everyone in Southern California – other than those with ties to the University of Southern California – seemed to root for UCLA come NCAA tournament time. Heck, I can remember busing from Reno to Davis with UC Irvine's baseball team my freshman year, listening to the semifinal game between UCLA and Louisville, a game that came down to the wire and was followed by John Wooden shocking the basketball world with his retirement. But even when the Bruins fell into ruins, the tournament's allure lived on, fueled by great basketball and even better stories. Villanova's near-perfect game, never nervous Pervis, the Fab Five, UNLV's Runnin' Rebels, another UCLA title, this time in Seattle, Rick Majerus getting Utah to the finals, and then, this century, the rise of Gonzaga and the two special years in Pullman, when the Cougars actually were relevant come tournament time. Now we can add Eastern Washington to the list, though the Eagles' journey is just beginning. And may end this evening. But it doesn't matter if their one shining moment is just that, a moment. They are in the tournament. They have a shot. And they are seizing it. Coach Jim Hayford did the basketball equivalent of dropping the microphone and walking off the stage yesterday, telling Jim Rome – think about that for a moment, an Eastern Washington basketball coach doing a segment on the Jim Rome Show – his Eagles were going to win and the two would talk again. Now Hayford swears he didn't guarantee a victory but that's just semantics. What he told his team is he expects them not only to compete, to be happy they have reached the tournament, but to win and advance. That's the goal now. Everything past is prologue. This is the first chapter of the book. Is it a thriller? Is it a fairy tale? We'll see this evening as another volume of NCAA history is written in Portland. And that's fun.
•••
• WSU: It wasn't a good night and there was no good luck in Pullman yesterday for the home team. Eastern's Jade Redmon scored with .4 left on the clock and the Eagles got past WSU 67-65 in the first round of the WNIT. Sean Kramer has the game story. ... We can pass along some football news, of course, with ESPN.com's Pac-12 blog doing a quick midweek mailbag.
• Gonzaga: The Zags' opponent tomorrow, North Dakota State, keeps things simple, according to this story by our Jim Meehan. ... The GU women also open their NCAA tournament run Friday, facing George Washington in Corvallis. ... Tommy Lloyd is a key part of Mark Few's coaching staff. ... Believe it or not, Kevin Pangos is a senior. ... The postseason has had a pretty poor start for the WCC with St. Mary's losing at home in its NIT opener last night to Vanderbilt, Portland dropping a home CIT game to Sacramento State and Pepperdine losing at Seattle U. in the CBI.
• EWU: Hayford's non-guarantee guarantee probably made John Blanchette smile, at least internally. And gave him the subject of today's column. ... Jim Allen has a morning post and an advance of tonight's game, which is on truTV, a station most of us only watch in March, while Jacob Thorpe has a notebook. ... Yes, we found another story on Tyler Harvey. And we found a story on Parker Kelly and his dad Terry, a former WSU standout. ... Georgetown's big man, Josh Smith, is a Seattle-area product who I remember watch playing in high school in the state tournament against Ferris. He'll have a lot of friends and family on hand tonight. ... With Eastern back in the spotlight, the bandwagon following the program grows.
• Chiefs: Though the Chiefs couldn't get past Portland last night, they still have an opportunity to determine who their playoff opponent will be. Chris Derrick has more in this game story and blog post. ... The Winterhawks and Everett are now tied atop the WHL's U.S. Division.
• Shock: Spokane was assigned another player.
• Preps: Greg Lee takes some time today to look back at the winter sports season. ... He also has a feature on the closing of John Owen's (pictured) coaching career and a story on some coaching vacancies in the Greater Spokane League. ... Finally, Greg finishes out the day with a notebook.
• Seahawks: One of the hottest topics of discussion around the NFL is whether or not Chris Borland's sudden retirement is a sea change for the league. Dave Boling and Larry Stone weigh in this morning. ... Another hot topic: domestic violence, though having accusations hanging over Greg Hardy didn't stop the Cowboys from signing the defensive end.
• Mariners: Spring training is all about the battles for major league roster spots and lineup decisions, right? Serious business, with guys trying to make the major leagues for the first time or attempting to hang on to their jobs. Ya, sure. Did I mention the M's revealed their commercials yesterday? That's serious stuff folks. ... In other, not-so-serious stuff, the M's defeated the A's 4-0 yesterday, though J.A. Happ threw a simulated game instead of facing a divisional opponent.
• Sounders: Brad Evans knows he's not doing as well at his new spot as everyone would have hoped. But he's trying to learn. ... It's power ranking time.
•••
• Before we go, we'll pass along this story on my alma mater, UC Irvine. One thing that bothers me: saying this is Irvine's first NCAA basketball tournament. It isn't. It's the Anteaters' first NCAA Division I basketball tournament. I remember watching Dave Baker, who would go on to become Arena League commissioner, lead UCI in a home Division II playoff game in 1975. The Eaters lost, despite my vocal support. Until later ...
---
---