Fri., March 27, 2015
Roles reversed tonight as Gonzaga meets UCLA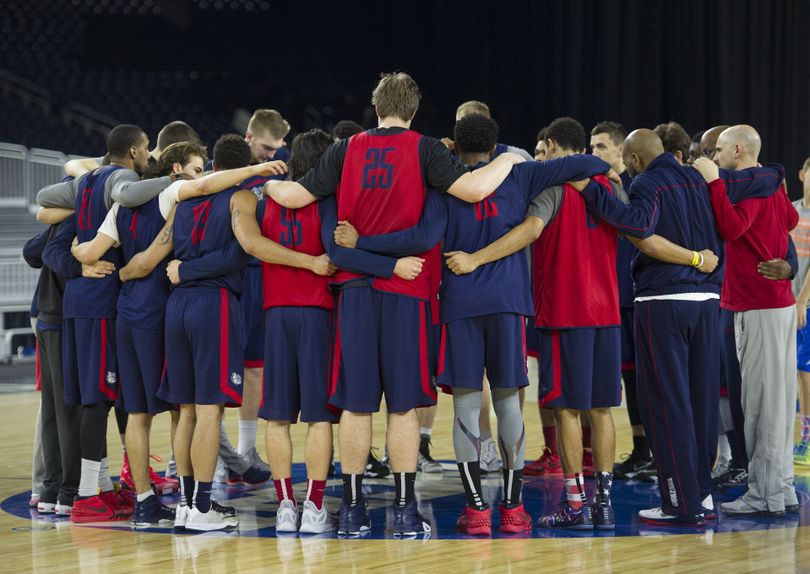 A GRIP ON SPORTS • Game day is here. Yep, powerhouse Gonzaga facing the upstarts from UCLA. Just typing that makes me feel a little weird. A lot has changed over the past 50 years. Read on.
••••••••••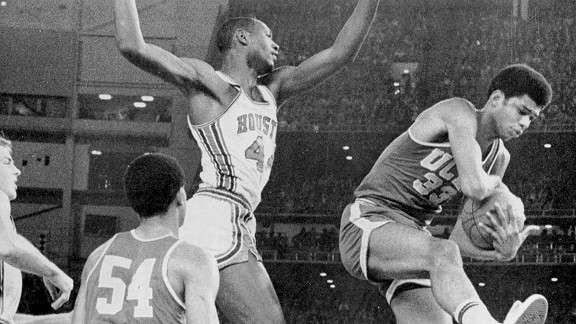 • Hard to believe the one team that is 34-2 and favored tonight is Gonzaga, the school from Spokane that didn't really register on the nation's consciousness until this century. And the underdog would be UCLA, a school that has won more NCAA basketball championships than anyone else. But that's the way it is. And, making it more ironic, the matchup is occurring in Houston, in the middle of a giant building – NRG Stadium – that is really a football facility, not a basketball one. NRG Stadium is so large it dwarves its next-door neighbor, the now-shuttered Astrodome. But though size matters, so does history and tonight's venue is a potting shed next to the Astrodome in that measure. See, it was nearly 50 years ago when the Astrodome hosted college basketball's real Game of the Century, a matchup of undefeated and defending national champion UCLA and undefeated Houston. January 20, 1968. Lew Alcindor, soon to become Kareem Abdul-Jabbar, and Elvin Hayes (pictured). John Wooden and that guy who coached Houston. Why was the game, won by the Cougars 71-69, important? It was the first regular season game shown in prime time nationally. Dick Enberg, then an up-and-coming announcer, did the game with NBA legend Bob Petit. More than 50,000 people packed into the Astrodome to watch. The national news – not the national sports news, but the national news, back when CBS and NBC mattered – covered the run up to the game, including the all-important question on whether or not Alcindor, scratched in the eye earlier that week in a game at California, would play. He did, but not well, having trouble with his depth perception and Hayes' defense. The game changed college basketball's perception in America and pushed it to the forefront among our nation's sports. UCLA went on to win another title – routing Houston in the semifinals, 101-69 – and continued to win throughout the next few years, the streak ending only when Wooden retired in 1975. The NCAA moved its championship games, previously played in college or NBA arenas, consistently to domes, starting with the Astrodome in 1971 and continuing to this day. But the Astrodome isn't part of it anymore. It hasn't hosted a major sporting event since the 1990s and sits, unused, awaiting its fate. Across the street tonight, either Gonzaga or UCLA will meet their 2015 NCAA tournament fate. Who would have even imagined that 47 years ago?
• Another thing unimagined back then was the Internet. But this morning, as we sit at our computers, we can read at least a dozen stories on tonight's game. It's pretty normal. Before Houston and UCLA met in 1968, a picture of Alcindor with a patch on his eye went viral, to use a 2015 term for a 1968 event. It was carried by newspapers all over the country and shown on all the TV news shows. It was water cooler talk for a week. And yes, there were water coolers then. They just weren't refrigerated.
•••
• WSU: The Cougars opened spring practice yesterday on a beautiful day in the Palouse. With Jacob Thorpe in Houston, Sean Kramer took over the coverage duties and has this story. ... Jacob took some time yesterday to share his thoughts on Sebastian LaRue's dismissal from the Cougar football team and some time this morning to put up a post. ... ESPN.com's Pac-12 blog says the WSU quarterback competition could last a while. ... The blog also looks at some of the great upsets in recent conference history, including a WSU loss. ... Believe it or not, the NCAA did not give the appeals court all the documents on USC and coach Todd McNair it presented in the original trial.
• Gonzaga: We'll divide the stories on tonight's game into three categories. There are those from around here, starting with Jim Meehan's advance and John Blanchette's column on UCLA coach Steve Alford's Spokane connection. Jacob also has a story on UCLA's recent success and Jim and Jacob combined on this notebook. Colin Mulvany has a photo story telling the tale of Gonzaga's day yesterday. ... Bud Withers, who will be retiring from the Times next month, has a couple of pieces on the game, with a story on Byron Wesley and another on the places these two programs have in the national college basketball discussion. Art Thiel also has a column. ... The second category of stories includes coverage from Los Angeles, with Bill Plaschke's column on the good end and this preview of the game – which lists Gonzaga's Josh Perkins as a reserve – on the other end. There are other stories in between, of course. ... The third category is filled with stories from Houston and from around the nation. ... The Gonzaga women meet the media today, hold their open practice and then have their game tomorrow. Jim Allen has this feature on all the talent assembled in the regional. I missed this early this morning because it wasn't in the sports section, but Tom Clouse has this story on first-year coach Lisa Fortier and Jim has a piece on the other coaches at the Spokane regional. ... Tennessee sees Spokane as just another stop on the road to the Final Four.
• Chiefs: The WHL playoffs open tonight, with the Chiefs kicking off their series in Everett. Chris Derrick has an advance of the series as well as a feature on the overage players whose WHL career could end at anytime. ... Tri-City has the toughest assignment in the first round.
• Seahawks: Speaking of domes – and we were above – the Kingdome came crashing down 15 years ago. Now its debt is finally going to be retired. ... Bob Condotta has five takeaways from the recent league meetings. ... Cassius Marsh will play a big role on the defensive line next season, if he stays healthy.
• Mariners: The M's split their squad yesterday and it resulted in two losses, including a late-night blowout. ... Though Lloyd McClendon won't admit it, the starting rotation is basically set. ... At the top of the rotation, of course, is Felix Hernandez, who is ready for the season to begin. ... Seth Smith may not be flashy but he's steady.
• Sounders: The recent friendly allowed a couple of young players to attract attention.
•••
• I know how the West Virginia players feel this morning. Headache, sore muscles, aching joints. They have an excuse. They played Kentucky. I don't know what my problem is. However, I want to pass along this TV news as there are a lot of Spokane connections. Until later ...
---
---