Mon., March 30, 2015
Gonzaga's memorable season is over but optimism springs anew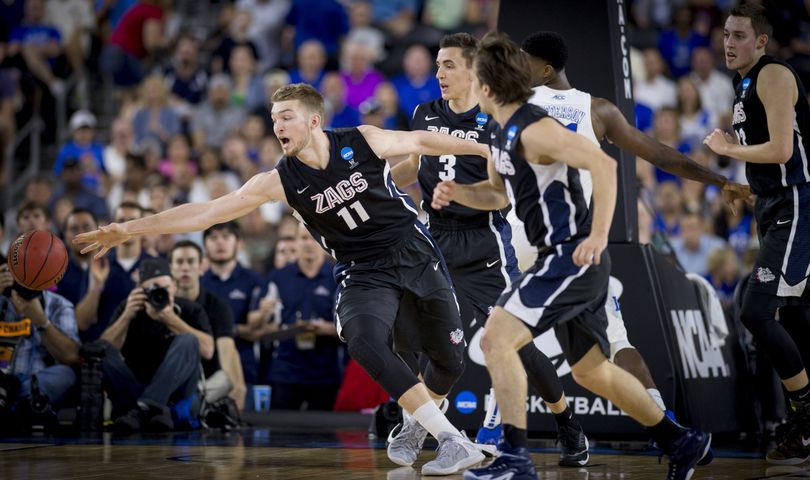 A GRIP ON SPORTS • Do you like spring better than fall? If you do, that means you are, deep down, an optimist. Looking forward is your thing. I'm that way. The new growth on the trees, the grass greening up, flowers. All reasons I would rather look forward than back. Which explains which direction we are headed in this morning's column. Read on.
••••••••••
• The greatest season in Gonzaga basketball came to a close last night in Houston not with a bang but with a clang. Afterward, Zag fans were left wishing Kevin Pangos wore No. 32 and Gary Bell something in the 20s. And if you don't get that reference, you don't peruse box scores. The Bulldogs went blow-to-blow – literally – with Duke for 34, 35 minutes until the Blue Devils pulled away down the stretch, ending GU's season with a 35-3 record and its second Elite Eight appearance. It wasn't just the Zags' greatest season ever, it was also the year the program came of age. What, they haven't been exceptional for 17 years? Good, yes. Consistent, yes. But exceptional, no. This version of the Zags was that. This version of the Zags showed Sunday it could win a national title – and it wouldn't have to occur due to an alignment of the stars or something. This team could compete with anyone on the court, stand possession-to-possession with the best in college basketball. All the best in college basketball. Very few of the previous Zag teams could say that. Even the Adam Morrison team of 2006 didn't have the size, strength and experience of this group, attributes that set it apart from its predecessors. Przemek Karnowski and Domantas Sabonis are difference makers inside. Kyle Wiltjer adds another dimension with his varied skills, not the least of which is his length and height. The trio gave this GU team a different feel, a big-time feel if you will. And, if Mark Few's luck holds, the three will be back next year, forming a basis for continued success. If they all return – Sabonis might just be the biggest question mark, considering his professional background and projected NBA upside – then expect Gonzaga to be in the mix again this time next season. Oh sure, there will be question marks. Losing Pangos, Bell and Byron Wesley not only takes out 60 percent of your starting lineup but a huge percentage of your leadership. The backcourt will have to be rebuilt, with a corresponding lack of experience. But there are candidates whose potential seems limitless and having the three bigs up front – along with a another 7-footer, Ryan Edwards, who spent his redshirt year retooling his physical skills – to toss the ball to should ease some of the growing pains. And who knows, with the success Wesley had, the joy he seemed to experience while playing his senior year in Spokane, other graduate transfers who could help may be ready to contact Few. In 1999 Gonzaga took a step into the nation's consciousness and began a run few schools of its stature have ever equaled. A couple years ago the program ascended another rung in the basketball hierarchy, earning a No. 1 ranking and a top seed into the tournament. This season it took one more, putting a team on the floor that had just as good a chance as anyone not named Kentucky of winning the national title. And every time Few and the Zags have taken another step up the ladder, they've stayed there. I'm betting they will this time as well. The bigs will keep coming. The guards will become bigger and more athletic. The depth will grow. And the Final Four will come. Like the first robin of spring or the first daffodil, we will see it. Soon.
•••
• WSU: With no local teams left and the fact Washington State is hosting the regional, we'll stick the coverage of the women's game over at the Arena tonight in this spot. Tom Clouse has the advance of the matchup between Maryland and Tennessee and a sidebar on Angie Bjorklund's tenure in Knoxville.
• Gonzaga: We'll start with Jim Meehan's game story of the 66-52 defeat, dash over to Colin Mulvany's photo report that chronicles GU day from start to finish, stop at John Blanchette's column on the fateful final four minutes and finish with Jacob Thorpe's sidebar on Duke along with the notebook he and Jim put together. ... From North Carolina, we found a couple stories on Duke's win. ... And from Houston, the Chronicle had a game story and sidebars on Gonzaga and Duke. ... There is national coverage as well, with stories from the New York Times, the Washington Post, NBC Sports, ESPN, San Jose and USA Today. Finally, we have Bud Withers' game story and column along with Jerry Brewer's column.
• Idaho: With three spring practices done, Sean Kramer takes an in-depth look in this blog post at Idaho's quarterback battle.
• Whitworth: The Pirate baseball team is on a roll, a first-place roll.
• Chiefs: Portland pulled even with Seattle in its first-round series with a shutout win.
• Seahawks: The Hawks are still working on shoring up their defensive front. ... Admit it. Seeing Russell Wilson play baseball makes you cringe a little.
• Mariners: As spring training winds down, the M's seem to be in a little funk. They lost again yesterday, 8-5 to the Padres. ... With opening day looming, Seattle made some cuts, giving us a couple clues what the starting rotation will be and almost ensuring Spokane's Tyler Olson will begin the season in the bullpen. ... The M's have plenty of money to spend this season.
•••
• We are done for this morning. The weatherperson is calling for clear skies and warm temperatures. I'm wearing shorts today. Avert your eyes. ... Also, if you didn't know, Bell wears No. 5, Pangos 4. Bell scored five points yesterday, Pangos four. Until later ...
---
---