Tue., March 31, 2015
This week seems a little upside down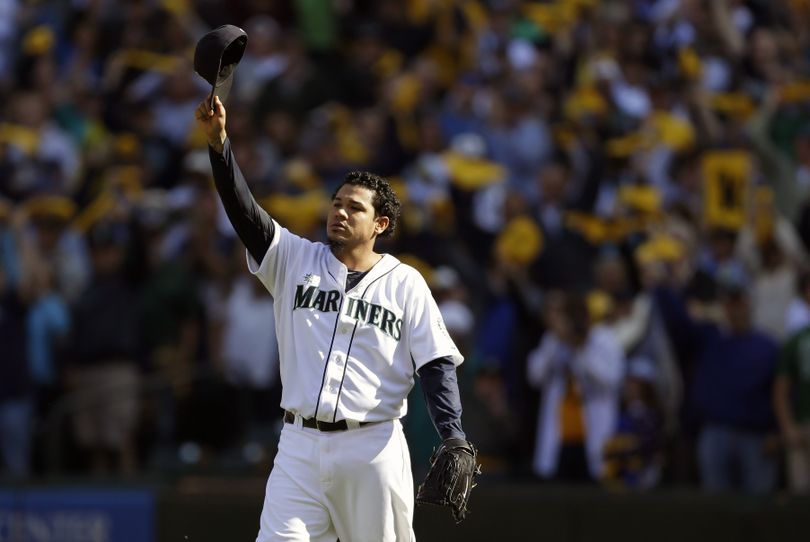 A GRIP ON SPORTS • We're through the looking glass here, people. The local college basketball season is done. Our evenings are, well, unfilled. Thank goodness the baseball season begins in less than a week. Read on.
••••••••••
• I'm no Milhouse Van Houten but even I know when change has occurred. When Gonzaga lost Sunday it was as if time stood still. Basketball over, football infected with spring fever, baseball season still in its gestation stage. What a boring week. Or a great week to take off, a spring break if you will. Too bad those end in college. Adults could use one too – without having to tow grade-school-aged kids to Disney Mountain or someplace. Decompression is a lost art.
• Yes, baseball season is almost here. The M's opening day is Monday afternoon against the Angels. Felix Hernandez will be on the mound at Safeco. Perfect. I can tell you some of the more memorable experiences in my life revolve around opening day and the NCAA finals. When both are on the same day, as they will be Monday, it's the sports' nut Nirvana. There was more than once in my youth I took such a day off work, planted myself at a downtown sports bar/barbeque joint and slowly sipped adult beverages for hour after hour, watching the Cubs and Orioles and Reds and Brewers and whomever, holding down a big table for a crowd of friends who arrived throughout the afternoon, ready to watch the NCAA championship game that evening. Ultimately, by the time halftime of the title game hit, I was struggling to remember who was playing. But, after Kim picked me up, drove me home and tucked me into bed, I know I had spent the day wisely. I had watch eight or nine hours of baseball and was in the room while the basketball was on. The next morning, though, I wasn't so sure.
• By the way, if you need to get into the baseball mindset, I recommend Tom Boswell's book, "Why Time Begins on Opening Day." It's a series of baseball columns and though they all now document ancient history, they still serve to get me in the mood for the long summer ahead.
•••
• WSU: With the passing of Bobo Brayton last week, memories of the former Washington State baseball coach is all we have left. Larry Stone has some, gathered from an interview done a couple years ago, and he shares them today. ... The NCAA didn't do USC any favors in its investigation and sanctions, did it? ESPN.com's Ted Miller goes through all the screw-ups. ... The Pac-12 just isn't getting it done in the NCAA tournament. ... Speaking of the NCAA tournament, the women's regional finished up over at the Arena last night and Maryland got past Tennessee to earn a Final Four berth. Tom Clouse has the story.
• Gonzaga: Missed this until today, but the Oregonian has had an interesting photo collage for a while on its website featuring Kyle Wiltjer. ... The key to making the Final Four? Persistence.
• EWU: Jim Allen checks in with Jim Hayford about Tyler Harvey and the NBA.
• Chiefs: One of the Silvertips key defensive players is listed as day-to-day. ... Tri-City needs to win and win now in its series with Kelowna.
• Shock: Stop me if you've heard this before. Erik Meyer had a great game and his team won. Only this time it was San Jose.
• Preps: Long-time Mead football coach Sean Carty was fired Friday in what seems a surprising move. Greg Lee has more in this story. ... The high school baseball season is already underway and Tom Clouse has this feature on Gonzaga Prep's do-everything player, Jordan Rathbone (pictured), as well as a preview of the area leagues.
• Seahawks: The Hawks have done pretty well keeping their unrestricted free agents. Now they need to find someone else's to fill the center spot. Well, at least they need to find someone.
• Mariners: Brad Miller (pictured) is feeling better and was back in the M's lineup yesterday, helping to produce a 5-3 win over the Angels. And, lest we forget, he's planning on cutting his hair. ... Taijuan Walker pitched yesterday and gave up a home run. And then a couple of hits. But that was all. He seems poised to have a breakout season.
• Sounders: There were some opportunities over the weekend for the Sounders' younger players to showcase their skills. Some did, some didn't. ... Brad Evans did better – and that's important. ... Was the draw a good thing or a bad thing?
•••
• The last day of March. Will it be lamb-like? We'll see. Until later ...
---
---