Tue., May 12, 2015
NFL comes down pretty easy on Brady, Patriots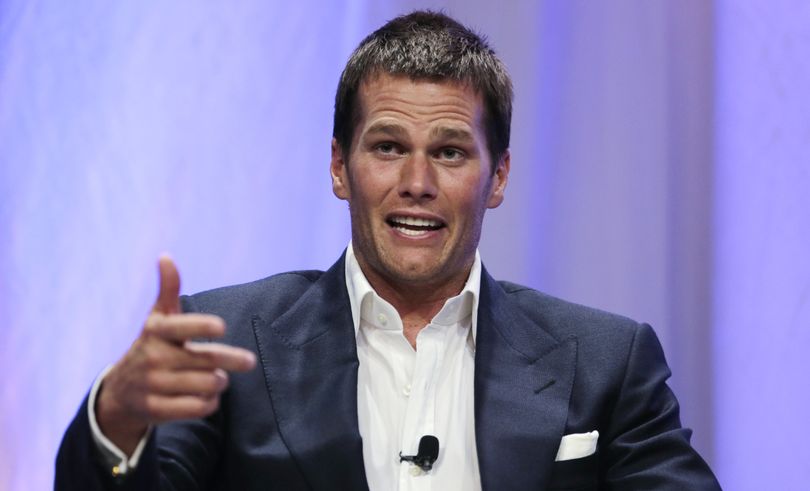 A GRIP ON SPORTS • So the NFL threw the book at Tom Brady and the Patriots. At least it wasn't heavy like "The Stand." It was more like "Of Mice and Men." You were expecting anything else? Read on.
•••
• Let's face it, Brady got off easy. You know how I feel. Four games is the least the punishment should have been. The guy entered into a conspiracy to defraud the league, he refused to cooperate with the NFL's investigation and he – and the Patriots – were defiant throughout. (Aside No. 1: For all of you out there decrying the NFL's request to exam Brady's text messages on his private phone because he might have texted thing about others he doesn't want out, according to ESPN the NFL's request was for certain texts and they were willing to allow Brady's lawyers to examine them first – more than likely to ensure there was nothing on them that could lead to criminal or civil complaints – before turning them over. That seems reasonable. And still Brady wouldn't do it.) Really, the NFL had little choice. The Patriots had broken the rules and Brady was part of it. That much was relatively certain despite the best efforts of the team to submarine the investigation. According to ESPN: "When they wanted to meet with locker room attendant Jim McNally (who referred to himself as the "deflator") for an additional interview, the Patriots told them to forget it." No wonder they were hit with a million-dollar fine. (Aside No. 2: There is a GoFundMe account set up to help New England pay for the $1 million fine. It was put together by a Spokane man. Go figure.) It's pretty obvious Brady was caught in a bit of a crossfire between the NFL and the Patriots. And when the league asked for texts it thought would incriminate Brady, the quarterback refused to turn them over. If they didn't link him to the conspiracy, then why not share them? The only explanation that fits is the golden boy is like Captain America in another sense. He's a strong defender of personal liberties. Who knew? Whatever, let's hope this episode is behind us. Let's hope "Deflategate" is just another blip on the radar, as "Spygate" and every other NFL-"gate"-named scandal is now. One thing's for sure, Brady's reputation took a hit this week. A self-inflicted one at that. A lot of the venom thrown his way had its beginning in his Super Bowl press conference when he poo-poohed the whole thing and basically said he had nothing to do with it. Even with the all the roadblocks the Pats and Brady threw up, the NFL was able to figure out he wasn't telling the truth. If Richard Nixon – the man we can blame for all these "gate" controversies – could rise from his grave, he would be able to tell Brady it's not the act that usually gets you, it's the attempt to cover it up. And that proved true in this case.
• If you want to read opinions about yesterday's suspensions, fines and other punishment, we found a few for you. We went to Los Angeles for a couple, Washington D.C., New York, national publications from here and there and, of course, we stopped in Boston for more than one person's opinion.
••••••••••
• WSU: If you think Brady has a credibility problem, it's nothing compared to the football officials in the Pac-12. So Larry Scott is taking another stab at it. ... Oregon State athletic director Bob De Carolis is stepping down on June 30.
• Gonzaga: The Bulldogs are in Eugene for a two-game baseball series with the Ducks. ... USF added a new assistant basketball coach, hiring a Bay Area high school coach with a sterling reputation.
• Whitworth: The Pirates finally found out where they are headed in the NCAA Division III baseball tournament: Texas.
• Preps: It's a big week in the state playoffs, with Jim Meehan covering the state golf in Idaho and Jim Allen getting you ready for state soccer regionals in Washington. ... Cheney moved on in State 2A baseball. That leads our prep roundup today.
• Seahawks: The best part of rookie mini-camp was probably watching the talents of returner Tyler Lockett. Or maybe it was watching Tom Cable beginning the process of turning a defensive lineman into an offensive one. Whatever, Pete Carroll talks about it. ... The Hawks made some roster additions.
• Mariners: So how do you feel about the Mariners' first 31 games? Hopeful or frustrated? ... A frustrated Brad Miller is still focused on his new role.
• Sounders: Talk about a road trip from Perdition. Or Columbus, if you prefer. ... The Vancouver match looms big this week for the Sounders.
•••
• It rained a bit here this morning. Woke me at about 4. I listened for a while until the pitter-patter of raindrops forced me to get out of bed and, well, you know. Then I fell back to sleep, knowing it was still going to be relatively warm today. Isn't May grand? Until later ...
---
---