Tue., May 12, 2015
The Spokane guy running the Patriots fundraiser is real, and he's an Eagles fan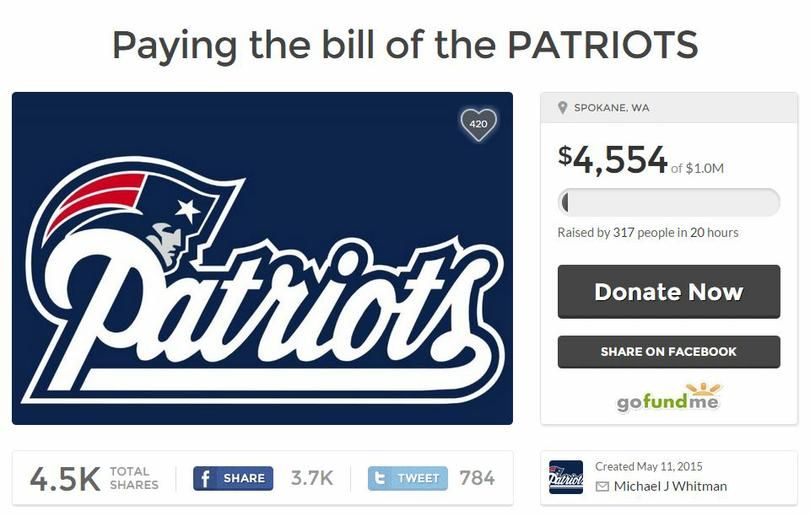 We reported this morning that a man claiming to be from Spokane is running a GoFundMe fundraiser to pay a $1 million fine for the Patriots related to their deflated ball scandal. This afternoon, we were able to speak with him over the phone.
The man, who is raising money under the name Michael J. Whitman, lives in east Spokane and said he's actually an Eagles fan. But he and a friend are banding together to draw attention to NFL fines they believe are too expensive.
"I don't feel like they should be fined a million dollars. That's just excessive," he said.
He said he wasn't in a position to know whether the Patriots actually cheated by deflating footballs, but said his larger concern is about the magnitude of the fine, not whether the Patriots deserve some type of punishmen.
His hope is to draw attention to the issue so the NFL will re-think its fine structure.
"They take advantage of celebrities because of the money they make, they try to overprice these fines," he said.
Michael Whitman isn't his real name. He said he didn't want people second-guessing his motives or thinking he started the page to get famous, so he asked us to keep him anonymous for now.
It's not the first time he's tried to raise money to support football players. He said he also started a fundraiser to pay Marshawn Lynch's fines after the Seahawks running back was fined last season for not speaking to the media.
As to criticisms that there are far worthier causes to donate money to? He agrees, but believes supporting Tom Brady and the Patriots saves them money which they can pass along to people in need.
"That allows him to be able to open up his pocketbook to spread it to more charities," he said.
The fundraiser has currently raised more than $9,300.
---
---