Tue., May 12, 2015
Spokane Patriots fan steps up to foot bill for $1 million NFL fine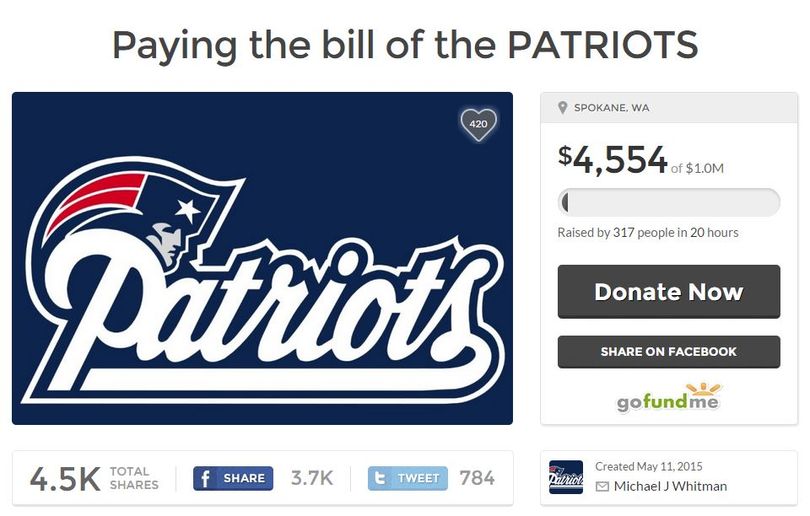 Update: May 12, 4 p.m.: We heard back from the guy running the fundraiser, who said he's trying to raise awareness about NFL fines he believes are excessive. Read more here.
Poor Robert Kraft. With a net worth of just $4.3 billion, the New England Patriots owner has to be losing sleep over the $1 million fine leveled by the NFL for his allegedly deflated balls.
Fortunately, a brave Spokane resident (as posted in Vince Grippi's "A Grip on Sports" blog this morning) has stepped forward to help. Pats fan Michael J. Whitman has set up an online fundraiser on GoFundMe to pay Kraft's bill. According to the page, Whitman is from Spokane.
The page is so far well short of its $1 million goal, having raised just $5,000 in a little under a day. But Whitman wrote that he won't be discouraged if the goal isn't reached:
We obviously know we won't reach One Million Dollars, however we do believe the fine is bulls**t and want to help anyway we can. So whatever is donated will be donated to the New England Patriots in help with the fine! As we venture with this, we will do frequent updates to show progression of this! If enough is made to make the travel, we will fly down there (on our own expenses) and deliver a check in person!
We emailed Whitman for comment via the GoFundMe page, but haven't yet received a response.The fundraiser has been shared about 4,500 times and has garnered some enthusiastic comments from other Pats fans, some of whom left tasteful notes like "Suck it Roger" and "Patriot's fans are the only ones with the BALLS to stand up for their team!!"
In the meantime, if you find yourself with some spare cash, perhaps it's worth checking out some other Spokane-area fundraisers for medical expenses, mission trips or other purposes that are arguably more philanthropic.
---
---